Helen Flanagan is blamed by cruel online trolls for her two-year-old son' Charlie's tantrums
The I'm A Celeb star called some of the comments 'vile' as she took to her Instagram Story.
Watch more of our videos on Shots! 
and live on Freeview channel 276
Visit Shots! now
Social media trolls have blamed Helen Flanagan for her two-year-old son's "off the scale tantrums", after she posted pictures of Charlie crying to Instagram. The former Coronation Street actress, 32, also shares Matilda, seven, and Delilah, four, with her ex fiancé and Bristol Rovers star Scott Sinclair, 34.
The mum-of-three took to Instagram yesterday (6 June) donning a pink tracksuit as she posed with her youngest, who was wearing an adorable dinosaur tracksuit. She wrote: "Charlie's tantrums today were off the scale 🦖💙 trying to get pictures with my two year old 😅🤍".
Comments came flooding in following the post, with one user writing: "You're why he has tantrums Helen the same as Delilah has tantrums. You are so overbearing & in their face all the time. I bet they don't have tantrums like that when they're with Scott & his mum? You said before that Delilah won't let u out her sight & HAS to sleep with you what tripe .. what did she do on holiday with Scott when u weren't there?
"You are using your kids to cover up your own insecurities & making them want you constantly & Turing them into needy brats. You will regret your parenting style when they're older", and another adding: "totally agree...ive never seen anyone act like this with there kids…over bearing...I bet as soon as they are old enough they will move in with their dad".
However Helen managed to laugh these two comments off, posting a screenshot to her Instagram Story, she wrote: "Very strange some comments on Instagram. As a mum I want my kids to feel really loved and happy and safe and I'm affectionate and I co sleep because that's how Delilah is happier and I don't want her to cry, she will grow out of it."
The I'm A Celeb star then called some of the comments "vile" as she took to Instagram again, showing that one follower said: "Why do you constantly ask your kids for kiss after kiss...like it's not normal plus the way you talk to them is like you are talking to puppies…you need to act like there mum...they need tough love and discipline", and another wrote: "Maybe just stop trying to get pics with him all the time x".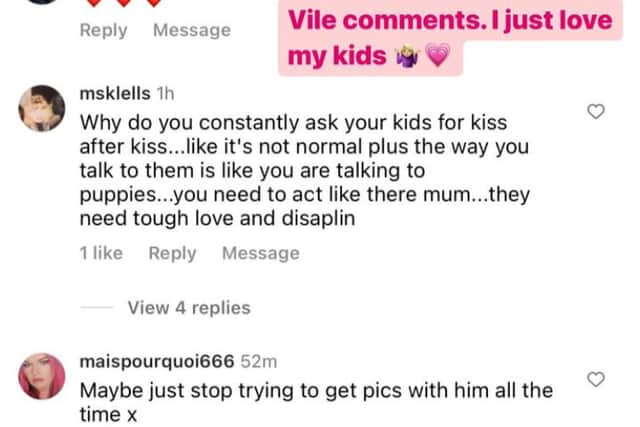 However, Helen's fans took to the comments in full force to defend the blonde beauty, with one writing: "Stop with the nasty comments , she is and amazing mum ❤️ who supports and loves her children . So stop putting her down , she can do what she likes !!!"
Another added: "Helen please don't ever feel the need to explain yourself, the way you are with your children, and how you choose to parent your children. Do not make any apologies for how you decide to do what you need and want to do. 🥰"