Emmerdale viewers were moved to tears last night after Paddy Dingle's suicide plans were revealed to his loved ones.
The vet, who is played by Dominic Brunt, returned to the Yorkshire village this week to say veiled goodbyes in a heartbreaking storyline.
Paddy's mental health began to deteriorate when he split from cheating wife Chas, and he left the village for several weeks with a plan to take his own life.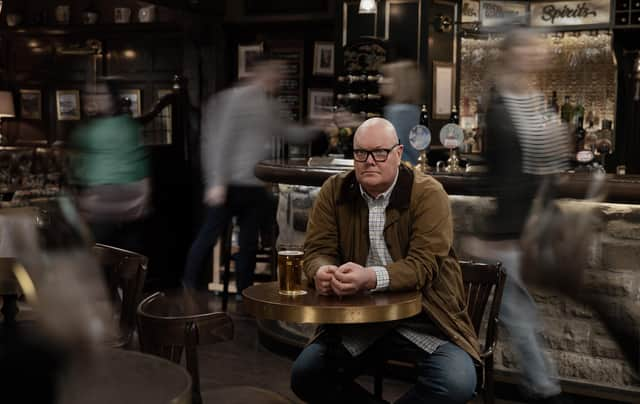 However, he couldn't go through with it, and on Tuesday, he returned to Emmerdale to say goodbye to his loved ones and see how they coped with him being gone.
In last night's episode, the vet explained this to his sleeping daughter, Eve: "I heard them talking about me this morning, worrying about me, but you don't have to do that anymore. It was a good day today, getting to see everyone, seeing how everyone got through these past few weeks without me, it was a relief.
"I know it was hard at first, but you did it, you did it together, and you will be able to do it again. And that's why I came back, to prove it to myself, and to say goodbye. It wasn't right, I didn't do that before and you deserve better."
He added: "I have to go away tomorrow, but eventually you will all see it's for the best, for everyone."
Later in the episode, Paddy confirmed his plans to end his battle with depression, by writing a suicide note which started with: "This is the hardest thing I've ever had to write."
After leaving the note on his bed, Paddy told his ex Chas and his father Bear that he was going across to his veterinary practice in the village.
However, Bear soon found the note and read it to Chas and Marlon, before running to tell the rest of the family: "Paddy. It's Paddy. He's going to kill himself."
In tonight's episode, the search for Paddy continues and his co-worker Rhona makes a worrying discovery.
Viewers watching at home were devastated over the character and prayed for a happy ending to the storyline.
One wrote: "Absolutely heartbreaking and very often happens. I hope there's a happy ending for Paddy. It's so important to make time to talk and really listen x"
ITV viewers also admitted they were in tears whilst watching the sad scenes surrounding the storyline.
One wrote: "I'm a 46 year old male and was in tears at tonight's on @emmerdale with paddy's @dominicbrunt storyline. I hope all ends well for paddy and gets help. I had to reach out for help as I am still in a dark place and struggling! well done superb acting. #MentalHealthAwareness".
Another added: "Okay if Paddy dies then I'll be sad #emmerdale".
A third tweeted: "My gosh.... #Emmerdale has got me in tears. Hearing Bear read out Paddy's letter.... Gosh".
Dominic recently spoke out about "shaking off" Paddy's depression after each day of filming.
The actor admitted that the dark storyline and talking to people who've been through similar situations has made him "appreciate" what he has.