One Young World: global summit for influential youth leaders is coming to Manchester
The arrival of the prestigious event in the city has been warmly welcomed by regional and national politicians.
Watch more of our videos on Shots! 
and live on Freeview channel 276
Visit Shots! now
Some of the world's most influential young people will be coming to Manchester later this year as the city gears up to host a major global summit.
One Young World will see hundreds of delegates from more than 190 countries descend on Manchester Central in September for the conference.
It promises to be a star-studded affair as previous summits have been attended by Nobel Peace laureates, heads of state, campaigners, celebrities and activists.
The arrival of the prestigious conference in Manchester has been warmly welcomed by politicians in the city-region and Westminster, with both elected representatives and summit organisers saying they think the city and event are a good fit.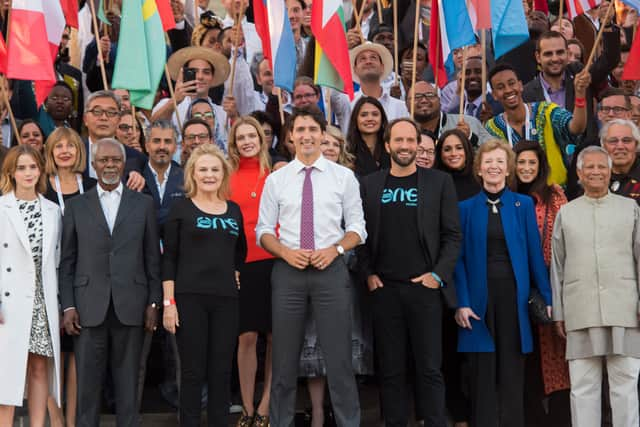 What is One Young World and when it is its summit coming to Manchester?
One Young World is a global forum for young leaders and brings together people who at a comparatively tender age are already excelling in the worlds of business, politics and humanitarian work.
The 2022 conference was originally supposed to be held in Tokyo but has now been switched to Manchester to make it easier for people from around the world to attend.
The event will get under way on 5 September with an opening ceremony at The Bridgewater Hall before the rest of the conference which goes on until 8 September and involves speeches, panels, workshops and networking sessions.
More than 2,000 young people from around 190 countries are expected in Manchester to discuss topics such as conflict prevention, ethical leadership, safeguarding the oceans, gender equality and ensuring health equity for all.
Since launching in 2009 the organisation has built up a network of some 135,000 young ambassadors.
High-profile young people expected in Manchester include Tabata Amaral, a Brazilian Congresswoman for Sao Paulo aged just 24 who has drawn comparisons with influential American politician Alexandria Ocasio-Cortez.
There will also be two local Manchester ambassadors attending.
Christina Taylor founded Aim Sky High to address social issues and mobility for young people through dance. The organisation has worked with some of the biggest names in music including Justin Bieber and Stormzy.
Tim Keavney, meanwhile, is co-founder of Homethings, which offers zero-waste household products.
Past One Young World summits have been attended and addressed by the likes of Nobel Laureate Professor Muhammad Yunus, the Duchess of Sussex Meghan Markle, Irish president Mary Robinson, Canadian prime minister Justin Trudeau, the late United Nations secretary-general Kofi Annan, and actor and campaigner Emma Watson.
One Young World has also partnered with more than 180 businesses, non-governmental organisations (NGOs) and educational institutions that are working to meet the UN's Sustainable Development Goals.
What has been said about the summit coming to Manchester?
Kate Robertson and David Jones, co-founders of One Young World, said: "We're delighted to bring the One Young World Summit to Manchester in September. While we are saddened to no longer hold the Summit in Tokyo this year, we send our huge thanks to their team and look forward to Tokyo hosting our summit in the near future.
"From football and music to innovation, Manchester is known around the world as a city that truly inspires young people, not least in its efforts to become a fairer, greener place to live and work.
"We know it will be a truly inspirational host for the One Young World delegates and the team is excited to make the Summit in September the best one yet for everyone attending in-person and virtually.
"The world has changed so much in the last two years, and it has been heartening to see how many people are stepping up and taking action to lead us into a brighter future.
"This year our summit will focus on some of the world's biggest challenges such as conflict prevention, safeguarding our oceans, and ethical leadership. The time to act on these issues is now."
Andy Burnham, Mayor of Greater Manchester, said: "It's great news that Manchester has been selected as a host city for this year's One Young World Summit in September. Our city-region has a proud history of championing equality and justice, and our global community continues to attract people from all around the world to study, work, and thrive here.
"There is no better place than Manchester – the home of 'deeds, not words' – for exceptional young leaders, heads of state, activists, and business leaders to come together to find solutions to some of the most important issues facing our world.
"This is the largest global gathering of young people representing every single country in the world outside of the Olympics, and one of the most significant, and we are proud to be a part of that. I look forward to welcoming all the One Young World delegates to Manchester."
Chancellor Rishi Sunak said: "It's an absolute privilege and honour to welcome the One Young World Summit back to the UK. As we all recover from the impact of the pandemic, it's more important than ever for young leaders from across the world to come together in the spirit of cooperation and help shape our future.
"Manchester is one of the UK's most vibrant cities, a melting pot of culture and creative thinking. So I couldn't think of anywhere more fitting to host this year's summit.
"Thousands of delegates including the most inspirational young minds will come together to strike up new connections and share the new ideas that will have a lasting positive impact for the world.
"I'm enormously impressed by the ambition and innovation that One Young World Ambassadors have already demonstrated, with programmes to tackle climate change and global inequality, increase access to quality education, and improve the supply of clean energy and water.
"Already their work has helped millions of people around the world. And now this year's delegates take on the responsibility to continue that work and help build a better future for us all."