A forensic underwater search team hunting for Nicola Bulley has suggested it is unlikely that she will be found in the river.
Peter Faulding of specialist search firm SGI, who have been called in by Nicola's friends and family, told GB News he and his team were likely to be in place at St Michael's in Lancashire for another few days.
Nicola, from Inskip near Preston, has now been missing for two weeks. The mortgage advisor vanished while walking her dog along the River Wyre, shortly after dropping her children off at school on 27 January.
Nicola's family and friends have made desperate appeals to trace her, and in addition to an extensive Lancashire police search, her loved ones brought in searchers from CGI, after police maintained they believe Nicola fell into the river.
Mr Faulding said: "I think we will probably be here for the next couple of days just to iron everything out. I want to be sure to put my name to the search that we've checked everything.
"I'm very thorough, and I want to make sure we've done the most thorough job and try to bring some form of closure or confirm or deny the river to the family and the police."
Mr Faulding told the channel about what usually happens if someone has fallen into a river: "On the day the police divers were deployed into the river here to search, what normally happens if somebody drowns, is they go straight to the bottom, and that's in my 20 odd years of experience of dealing with drowning victims, I've done hundreds of cases.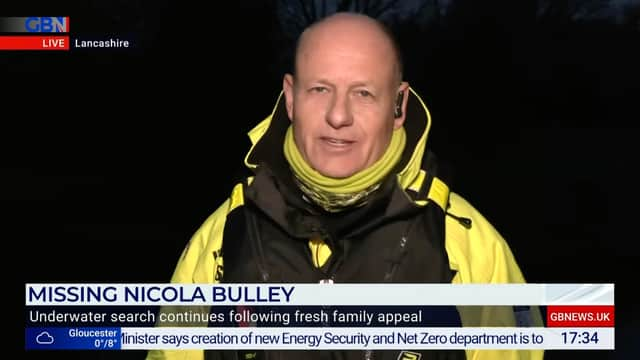 "They go to the bottom, the river's slow moving, they won't go far, but the police divers are very professional. They did not find her and that's the weird thing."
He added: "We've been using the high frequency side scan sonar in this stretch and it's so detailed I can even see every stone of it. She's not in this stretch.
"We also sonar-ed on the other side down yesterday in the tidal river. Now if you take a football on a tidal river…when the tide goes out the the ball will go down the stream and then as soon as the tide turns it will come back in again. It'll end up back at the same place.
"For Nicola to get out to the sea would be impossible, literally, it is such a long way."
What have Lancashire police said about Nicola Bulley?
Police leading the investigation say their search continues, with extensive door to door enquiries, checks on CCTV footage and requests for any dashcam footage from the area around the time Nicola went missing, 9.20am.
Although the force's working hypothesis remains that Nicola accidentally fell into the river, Lancashire Police remain "fully open-minded" and have not yet detected a "suspicious element".
Asked about a comment from Lancashire Police superintendent Sally Riley that he was not in possession of the full facts, Mr Faulding said: "Well, if there's any more facts that we don't know about - normally we work along the side of the police and if you haven't got the facts then you can't conduct a proper search, it is very difficult without that information. Normally, I'm privy to that information.
"On a lot of these searches I've done a lot of classified work. And obviously I don't ever speak about that. But is if there's more information, I certainly don't know about it, it would be useful to know
"You've got to keep an open mind on this type of inquiry. But obviously if the police have got more information than I know about, then, you know, that will be useful.
"A lot of the time on extra information helps you with the search, but that might not be important information."