Staff at a number of NHS hospital trusts in Greater Manchester have voted for strike action in a dispute over pay.
It is the first time in the 106-year history of the Royal College of Nursing (RCN) that such a ballot for industrial action has been held. The organisation says salaries have fallen in real terms by a fifth in the space of a decade and poor pay is causing nurses to leave the health sector, putting patients potentially at risk. The vote was what is known as a "disaggregated ballot" which means that only those hospital trusts and health boards where legal requirements for industrial action were met in the vote are going on strike.
However, it is now clear that most of the NHS organisations locally which have met the legal thresholds for industrial action are not taking part in the first round of strike action currently taking place.
Here is the list of trusts in the city-region which have voted for strike action, who is going to the picket line in December, what those involved in the dispute are saying and what is likely to happen next.
Which hospital trusts in Greater Manchester have voted for strike action?
In total there are five NHS hospitals or other patient-facing services either based in Greater Manchester or working in the city-region where staff have voted for strike action. They are:
Tameside and Glossop Integrated Care NHS Foundation Trust,
The Christie NHS Foundation Trust,
Wrightington, Wigan and Leigh NHS Foundation Trust,
North West Ambulance Service,
Bridgewater Community Healthcare NHS Foundation Trust.
However, these hospitals and services are not taking part in the first round of industrial action, which involves two strike days on Thursday 15 December and Tuesday 20 December. The only NHS organisation locally taking part in this wave of action is Health Education England, a government office which has its headquarters in Manchester.
What is the dispute about and what happens next?
Nursing staff were balloted for industrial action following NHS Agenda for Change pay announcements earlier this year, which the RCN says left experienced nurses 20% worse off in real-terms compared to ten years earlier. The Fair Pay for Nursing campaign is calling for a pay rise of 5% above inflation as measured by the Retail Price Index (RPI).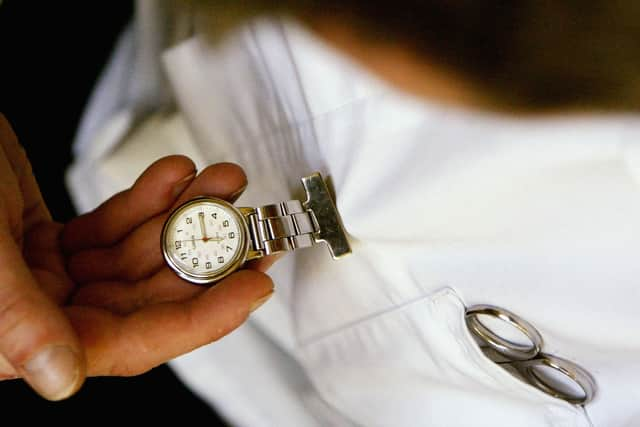 The RCN also says that in the last year 25,000 nursing staff around the UK left the Nursing and Midwifery Council (NMC) register, with poor pay contributing to staff shortages across the UK. The organisation says this affects patient safety, with some 47,000 unfilled registered nurse posts in England's NHS alone.
The RCN's mandate to organise strikes runs until early May 2023, six months after members finished voting.
What has the RCN said about it?
RCN general secretary and chief executive Pat Cullen said: "Ministers have declined my offer of formal pay negotiations and instead chosen strike action. We've been left with no choice but to announce where our members will be going on strike in December.
"We're defending our profession and our patients. We've had enough of being taken for granted and being unable to provide the care patients deserve.
"Ministers still have the power and means to stop this by opening negotiations that address our serious concerns about patient safety and fair pay."
What has the Government said?
Health and social care secretary Steve Barclay said the government had accepted recommendations from the independent Pay Review Body, adding: "Our priority is keeping patients safe during any strikes. The NHS has tried and tested plans in place to minimise disruption and ensure emergency services continue to operate."