Plans for a new 13-storey office block in Manchester city centre have been revealed. The offices – which have been designed to run without emitting any additional carbon – would be located between River Street and Hulme Street.
Developer Ask Real Estate has now submitted a planning application for the offices to Manchester city council as part of the next phase of development at First Street. Located to the south of No.1 First Street and James Grigor Square, Plot 10a – which will be known as No.7 First Street- is one of the last spots left in the masterplan for the area where several big businesses are already based. The new building would accommodate 20,175 sqm of office space in total.
A separate planning application for student accommodation on the neighbouring plot 10b is set to be submitted by the Vita Group. The ground floor of the student accommodation would feature a food hall covering an area around the size of Mackie Mayor which would be open to everyone. Developers say the new scheme will build on the success of arts centre HOME and the other businesses located nearby at Tony Wilson Place.
It comes after plans to build a 38-storey student tower and a 13-storey office block were put forward last year for another plot of land nearby. The Premier Inn on Medlock Street would be demolished to make way for the development.
The latest plans for the No.7 building also follows a deal with the government for 2,500 civil servants to move to a new hub at First Street from 2025. The new government hub at Plot 9a is also being developed by Ask Real Estate.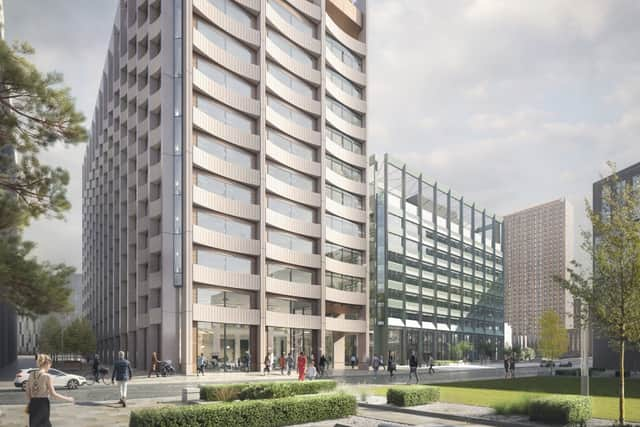 A spokesperson for the company said: "Continuing our commitment to accelerate delivery of the First Street masterplan, this planning application, if successful, will bring forward the next generation of sustainable office space as the city continues its strong recovery post-pandemic.
"We are confident our extensive analysis into reducing embedded carbon in construction will yield significant improvements compared to typical new office buildings."
Like the civil service hub at Plot 9a, No.7 First Street would also be a net zero carbon building. According to planning documents, it will benefit from a mixed mode heating and cooling system using natural and mechanical ventilation.
The developer is aiming for an 'oustanding' rating under the Building Research Establishment Environmental Assessment Method (BREEAM) certification scheme. This means future occupiers of the building could operate at net zero.