Bee Network: New 'bus and tram' tickets to make travel 20% cheaper as Greater Manchester moves closer to 'London-style' transport
Andy Burnham has announced new 'bus and tram' tickets ahead of the Bee Network roll-out in September.
Watch more of our videos on Shots!
and live on Freeview channel 276
Visit Shots! now
Bus and tram tickets are to be launched cutting the cost of travel in Greater Manchester for many users by 20 per cent from September. The Bee Network starts on September 24, when the city-region becomes the first to bring bus services under local control since 1986.
Launching the new Bee AnyBus + tram tickets at Rochdale interchange, Greater Manchester Mayor Andy Burnham said it would mark 'a London style integrated fare structure for our city region'.
He also announced that two Greater Manchester railway routes, Stalybridge to Victoria and Glossop to Piccadilly, would become first outside London to pilot contactless pay-as-you-go travel. He said this would be a step towards integrating the rail service in the region in a similar way to buses and trams.
Mr Burnham also said the £2 cap on bus fares would be continued until September 2024 as Transport for Greater Manchester had secured ongoing support from the Government. He said: "The Bee Network is of fundamental importance to Greater Manchester and all of these benefits will soon be realised.
"From September, across all of Greater Manchester, we are cutting the cost of public transport by 20 per cent for people who are prepared to use it most. This is the moment of bring in a London style integrated fare structure for our city region.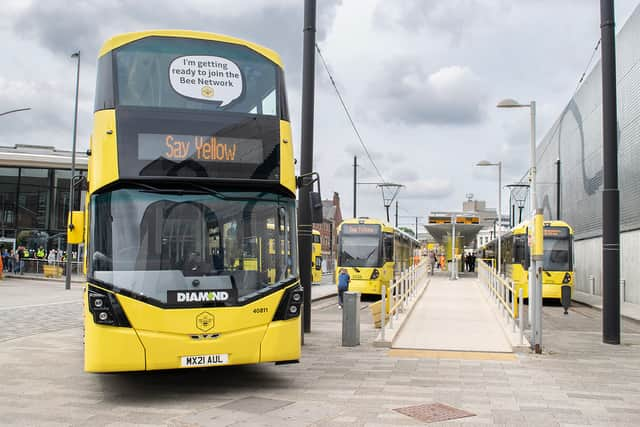 "People across the city region will be able to travel on unlimited buses and trams and they will only pay up to a certain level which will be significantly cheaper than it is now. "Although we are having to franchise certain areas in sections, the benefits of this come through to people everywhere as quickly as possible.
"We hope this will encourage people to make a change when the Bee Network comes in September. We want more people to move away from their car and commit to public transport and by doing so save money. "We're cutting though with a really simple fare structure."
Examples of savings under the new system were given. At present a bus and Metrolink return trip from Middleton to Media City would cost £8.30, from September a zone 1 and 2 Bee Anybus + tram travelcard which covers that trip will be £7.30.
An adult trip by bus and tram from Oldham to Manchester Royal Infirmary will be £1 cheaper off peak and £1.40 at peak times from September 24. A similar bus and tram journey from Stalybridge to the Etihad stadium will cost 70p less off peak and 80p less at peak times.
People will be able to purchase the Bee Anybus + Tram tickets for four zones of transport within Greater Manchester. A phone app for the Bee Network which will sell the integrated products is set to be launched in August.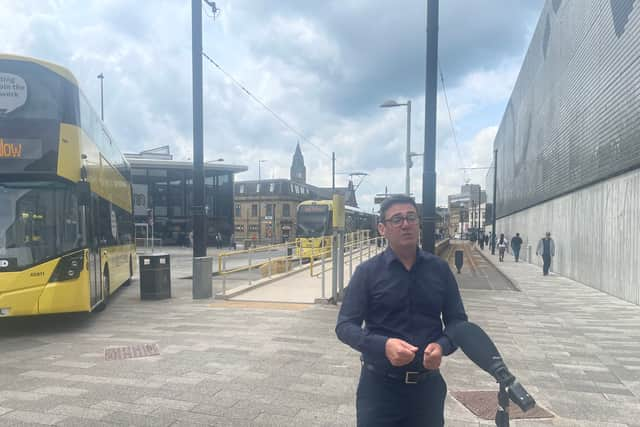 The new tickets will also be available online and at travel shops. As the bus franchises for the Bee Network roll out the date set for a full 'tap-in-tap-out' system across all buses and trams in the region has been set for January 2025.
Mr Burnham said the that a more integrated transport system would have a massive economic impact. "The Bee Network is a different public transport system which will allow people to move around in a different way," he said.
"It will improve the lives of our residents in many ways. "It will lay the foundations for strong, productive growing economy in Greater Manchester where people can easily access jobs and opportunities.
"It's of fundamental importance to Greater Manchester and all of these benefits will soon be realised." It is hoped the contactless pilot on the railways on the Glossop and Stalybridge services will pave the way for multi-mode tickets across the Metrolink, bus and rail services by 2030.