My half-hour drive that took two hours by bus shows exactly what needs to change with Manchester's transport
Watch more of our videos on Shots!
and live on Freeview channel 276
Visit Shots! now
Driving wasn't an option for me on Thursday. With no access to a car, public transport was the only way for me to get to where I needed to be – a bus depot in Wigan where Greater Manchester mayor Andy Burnham would be marking the 'final countdown' to the launch of buses on the Bee Network.
From next month, buses across Greater Manchester will be brought under public control with the first franchised services rolled out in Bolton, Wigan and parts of Bury, Salford and Manchester on September 24. This is the first time in 40 years that local leaders outside of London will control fares, routes and timetables for buses which will be run by private firms which bid for contracts.
The Labour mayor was set to unveil some of the new Bee Network buses that will hit our roads within weeks as well as making a series of announcements. I wanted to find out what changes bus passengers would notice from day one. But first I needed to get to Bryn – from Prestwich. It would have taken me around 35 minutes to drive to the Stagecoach bus depot in Locket Road.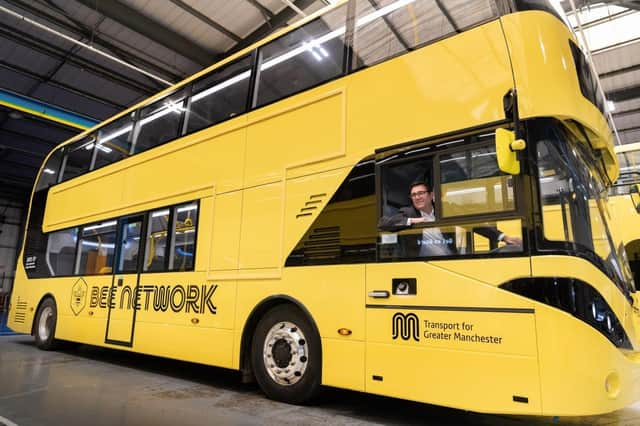 By public transport, the quickest route – involving a tram and a train – would have taken nearly two hours. Without a railcard, a return journey on this route would have cost me £11.80, or £17.50 if I travelled during the morning peak.
Taking three buses instead takes half an hour longer, but only costs a fiver. This wasn't always the case – just a year ago it would have cost much more. But last September, new bus fares were introduced in a bid to help people during the cost of living crisis. Using government funding to cover the costs, Mr Burnham brought in a cap of £2 on single journeys for adults, £1 for children and £5 for a day ticket valid on any bus regardless of which operator runs it.
Before this, each bus firm would set their own prices and hopping between services run by different operators would be an expensive endeavour. So, in the interest of saving money – and partly for the fun of it – I decide to take the bus.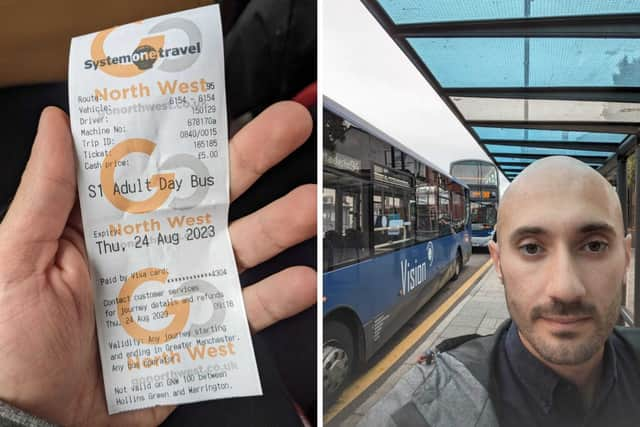 Leaving my house shortly after 9am, I arrived at the Longfield Centre bus stop on Bury New Road with plenty of time to spare before my bus arrived. Despite the roadworks, traffic was moving relatively quickly and my bus was on time.
The 95 bus to Salford really goes around the houses. But according to my trusted public transport app Citymapper, it was the quickest route by bus.
Busy tweeting about the journey, I missed my stop at Pendleton Church and ended up at Salford Precinct, making the walk to the next stop a little longer. But luckily, with a longer wait for the V1 ahead, this mistake did not delay me.
Over the last year, there have been lots of complaints about the Leigh Guided Busway services which were reported to be turning up late, full or not at all. Transport bosses vowed to improve the flagship service and later that day, the mayor would reveal that under the Bee Network, the timetable would improve. But with the roads a bit quieter after the morning peak, my yellow V1 came on time – and there were plenty of comfortable seats to choose from. Travelling on old railway lines, this long trip to Leigh bus station was actually entertaining.
Arriving at my destination around half an hour later, I spotted some more Bee Network branded buses. Since March, yellow buses have been spotted across Greater Manchester as operators have gradually given their fleet a makeover. And from September 24, there will be 50 brand new electric buses on the roads of Greater Manchester. But my next bus was still Stagecoach blue.
Nevertheless, the number 10 to Wigan arrived in Leigh within a few minutes, giving me just about enough time to make it over to Stand M. By now, I had been travelling for an hour and a half – and I was starting to get a bit bored.
This 32-minute journey seemed to go on forever and my estimated time of arrival kept getting later for some reason. It was strange because there was hardly any traffic and the only delaying factor was a particularly chatty driver.
Eventually, my phone started buzzing to let me know I need to get off the bus soon. But once on Bryn Road, there was still 17 minute walk ahead – and it ended up taking a little longer than that as the depot was a bit further away than it initially appeared on the map.
Suddenly, dozens of yellow Bee Network buses lined up next to each other appeared before my eyes. I had arrived at the bus depot where the media event was being held – almost two and a half hours after I'd left my house.
Admittedly, I could have got there quicker. Worried about being late and missing Mr Burnham's announcements, I set off earlier than I needed to. But knowing how unreliable buses can be, I did not want to take the risk of just one missed connection on my long journey costing me up to half an hour. Soon after I arrived, Greater Manchester's transport commissioner Vernon Everitt got there too – also on a bus, but one that took him straight to his destination.
Impressed by the long trek I'd taken to get here, he admitted that my journey would not be much quicker on a Bee Network bus – or at least not from day one. However, he said improving 'orbital' routes will be a big part of the project.
After a series of announcements made by the mayor in front of the new buses, I put the same question to Mr Burnham himself. Will  journeys which do not go to the city centre like mine this morning be better under the Bee Network?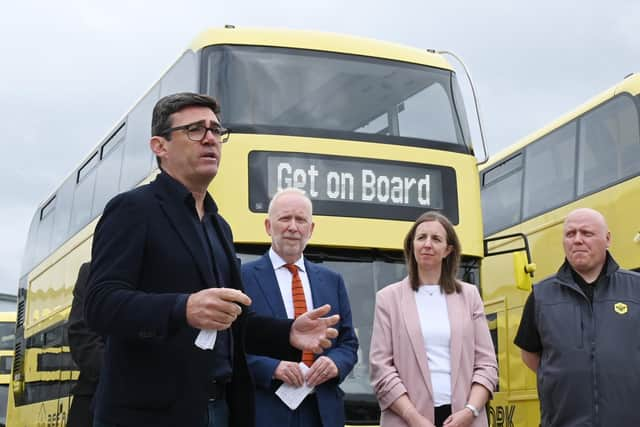 "Definitely," he said. "We've said today there's an orbital service between Bury and Bolton that will improve as a result of the change to the Bee Network. More frequency, earlier running, later running – we absolutely recognise that. The point of taking control of the bus network is that you can then reshape it.
"At the moment we have buses all going into the centre, competing with the tram, so the capacity on the bus system is not as well used as it could be. I think the point is we'll start working with our councils to reshape the routes. Not from day one, because we've had to sort of franchise what's in place, but we'll begin to reshape it over time. And definitely the emphasis will be on more orbital connections across the city-region.
"It is a high priority – but not on its own. I've said today that we're going to increase the frequency on the V1 and V2, we're restoring the V2 service from the MRI to Atherton and the other way around – that's a commitment we're making today. But the point is we don't have to think of bus and tram as separate anymore. When you have a single system – the Bee Network – the routes into the city are often done by the tram.
"So even in a borough like Wigan or Bolton where it doesn't exist, you can start thinking about connecting people to the nearest tram stop where it does exist – in Bury or wherever – so that people can jump off the bus, get on the tram and pay for it all as one journey. That's the change in thinking that this allows."
Whether Mr Burnham is right remains to be seen. What's clear is that it would take a lot to make people chose public transport over driving on a trip like this. But what about people who rely on buses to get around? Well, fares should be cheaper, simpler and easier to pay for under the new system as daily caps stay in place and tickets can be bought for buses and trams with a 20% saving.
Transport bosses hope that this will not only help people already using buses, but also encourage more people to 'Get On Board'. And as the Bee Network is rolled out more widely, local leaders will be in the driver's seat when it comes to setting fares, frequency and routes – as well as having the power to penalise operators whose buses are late or don't arrive – for the first time in forty years.
Not much will change on day one – especially on long journeys like mine. But a huge opportunity to fix these issues in the future awaits Greater Manchester.