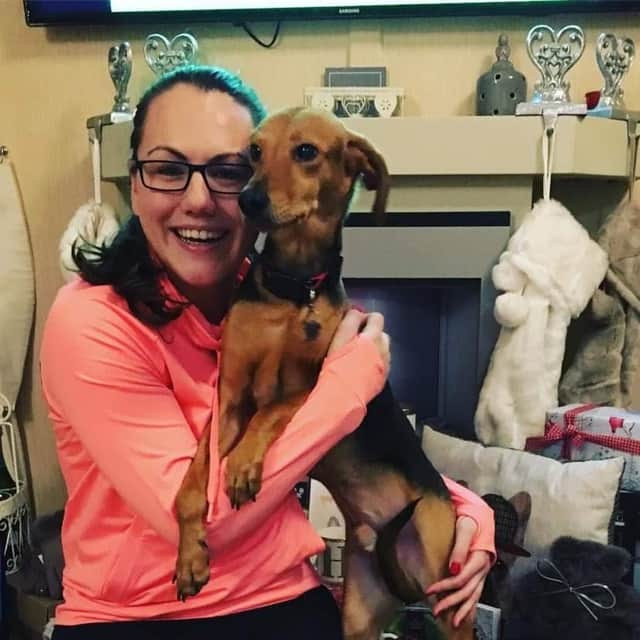 Hayley Egan with one of her dogs Milo when he first arrived
An animal lover from Bolton has told how she opened an animal rescue service after adopting two dogs in dire need herself.
Hayley Egan, 32, runs Saving Strays in Bolton, taking in animals in need from across the North West and working closely with other rescues.
Hayley's journey to opening an animal rescue service began when she and her partner rescued a Greek hare hound, Milo, from Greece in August 2019.
Milo was brought to the UK after being in a 'kill shelter' in Greece where he was going to be put to sleep.
Hayley told Manchester World: "At first he was really skinny and nervous.
"He used to eat dog poo because it was the only food source available to him on the streets of Greece.
Harry, one of the dogs Hayley rescued and rehomed
"He's such a stunning dog and he has had a transformative life from where he came from."
After adopting Milo from Starlight Barking Rescue, the couple adopted another dog called Lola from Healing Paws Animal Rescue located on the Greek Island of Zakynthos (Zante), where Hayley volunteered.
Lola was a found in a bin in Greece and she had to get stitches because rats had chewed her tail. Due to travel laws regarding animals at the time, Lola could only travel to the UK when she was 16 weeks old.
And after adopting Milo someone contacted Hayley and asked her for help in rehoming eight cats.
Hayley said: "I drove to the lady's house to collect the cats. Her house was awful. There were faeces all over the floor. Two of the cats had severe medical problems."
The cats received medical treatment and most were rehomed but one, Henry, had severe medical conditions and had his teeth removed and his eyes bled. Hayley knew that he would struggle to find a home so she adopted him.
After that she decided she wanted to set up Saving Strays and she got in touch with other rescuers.
What does Saving Strays do?
Saving Strays has a cattery and has seven pens for cats and two outdoor play areas.
In total the charity has 55 animals in rescue at the moment and 40 volunteers. The volunteers have different roles from the home check team who survey potential homes for adoptions to the admin team that deal with the adoption packs and vet decor.
Insurance is offered with every animal adopted and there is a legal process that involves adoptees to sign contracts.
Hayley, who also works in marketing for an executive education company, said: "I have three dogs and four cats and a horse and they enrich my life because they are like my children.
Animal lover Hayley with her horse Ginger
"They all have a different story and I couldn't imagine life without them and you get attached with rescue animals.
"It is hard work as my partner and I both work full time but they make us incredibly happy."
Hayley believes in giving animals a chance at life and the power of compassion in transforming an animal's life.
"Some animals come to us in good health but more often than not the animals are in horrific states, medically or are very unsocial due to being petrified.
"Some are violent and witnessing that journey from being scared and poorly to becoming a confident, loving, and healthy animal, it's the most enrichment you can get out of life.
"It's a wonderful feeling that you had something to do with that journey."
Saving Strays is run by volunteers, and is hosting a Christmas fundraiser on Sunday 28 November from 12.30pm-5pm at Tonge Cricket Club in Bolton.
The event is to raise money for veterinary bills and extend their cattery as well as enable the team to rescue more animals and will feature 24 stalls selling Christmas gifts, the Grinch and elves, games, a tombola and raffle and a bar.