Meet Murphy, the gentle giant wolfhound who just missed out on a place in the Guinness World Records book
Murphy is a well-known and much-loved animal within his local community in Manchester - where he stops traffic so people can take a picture with the gentle giant!
Watch more of our videos on Shots! 
and live on Freeview channel 276
Visit Shots! now
A massive Irish wolfhound from Manchester has narrowly missed out on securing a place in the Guinness World Records book.
Rhys Davenport, from Cheadle Hulme, was contacted by the organisation after he posted a picture of Murphy towering over his son Sion on his hind legs to greet him on social media.
Unfortunately, when the measuring equipment came out Murphy narrowly fell short of a place in the record books.
However, the gentle giant is still a very special animal indeed both to his adoring family and to people living in the local community.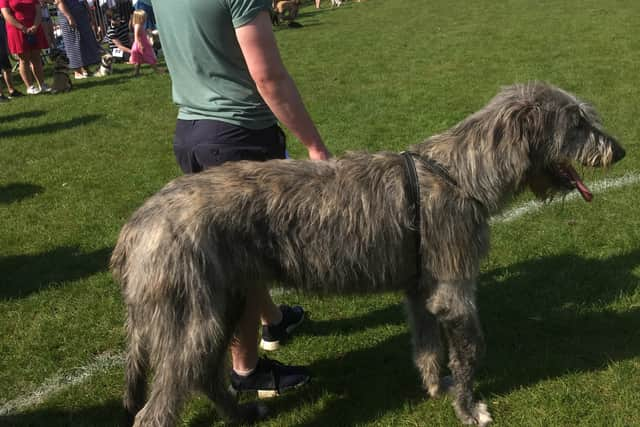 How big exactly is Murphy?
Murphy attracted the attention of Guinness World Records on Twitter after Rhys posted a message to another giant canine on the social media network called Diego.
Rhys, who works as a graphic designer and cleaner, says Murphy stands around seven and a half feet tall when fully standing up on his back paws.
With a bit of coaxing and a few biscuits, Rhys eventually managed to measure him as 38 and a bit inches at the shoulder.
Unfortunately, it looks like that will not be enough to secure him a place in the record books as the organisation said they were holding on to a Great Dane which was 41 inches at the shoulder for the record.
However, that has not been too much of a disappointment for his owners, especially as concentrating too much on the sheer size of the largest dog breeds can have some negative consequences for the animals.
Rhys said: "We're not into these sorts of records. Murphy is just one of the family.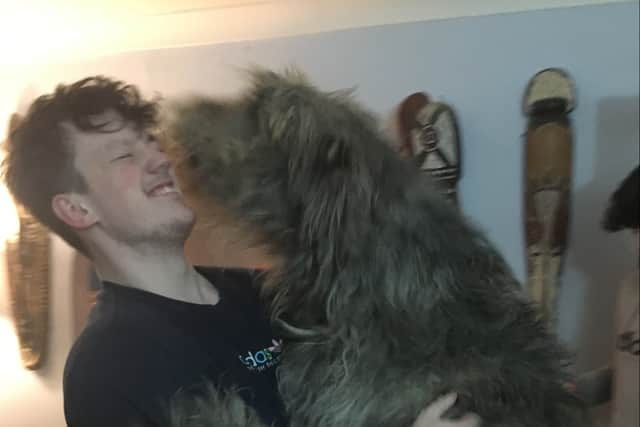 "The giant breeds have been too intensively bred. At four months old Murphy's radius grew longer than his ulna by 8cm in two weeks and his leg bowed out.
"He's had seven operations and it cost us just over £23,000. We were insured but we had to pay upfront, there were loans out and everything. In fact that's one reason I posted the picture that day, we were celebrating the loan being paid off!
"You also don't want to exercise them too much because they can't get too muscled."
Rhys says Irish wolfhounds were originally bred to take down animals such as deer but they were not as big as they are now.
When the breed was saved from near-extinction a programme of cross-breeding with other types of large dog began which caused the animals to increase in size.
A 'gentle giant' who is very popular in his local area
Rhys says it is not just him and his family in the Cheadle Hulme area who are deeply devoted to having Murphy around.
He said: "They are very gentle giants. They love people, especially children.
"I live fairly close to a school where my kids went and there are a lot of young families here who have grown up with him.
"They call out to him as they are going to school. If there's a child who is unsure about dogs the parents bring them to our house as they know Murphy will be really gentle with them.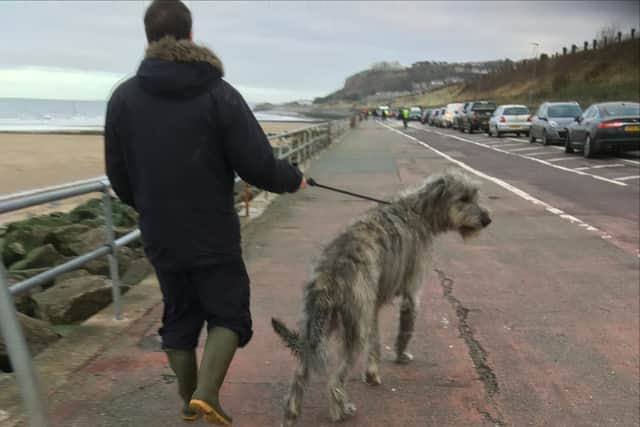 "He sits on the doorstep and if a child blows on his nose he gives them a kiss.
"You can have little toddlers crawling all over him and he just lies on the floor and lets them."
Rhys' wife works at a school for children with severe disabilities and says Murphy will be going in to see them for an afternoon soon so the youngsters can learn about dogs and enjoy stroking and petting him.
He says he has also got used to attracting attention whenever Murphy goes out for a walk.
He said: "Murphy probably has his photo taken once or twice a week by people stopping in their cars. People are winding their windows down to see him."