Medals belonging to Manchester United's 'forgotten number No. 7' are expected to fetch at £80,000 at auction - 65 years after the Munich Air Disaster ended the talented Busby Babe's career.
Johnny Berry, who donned the famous shirt work by the likes of David Beckham, George Best, Eric Cantona and Cristiano Ronaldo, was part of the league title-winning sides of 1952, 1956 and 1957. But while he survived the Munich air disaster which killed eight of his teammates in February 1958, the horrific plane crash ended his career at just 31.
Now, 65 years on, his family have put two of his championship medals up for auction later this month as part of a consignment expected to fetch more than £80,000.
Alastair McCrea, head of sporting memorabilia at Ewbank's auctioneers, said: "This could hardly be a more poignant time to bring these medals to market, 65 years on from the disaster. It is our privilege to be able to honour the memory of the Busby Babes by using the auction to recall what a wonderful talent Johnny Berry was."
Signed from Birmingham City for £25,000 in 1951, Berry was an integral part of Sir Matt Busby's young squad - dubbed the Busby Babes - that claimed the club's first league title for 41 years. He became first-choice right winger at the club and wore the famous number 7 shirt on all but one of his appearances, when he wore number 11 in a game against Everton.
He is rated as one of the Magnificent Seven - the greatest players ever to wear the number 7 shirt at United. But the most he ever got at United was £20 a week, worth around £670 now, and he'd even have to borrow a bicycle to get to to Old Trafford on occasion.
Johnny's son Neil, whose book Johnny The Forgotten Babe, describing his father's years at United, was published in 2007, said: "He was a very modest man and was proud of his association with Manchester United, although he was underwhelmed by his pay and conditions.
"They used to play on Christmas Day and Boxing Day in those days. He had to borrow a neighbour's bike to cycle to Old Trafford to play."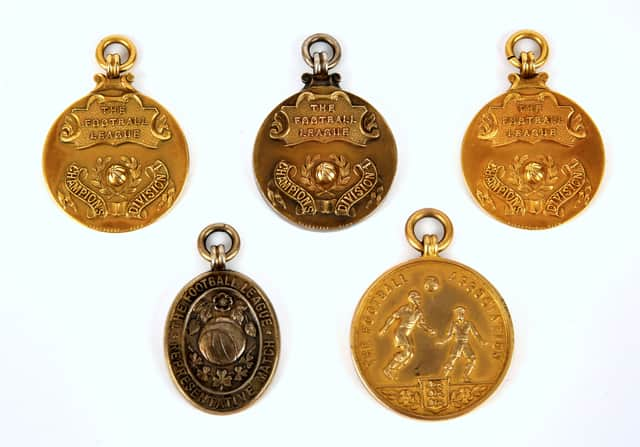 His glittering career, which saw him make 276 appearances and score 45 goals as he picked up two more league titles at United and four England caps, was cut short in the tragic plane crash as the club returned from a European Cup match in Belgrade.
Their British European Airways jet crashed as it made its third attempt to take off from the snowy runway at Munich-Riem Airport, having stopped there to refuel. The disaster killed 23 people on board, including eight players and three members of the club's staff, and legendary gaffer Sir Matt was read the Last Rites twice. When Berry came round in hospital, he had amnesia and could not remember the crash.
He suffered a fractured skull, broken jaw, broken elbow, broken pelvis and broken leg and doctors kept news of the fatalities from him until he had sufficiently recovered his strength. It was another month before he learnt about the fate of his teammates, including the death of his close friend Tommy Taylor.
Johnny Berry medals for auction
His 1951-52 League Division One Championship medals – his first for United – in gold and silver gilt, are each estimated at £15,000-25,000.
And his 1956-57 League Division One Championship gold medals are guided at the same price.
Also for sale at Ewbank's in Surrey on February 24 will be Berry's Manchester United contract, his FA Cup runners up medal, a match ball from a representative game against a League of Ireland XI.