It's going to be a busy weekend in Manchester city centre - and anyone planning on heading in will need to plan their journeys around roadworks and engineering work on the Metrolink.
Transport for Greater Manchester (TfGM) is urging anyone going to the gigs at the AO Arena, Manchester United's home game at Old Trafford or the popular St Patrick's Day parade to think carefully about how they are going to get there and back to avoid long queues or disruption. There are a number of routes affected by roadworks this weekend, bus services will be impacted and engineering work is taking place on some Metrolink tram lines.
Here's your guide to ensuring you don't endure a travel nightmare in the middle of Manchester this weekend.
What is happening in Manchester city centre this weekend?
There are two major gigs taking place at the AO Arena this weekend. On Saturday (11 March) Lizzo is playing and the following day (Sunday 12 March) Chris Brown takes to the stage. Doors open for both gigs at 6pm and congestion is expected along Corporation Street, the Inner Ring Road and Hunts Bank. About 15,000 people are expected to attend each of the gigs.
On Sunday the popular annual St Patrick's Day parade takes place from 12pm. Around 1,000 people are expected to line the route, with rolling road closures from Queens Road, through to Cheetham Hill Road before circling back from Great Ducie Street. Delays are expected on the roads in the Cheetham Hill area and there may be delays entering and leaving Manchester Fort during the parade.
Then, also on Sunday afternoon, Manchester United face Southampton in the Premier League at Old Trafford, with a 2pm kick off. Heavy traffic is expected on the Inner Ring Road and around the ground before and after the match. Dedicated travel advice can be found on the TfGM website here.
What is happening on the roads and public transport network and what advice has been given?
TfGM is advising people to leave the car at home wherever possible this weekend as roadworks are taking place in locations including Shudehill, Deansgate and Ancoats and heavy congestion is expected around the city centre for most of Saturday and Sunday.
Shudehill will be closed on the northbound side between High Street and Thomas Street from 1am on Saturday 11 March until 5am on Monday 13 March, and for the same length of time there will be no access to Mosley Street between Charlotte Street and Parker Street, as well as no access to New York Street from York Street.
John Dalton Street is due to close in both directions on both days between Deansgate and Bow Street for the installation of a crane, though there is a possibility that bad weather could see this moved back to the weekend of 18 and 19 March. Motorists will have to follow a diversion.
Similarly, in Ancoats Thompson Street is due to close westbound one way on both days between Oldham Road and Rochdale Road for the removal of a crane, though again the weather could force this back to a later date.
Increased traffic could also see bus journeys take longer than usual and some services may run slightly different routes through the city centre. TfGM suggests passengers keep up to date throughout the weekend by checking information at bus stops and following operators on social media.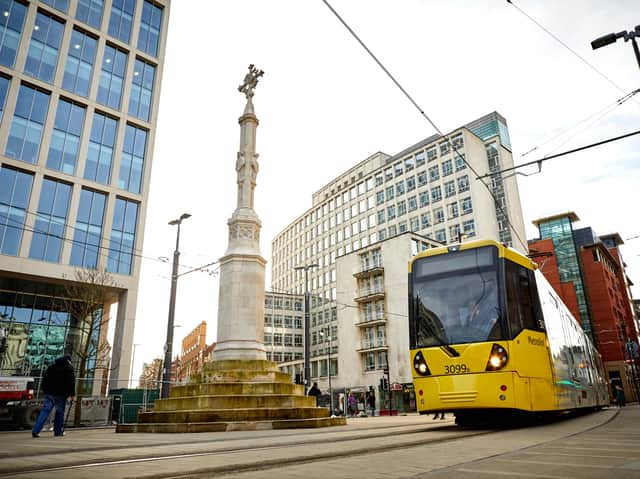 Engineering work is also taking place on the Metrolink tram network. There will be no services operating to Shudehill, Market Street or Piccadilly Gardens over the weekend, with trams running via St Peter's Square and Exchange Square instead.
Trams on the Ashton and Eccles lines will run to Piccadilly and Cornbrook respectively, with replacement buses running between Cornbrook and Piccadilly and Victoria and Piccadilly. Metrolink staff will be out and about across the network to answer any questions passengers have.
More information on the Metrolink engineering works, including walking times between city centre stops, can be found on the TfGM website here.
What has TfGM said about travel around Manchester this weekend?
Sean Dyball, TfGM's head of customer experience, said: "With thousands of people expected to be travelling in and around the regional centre this weekend, I'd urge anyone planning the same trip to plan ahead and allow sufficient time for their journeys.
"For a quicker and more enjoyable journey, please consider leaving the car at home this weekend as we are expecting heavy congestion on roads in and around the regional centre. Alternatively, consider using the car for part of the journey and then switching to public transport by parking free at a park and ride then travelling by tram.
"While some parts of the Metrolink network will be closed this weekend, travelling by tram continues to be one of the quickest and most convenient ways to get around the city centre, with services continuing to run throughout the weekend on diverted routes. With hundreds of bikes at convenient locations, our cycle hire scheme is also a quick, easy and healthy option for people wanting to make short journeys cross the city centre.
"People travelling by tram are encouraged to use contactless payments for a fast and efficient way to pay. Just remember to touch-in and touch-out with the same device on the smart readers at the start and end of each journey, and Metrolink will work out the best fare for you."