The biggest rail strike in 30 years is set to take place this week, with Network Rail expecting approximately half of routes in the UK to be closed on each day of the strike action.
Members of the RMT union are out on strike on 21, 23 and 25 June.
Train companies which operate services through Manchester have issued timetables for the days of strike action.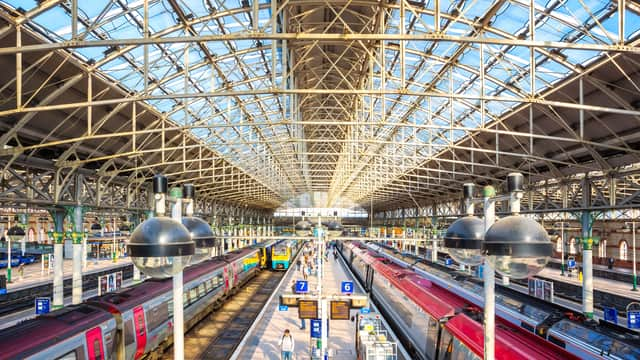 Avanti West Coast
The company, which connects Manchester to London, Birmingham and the West coast of the country, has issued timetables for two of the three days of strike action.
This service will also stop at Crewe and Milton Keynes Central.
A spokesperson said: "On strike days (21, 23 and 25 June), we plan to run one train per hour from Euston to each of Manchester, Liverpool, Birmingham and Preston, with a limited service onwards to Glasgow.
"These trains will operate during limited hours, with the first train of the day departing Euston just before 8am and the last train of the day from Euston departing mid-afternoon."
Cross Country
Connecting Manchester to Birmingham, Cardiff, London and dozens of other locations, Cross Country will be operating one service an hour on the mainline between Birmingham New Street and Manchester Piccadilly.
The Manchester Piccadilly to Birmingham New Street line is also badly affected, with an hourly service in place.
The last Crosscountry train from Manchester to Birmingham is shortly before 3.30pm.
On the strike days, there will be no Crosscountry services between Stockport and Stoke-on-Trent, this includes services to Macclesfield.
The strike action will also have an impact on tickets, and a Crosscountry spokesperson said: "Customers with Anytime, Off-Peak or Advance tickets dated June 21, June 23 or June 25 are permitted to travel the day before and up to two days after the date on their ticket.
"If you have a ticket to travel on June 21, June 23 or June 25 this is also valid for travel from today up to and including 20 June, if you wish to travel earlier.
"You will need to travel at a similar time to your original ticket, following any time restrictions associated with it."
Northern
Northern has issued an hourly timetable for many of its routes, including the line from Liverpool to Alderley Edge via Chat Moss, Manchester Piccadilly and Manchester Airport.
This timetable will operate between 8am and 6pm on each of the strike days.
Tricia Williams, chief operating officer at Northern, said: "We've done everything we can to offer people across the North of England a skeleton service – but our advice remains not to travel.
"The timetable we have put in place has been agreed with Network Rail, who have had to consider the requirements of other train operators and freight services on the network.
"We apologise in advance for the disruption and inconvenience that the RMT's industrial action will cause. We continue to be keen to speak to the RMT to find a resolution and avoid any future strikes."
For more information, visit the Northern website.