Hero Manchester bus worker saved man from being attacked by gang with knife
Manchester Stagecoach manager Zachary McAskill heroically intervened when he saw five men attacking outside his office in Ardwick.
Watch more of our videos on Shots! 
and live on Freeview channel 276
Visit Shots! now
A Stagecoach operations manager has been praised for his bravery after stopping a knife attack outside the depot in Ardwick.
Zachary McAskill was working in his office at the Stagecoach depot on Hyde Road when a colleague outside the building started banging on the door asking for help. A group of five men were attacking another on the ground.
He recalled: "I was already out of my chair, I knew someone was getting hurt, so I went outside the depot and, kind of on the pavement and partially into the road, there was a number of people stood around one chap, kicking and punching him. I went over to try and intervene and get the chap off the ground and try and help."
As Zachary approached, the "youths" attempted to flee. Four managed to run away, but another began to chase the man who was being beaten into traffic. It was then that Zachary saw him flick open what he described as a "butterfly knife."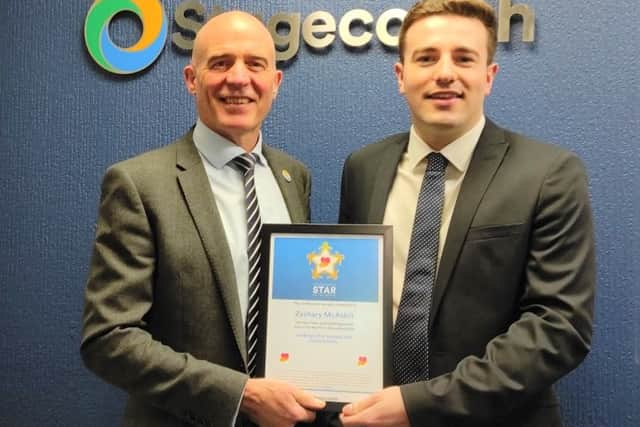 A Stagecoach bus was waiting at the stop at the time, and the man who was being chased managed to run inside. The driver shut the doors before his attacker could follow, but the man with the knife still came after him.
Zachary said: "The guy with the knife was braying on the doors, trying to get in, holding a knife saying: 'I'm gonna kill you, I'm gonna kill you'. And he started clicking the emergency doors open button. Obviously the bus had passengers on as well.
"The driver was holding down the 'don't open' button, so the doors were slightly flickering but not enough for the guy to get in. Kind of almost pleading with him, I said: 'Mate, is it really worth it? You're going to get jailed just for carrying a knife, please, please leave him, it's just not worth it.'"
After telling Zachary to "f-off," the attacker continued his attempts to break into the bus for a few seconds before eventually fleeing. Zachary said that his main priority throughout the ordeal, which took place in November, was "making sure everyone was ok."
He said: "To be honest, it's only afterwards that I thought about what could have gone wrong. Even though there was a person getting beaten up before the knife, I couldn't just stand by and let someone get hurt. When I saw the knife, I couldn't think of anything worse than standing by and doing nothing. That's why I wanted to intervene and do something to prevent what could have been really bad."
"I'm just glad the person was ok. I just can't think of anything worse than having witnessed it and then go back and question: 'Could I have done more?' That was my main motivation, making sure he was ok."
The 26-year-old, originally from the North East but now living in Cheadle Hulme, has worked for Stagecoach at various depots in Greater Manchester since graduating from university. He said that he has never encountered anything like this before in his five-year career.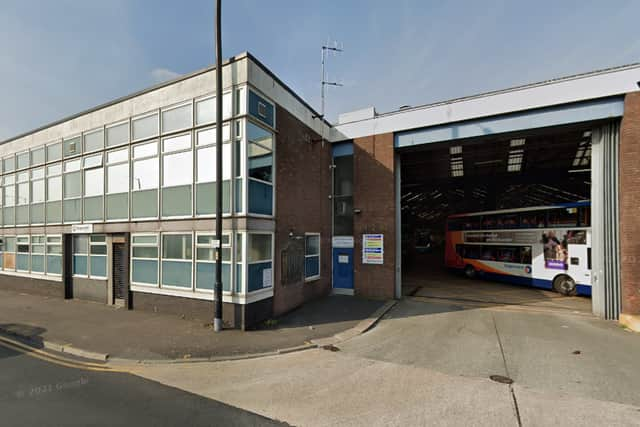 Zachary said that his friends and family are really proud of his bravery and how he acted that day. His employers have also recognised his courage by naming him Star of the Month.
He said: "I'm really touched. The company has done a bit for us, I was given our Star of the Month and it's just been really lovely to be honest. We have a company social media, Blink, and there's been so many lovely comments on there from our staff. It's been really touching, to be honest."
Lee Wasnidge, managing director of Stagecoach Manchester, also commented: "Stagecoach strives to serve its community, but the action taken by Zachary when faced with this terrifying situation was truly outstanding. His bravery helped a person escape from danger and he should be very proud of himself, just as we are of him.
"Zachary is truly deserving of this month's Star of the Month award, and we're proud to have him on our team."