Manchester Pride is holding a series of listening events this week as it continues to try to address questions over its future and direction.
The sessions will give people the chance to discover the results of a consultation the charity has run and give their feedback on it.
The run-up to last year's Pride festival included considerable controversy over the direction and the ethos of the massive celebration of LGBTQ+ people, communities and culture.
What are the listening events Manchester Pride is holding?
Manchester Pride is holding three listening events as it tries to address the issue of its future and direction.
People attending the sessions will hear the findings of the charity's Pride in Our Future review, which ran late last year, and have their say on it.
The consultation allowed the community to give their views, particularly on Manchester Pride's role in grant-making as well as the format and delivery of the annual Pride festival.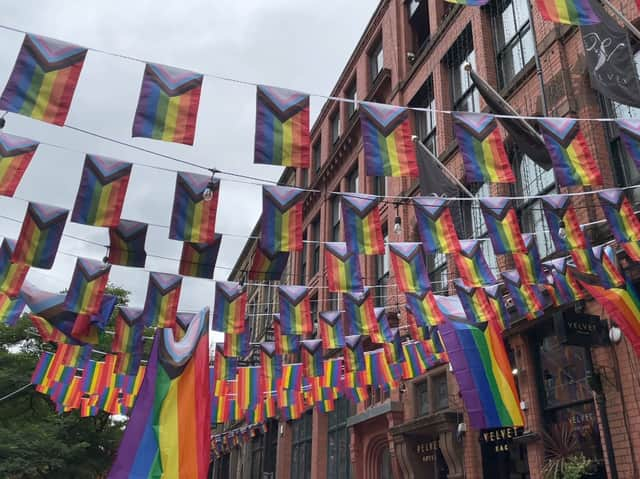 There are two sessions remaining, one on Thursday 20 January from 6pm to 7.30pm and the other on Saturday 22 January from 10am until 11.30am.
Feedback from the three sessions will then be considered before the Pride board of trustees decide what actions will need to be taken.
The final report and action plan will be shared with the public.
What has been said about the sessions?
Paul Wheeler, chair of Manchester Pride's board of trustees, said: "I'd like to thank the community for providing their input on the consultation thus far.
"Mustard Research, appointed as our independent evaluator, collated and analysed the feedback data from October to November, and provided the board of trustees with a report before Christmas.
"We've taken the community's insight on board and now want to discuss the findings with our communities to generate ideas to take the charity forward.
"Myself and other trustees are keen to ensure we continue to collaborate and co-design with our community at every stage, which is why we're now inviting Manchester's LGBTQ+ community to have their say and be a part of the decision making process."
What was the controversy around last year's festival?
A decision to no longer fund the LGBT Foundation's Safer Sex scheme after more than a quarter of century of supporting it prompted fury and concerns that Pride was losing touch with its roots and history. The scheme gives out free condoms and lubricant and is seen as a lifeline by many people.
Organisers also faced flak when the free parade through the city was scrapped but many of the paying events went ahead. Manchester Pride said it had no choice but to cancel the highly-visible public event for Covid-19 reasons.