Manchester pet owner shares Easter warning after sausage dog Bertie ate 'big bowl' of chocolate
This miniature dachshund from Manchester gave his owners a scare after eating a 'big, big bowl of chocolates' and having to be rushed to a vet.
Watch more of our videos on Shots!
and live on Freeview channel 276
Visit Shots! now
With the Easter season now in full swing, vets are urging pet owners to take extra care with their dogs around chocolate, which is highly poisonous for them – as one miniature dachshund from Manchester recently learnt the hard way.
Sixteen-month-old Bertie was rushed to dog A&E Vets Now after eating a pile of Celebrations, Quality Street and Heroes. His owner, Claire Cully, was out shopping at the time and had left the chocolates on her living room table, assuming Bertie's legs were too small to climb that high.
However, the furniture had been moved while new flooring was being laid in the living room, so Bertie was able to reach the sweet treats. When Claire and her partner returned two hours later, they saw half-eaten chocolates and wrappers strewn across the room. Bertie was visibly distressed, whimpering with a swollen stomach.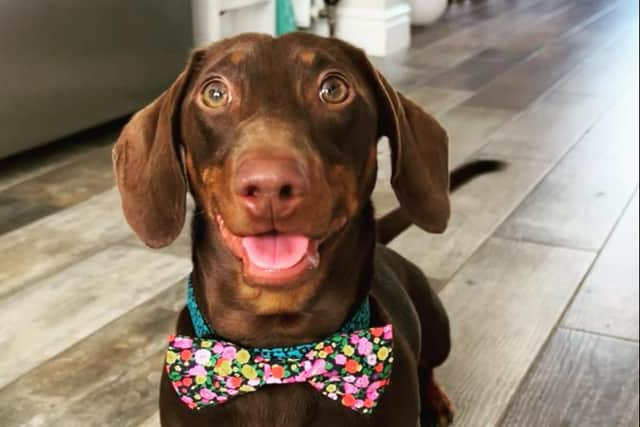 Claire said: "We are always so careful when we go out to make sure there's no food Bertie might be able to get hold of. But with the sofa having moved a bit, it obviously gave him a platform to get to the table which had been totally out of reach before.
"It was a big, big bowl of chocolates and he ate his way through the whole thing, except for a few toffee pennies and strawberry creams which he turned his nose up – which is proof I suppose that dogs are like humans and there'll always be something left over that no-one likes!"
They immediately took him to Vets Now in Manchester, an A&E service for pets, where he was given medication to stop the chocolate from settling. He managed to pass the chocolates – and wrappers, which he had also ingested – and was sent home two hours later with a dose of activated charcoal.
Claire said: "The staff at the Vets Now hospital were brilliant with Bertie – and very kind to us as well. It's really nerve-wracking when your pet is ill and in an emergency situation like that and it was a real relief to know he was in such good hands. It was only a 20-minute journey from our house but I can honestly say it felt a lot longer because of how worried we were."
She also has some advice for other dog-owners now that kitchen cupboards are starting to fill up with Easter eggs. She said: "We were lucky that we weren't out for long and were able to get Bertie help straight away.
"But with Easter coming up I'm conscious there's going to be a lot of chocolate lying around in people's houses. And the sincere advice I'd give any other owners is please get help from a vet straightaway if your dog does get hold of some."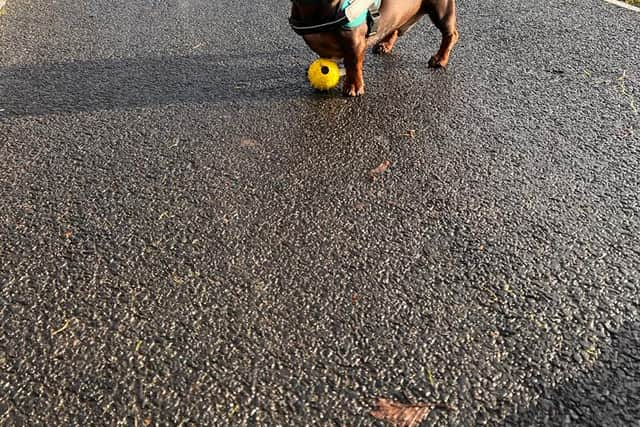 Bertie is now back to being a happy and healthy dog and his owners are looking forward to him being part of their upcoming wedding.
Claire added: "Bertie's part of our family and he'll be part of our big day – but there's no way he's getting anything to carry in his mouth, definitely not!"
What do Vets Now say?
Vets Now, which has 60 clinics and hospitals in the UK, said that they saw cases of chocolate toxicity in dogs rise 236% last year over the Easter period. The much-loved human treat contains a caffeine-like chemical called theobromine which can cause an overstimulation of dogs' muscles, including their hearts.
Dave Leicester, Vets Now head of telehealth, said: "Unfortunately, we see a big rise in chocolate toxicity cases at Easter and it shows owners can never be too careful. Our advice is to keep chocolate treats well away from your dog. As long as it's treated early and there's been no organ damage, the prognosis for chocolate toxicity is generally good, but we'd like to help pet owners avoid a trip to the emergency room over Easter."
"The effects of chocolate poisoning in dogs usually appear within 12 hours and can last up to three days. First signs can include excessive thirst, vomiting, diarrhoea and restlessness. These symptoms can then develop into hyperactivity, tremors, abnormal heart rate, hyperthermia and rapid breathing. In severe cases, dogs can experience fits and heartbeat irregularities and some cases can result in coma or death."
The vet service has also launched an online chocolate toxicity calculator to help worried owners work out if their dog has eaten a toxic amount. Their centres are open 24/7, but they also offer online video consultations if owners are unsure whether their dog needs treatment.
You can find more information about Vets Now via their website.