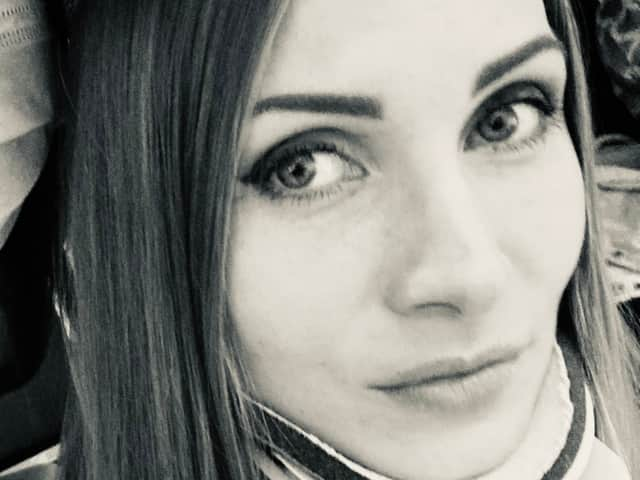 Manchester mum Diana Olijar is fund-raising for potentially life-saving surgery
A Manchester mum who is in a desperate race against time to raise enough money to have life-changing spinal surgery has suffered a setback after her original operation date was postponed.
Diana Olijar, from Fallowfield, has had neurosurgery for her connective tissue disorder and its co-morbidities pushed back to Valentine's Day next year.
That means she has until 28 January 2022 to raise enough cash for the private surgery to go ahead.
Why does Diana need to have surgery?
Former flight attendant Diana, 33, led an active life until an incident in 2012 left her with serious spine and neck injuries.
Despite initially recovering, she then began to experience extreme tiredness, memory loss and widespread pain.
EDS is a multi-systemic condition which affects the skin, tendons, ligaments, blood vessels, internal organs and bones.
She is now in danger of what is known as internal decapitation, which describes the ligamentous separation of the spinal column from the skull base.
The surgery she has now pinned her hopes on involves a spinal fusion of two vertebrae to reduce the instability with decompression and duroplasty to increase the cerebrospinal fluid flow.
Part of the bone has to be removed to increase the blood flow in her jugular vein. The craniocervical junction, or the head, will then be fixed, following traction to find the optimum position.
However, she is having to go private as this surgery is not offered to EDS patients on the NHS.
What has Diana said about the operation postponement?
Diana was originally supposed to have surgery in November and admits the postponement is a concern for her.
However, it also means she has a little more time to get together the money she needs and this week the fund-raiser remained a long way short of its £100,000 target.
Diana said: "It's worrying because there's only one neurosurgeon who does this surgery in the UK and he's currently not taking on patients.
"This is a changing thing and I really don't want him to drop me.
Diana Olijar before her health ordeal began
"If that happened the cost of the treatment would be significantly increased as I would have to go to another country. I don't feel able to do that at this point.
"As they've moved the date of the surgery we're trying to get the fund-raiser out there, because it's not going very well.
"If we don't get the money by 28 January, it won't go ahead.
"I've tried speaking to the hospital about financing but I'm not working and not in a position to repay any money.
"I don't have any way of covering the cost, I've tried everything before setting up the fund-raiser."
Conditions which have completely altered her life
Diana's shocking health battle has completely altered every aspect of her life.
She even had to send her 14-year-old daughter to boarding school because she was unable to have her at home.
Her conditions have also severely restricted what she is able to do.
Her connective tissue disorder means the 'glue' that holds the body together is faulty and too weak, causing cardiac abnormalities, extreme widespread pain and daily joint dislocations.
She also has to deal with intermittent paralysis, chronic fatigue, seizures, fainting, spinal headaches, issues with balance, eating, hearing, eyesight and a myriad of other symptoms.
Diana has had to send her daughter to boarding school due to her condition
Diana said: "My daughter is at a boarding school and I would like to have her at home and be able to support her.
"It's heartbreaking. I'm just surviving from day to day. My condition is getting worse.
"I am now alone and unable to work or care even for myself.
"I'm just mainly trying to avoid injuries from falling, especially as I don't have a carer and there isn't anybody at home to help me get up.
"I used to work as cabin crew and be a dedicated attentive parent, now I am fighting for survival. I want to see my daughter grow up and always be there for her.
"It's hard. I'm just scared."
You can visit Diana's GoFundMe page here.