The countdown is on for the eagerly anticipated return of the Manchester Marathon on Sunday 10 October.
The marathon is due to attract around 32,000 runners this year to its new course which takes in the city centre, and it takes place shortly after thousands more runners compete in the Therme Half Marathon that morning.
With so many people on the move, we've put together a guide to getting to and from the races to help you on your way and we'll continue to update it in the countdown to the races this weekend.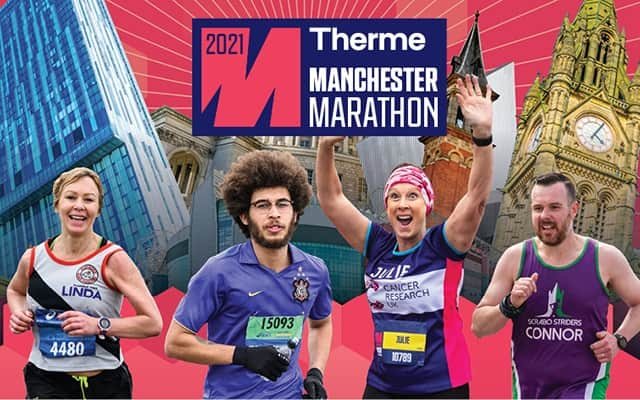 What's happening with the trams and is there a strike?
Trade union Unite announced on Friday 8 October that plans for a strike on Metrolink trams on Sunday have now been suspended after a revised pay offer was put forward.
That's good news for those involved in the marathon as they are being advised to use public transport if possible due to road closures for the race (see below).
A normal Sunday service will be running on the trams which starts at 7am, TFGM says, with the latest travel advice from them here.
Services are likely to be busy pre and post race across all lines – in particular the Altrincham, East Didsbury and Trafford Park Lines. The predicted quietest time to travel for spectators is 12pm to 3pm.
The nearest tram stop to the Athlete Village and start area is Old Trafford, which is on the Altrincham line. If travelling on the red line (The Trafford Centre line) you can use the Imperial War Museum station. Organisers advise to avoid using Wharfside Way, Exchange Quay or Pomona stops as you won't be able to cross the route.
How about train and bus travel then?
Race organisers adviced that a regular shuttle bus service will also run from Piccadilly Gardens in Manchester city centre (a short walk from Piccadilly railway station) to Trafford Wharf Road. You should head to the J Stand bus stop and follow instructions from the TFGM team. It will operate every approximately 10 minutes from 6am onwards.
However, it will involve around a 25-minute walk to the athletes' village when you get off so allow time. There will be return buses from the same point until 5.30pm.
In terms of other bus routes, it's been confirmed now the following bus services will be diverted due to road closures: CAT5, 11, 11A, 15, 18, 19, 23, 25, 33, 34, 36, 37, 38, 41, 50, 53, 79, 88, 150, 197, 245, 247, 250, 255, 256, 263, 282, 283, 284, 285, 286, 287, 288, V1, V2 and X50.  
For journeys on public transport from other starting points, you can try searching in Traveline here for more advice from your own area.
What about car parking instead?
There is no official car park at the Manchester Marathon and the recommended pre-bookable parking at Manchester United's ground has now sold out.
Organisers say you can park for free at Event City, located close to the Trafford Centre, thanks to the Peel L&P Park and Ride service. They have around 3,000 spaces. From here, you can either get the Metrolink (the line is in service from 7am) or catch one of the regular replacement shuttle buses to Trafford Wharf Road.
Alternatively, you could consider a private driveway rental app: there are homeowners letting spaces on Sunday on the likes of ParkOnMyDrive.
Be aware there is likely to be high demand for parking spaces and that your journey by car could be affected by marathon road closures too - see below.
Where are the road closures for the marathon then?
If you are travelling by road, you need to be aware of a number of road closures affected by the marathon route.
Various routes in the city centre, Old Trafford, Stretford, Sale, Brooklands, Timperley and Altrincham will be affected.
Organisers were unable to provide a full written list to ManchesterWorld but say they can be checked on the interactive map on their website here.
You can also find a printable map there for use on the day.