Manchester Deliveroo rider wins award after also working for NHS during Covid-19 pandemic
The generous rider doubled up as she had a full-time role with the health service while also carrying out her work delivering on two wheels.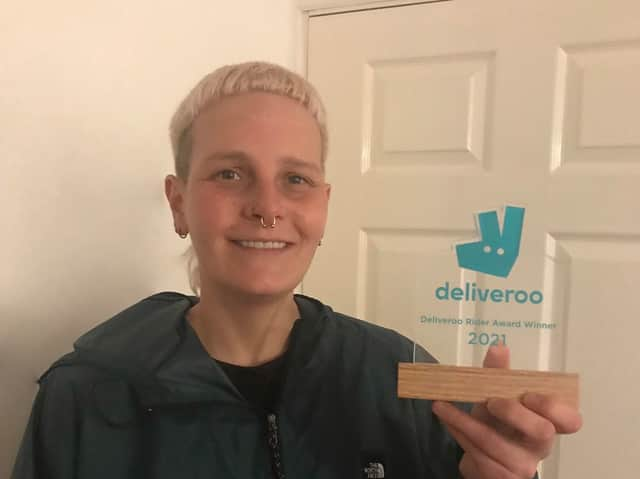 Joanna Hutcheson, from Chorlton, has won an award from Deliveroo
A Manchester cycle courier has won an internal award from her company after also working for the NHS during the Covid-19 pandemic.
Joanna Hutcheson, from Chorlton, was given an Above and Beyond prize by Deliveroo for her extraordinary contribution to the efforts to tackle the novel coronavirus,
Joanna was deployed on the front line of the Covid-19 crisis as she works for the NHS.
However, throughout that time she also continued to deliver food on two wheels part-time.
An extraordinary double effort
As Joanna works as an NHS physiotherapist, she found herself deployed at Manchester's Nightingale hospital to help the country's response to the pandemic as a full-time key worker.
However, she also spent that period during the lockdowns getting on her bike on a part-time basis to work for Deliveroo as a cycle courier.
Joanna has been riding for the company for nearly four years and said she kept it up as she loved supporting local communities by bringing them meals.
She was one of 19 cyclists to receive accolades at Deliveroo's annual Rider Awards in London.
A Deliveroo rider. Photo: Getty Images
The company says it is recognising riders who carried out vital roles such as volunteering at care homes or vaccination centres and undertaking charity feats to raise money and awareness for causes close to their heart.
What did Joanna say about her award?
Joanna said: "I'm proud to have been able to serve my community both as a NHS worker and as a Deliveroo rider. Receiving this recognition is simply the icing on the cake.
"I hope this can be a source of inspiration and encouragement for others to do something that makes a difference to people's lives."
What did the company say?
Deliveroo CEO and founder Will Shu said: "Riders are at the heart of Deliveroo and it's fantastic to be able to bring recognition to their amazing achievements.
"Countless Deliveroo riders go that extra mile to support other people and Joanna is a fantastic embodiment of that - juggling frontline NHS work with deliveries.
"I'm so delighted to present this award to her and to celebrate her dedication to serving local communities."