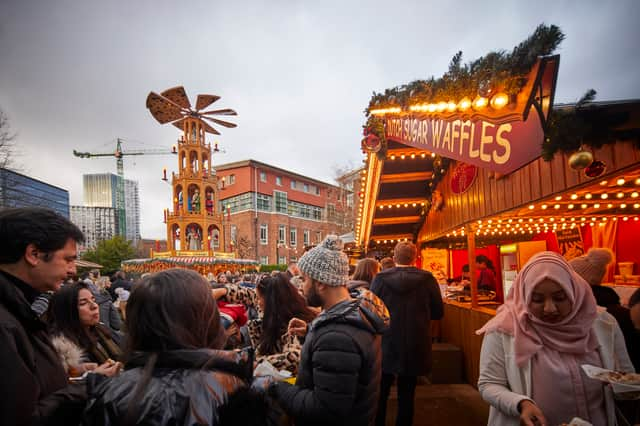 Visitors are enjoying the return of Manchester Christmas Markets for the festive season.
The markets are spread across six city squares and there is a new Winter Gardens family attraction in Piccadilly Gardens.
Manchester city council says entry to the popular markets will be 'strictly controlled' this year, with one-way routes and separate entrances and exits to encourage social distancing - but while you may have to queue to gain entry if it is busy, you will not need to book a ticket.
Albert Square doesn't feature this year, however. Here's where is involved - and also check out our markets map and food and drink prices here.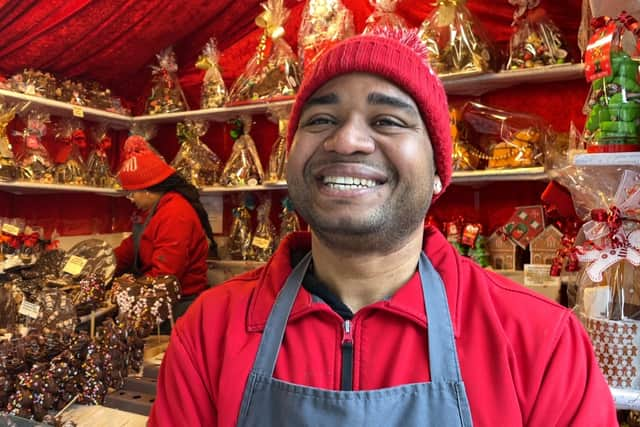 A guide to the Markets' areas
Hand pulled pizzas are in St Ann's for the first time, along with a Christmas Markets stalwart, the Lakeland Burger company. The Northern Quarter's Yard and Coop returns with their fried chicken and salt and pepper fries – along with a host of new craft sellers. And Birdie the campervan is at the site for selfies.
The street is welcoming high-end shoemakers, local vegan skincare products, jewellery and crafted produce, plus Bar No3 serving smoking cocktails and gins. The Witchouse is back with their traditional steins and currywurst.
Pork Pig's Yorkshire Pudding wraps are back for 2021, alongside the Mill Exchange bar – complete with huge chimney. Tikka Kebab kitchen brings the heat with their curries and spiced shwarma kebabs, along with gourmet pizza and local produce sellers.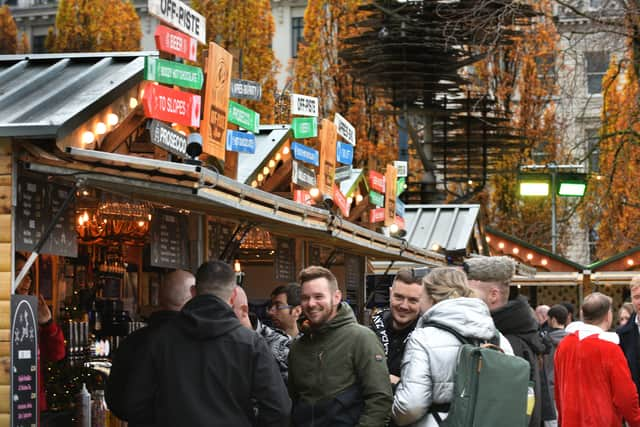 Market Street has some fantastic options for that Christmas list, but the council says it is on a slightly smaller scale than previous years 'to make sure people can keep their distance should they want to.'
Returning with a host of French themed stalls with gallic food, beers and wines, plus a warming gin bar with over 100 varieties to choose from, along with an Italian deli.
The Gardens returns as the family-friendly area with the return of Skate Manchester's ice rink and a range of food and drinks stalls to help skaters recover from their time on the ice. Plus, entertainment every week from Thursday through to Sunday, including kids' shows. Book tickets via SkateManchester here.
What else is new?
Piccadilly Gardens has a central role to play, hosting a Winter Gardens family attraction.
The area features with yuletide bars offering locally brewed ales, food stalls, craft sellers and – for the first time – a stage with live music and DJs throughout the festive season.
Food-wise, expect Dutch Frites, Greek Gyros and cookie dough puddings among the treats. Read more about Winter Gardens and watch our video here.
When is it all on?
The Christmas markets run from 12 November to 22 December.
The Winter Gardens run from 12 November to 3 January 2022.
Coun Pat Karney, Manchester's Christmas spokesman, said: "It's wonderful to welcome back our world-famous Christmas Markets and the addition of the Winter Gardens for the very first time.
"Manchester has been the capital of Christmas for 22 years since the very first Christmas Market arrived in the UK in 1999 and we know it was a huge disappointment that we had to scale back our celebrations last year.
"We're making up for lost time this year and I can't wait to see the transformation in the city centre into the festive wonderland we know and love.
"Of course, all of our attractions have public health at their heart and the safety of our visitors will be paramount. Covid remains a real concern and we will have strict maximum numbers in some areas like the Winter Gardens to make sure people can maintain their distance – and security will be helping us manage crowds. "