The Manchester food bank that is a 'real community spot' in 'hard times' of cost of living crisis
Kathleen was one of many members of the local community came along to the fun packed day in Droylsden 
Watch more of our videos on Shots! 
and live on Freeview channel 276
Visit Shots! now
A Manchester woman who uses a community food bank has praised organisers for making it a strong pillar of the community. Kathleen told ManchesterWorld that she uses the food bank at Droylsden Juniors Football Club once a week- but that she also visits the charitable organisation for the social opportunity of chatting and drinking tea.
Kathleen is a client of the food bank which is run by Feedo Needo and was speaking at a community day organised by the charity. She said: "They've [Feedo Needo] worked very hard to get this. A lot of planning has gone into it to get the community together- and I think the community has come together. 
"With hard times, to get something where the community is giving back with food and days out. The cost of living gets to us and to have something like this where there is fun and laughter and all together is pleasing. Honestly it's a nice shock to see how many people are here. 
"This place is right on the doorstep of the community. Everyone is welcome here, it doesn't matter your background. The door is open for you. 
"I come here on a Monday and I use the food bank. It's great for the kids to be able to come along and get a free drink and a piece of cake. It's a real community spot. The age group difference is so vast from the young to the old. People can come in for a chat and just talk to people. It's a meeting place, I've met loads of people here who I've not seen elsewhere in Droylsden."
Kathleen added that the centre is significant to her and others in the community - and the death of a local resident was felt by more as a result of the close-knit nature of the bank.
"The turnout shows that people do know about this place and it is growing. I hope it doesn't go because I wake up and I think 'what am I doing today? Oh I'll go and have a cup of tea with Becky and some of the others.' We lost someone from the group and we all felt it. 
"He had dementia but he was treated as a person by everyone here. Everyone felt it. That shows me how tight the group is here that, although I didn't know the man, I still felt it. But  did know him really, from a smile here or at the Christmas parties we went to. It's a nice memory." 
Kathleen was at the football club for a community day organised by Feedo Needo. This was a chance for parents and guardians to bring their children along for an afternoon run without worrying about the financial cost. 
Charity Freedo Needo works with local communities across the UK, including right here in Manchester. The charity hosts a food bank four days a week at the football club, and have said that the number of people using the bank has risen. 
The day was filled with all sorts of fun activities for children to enjoy. The eye-catching attraction was arguably a fully functioning fire engine which children were given the chance to have a sit down in. 
Other fun-filled activities included face painting and a chance to play football and other games on the football club's Astroturf pitch. With the sun shining bright and the rain keeping away, an enjoyable time was had by all at an event which parents didn't need to worry about paying. There was also a selection of food and drink including hot dogs, cake, and squash to enjoy.  
Rebecca Hargreaves is Project Manager of Feedo Needo Manchester. She told ManchesterWorld about what the day was all about, and why the food bank is as important as ever this summer. 
She said: "We're hosting a family fun day today for those families who are struggling in school holidays with their kids. We have a community centre open here and a food bank, and this is open Monday to Thursday for anyone who needs to use it. 
"A lot of families are struggling more, and finding activities to do can be expensive. We wanted to put at least one event on like this during the summer holidays so kids could have fun and parents can come and not need to worry about the cost. 
"Luckily, we work well with many of the local supermarkets and we have a good relationship with them. They are good at helping us out but I have noticed that donations from supermarkets have dropped. Going back a couple of years ago, we would get quite a lot but it seems even they are cutting back on waste- donations have been dropping over the last year, I would say.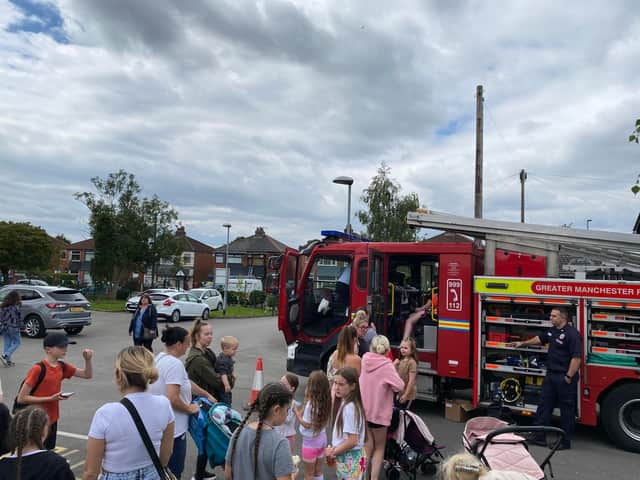 "We have really good community spirit around here. There are plenty of charities who have come forward to help out and the council have said they are going to donate some money to us today. It's good to have that support because when we have issues with donations it's good to have the community there to help."
To find out more about the work of the charity, and to see how you could help out, visit the Freedo Needo website.