Manchester Airport named worst in the country by Which? survey as Liverpool triumphs
Manchester Airport has been described as "crowded, noisy, generally stressful and dispiriting from start to finish".
Watch more of our videos on Shots!
and live on Freeview channel 276
Visit Shots! now
Manchester Airport has been named one of the worst in the country by the latest Which? survey.
Which? surveyed almost 4,000 people about their experiences at airports in the last twelve months and invited them to rate the airports across eleven categories, including seating, staff, toilets and queues at check in, bag drop, passport control and security.
A customer score was calculated based on a combination of overall satisfaction and likeliness to recommend. The consumer champion also asked travellers to report how long they spent queueing at security.
At the top of the charts is Liverpool John Lennon airport, with a customer score of 82 per cent. It has also earned Which? Recommended Provider status for the second consecutive year.
Manchester airport took the lowest two spots in the rankings, with a dismal customer score of just 38 per cent for Terminal 3 and 44 per cent for Terminal 1.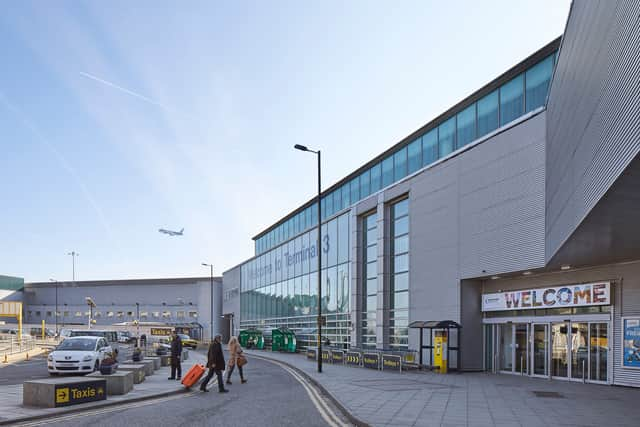 Manchester's Terminal 2 fared marginally better, but still found itself in the bottom five with a score of 50 per cent.
Terminal 3 scored a lamentable one star for seating, prices in shops, and queues at check-in, bag drop and security. It scored no higher than two stars in any of the remaining categories.
One traveller complained of "huge queues" at check-in, branding the situation a "joke", while others dubbed the airport experience "crowded, noisy, generally stressful" and "dispiriting from start to finish".
Multiple respondents reported long queues at various points through the airport experience, and noted the airport was "overcrowded".
Terminal 1 (44%) also received a clutch of one and two star ratings, but secured three stars for the range of shops on offer. Terminal 2 (50%) meanwhile scored no lower than two stars in any category, and managed a good score of four stars for queues at the check in desk.
The airport was among the worst performing in the survey for security queues, with an average wait time of 28 minutes reported at Terminal 3, 26 minutes at Terminal 2 and 25 minutes at Terminal 1. Only Birmingham Airport performed worse, with an average reported wait time of 29 minutes.
Also in the bottom five are London Luton and Belfast International, both tied on a score of 49 per cent.
Completing the top five are Southampton (77%) and Bournemouth (75%), the only other airports to be named Which? Recommended Providers, and East Midlands and Newcastle, which tied on 72 per cent.
Rory Boland, Editor of Which? Travel said: "Choosing the right airport isn't often high on travellers' holiday checklists, but taking the time to think about where you're flying from can really pay dividends.
"We'd recommend opting for a smaller airport, as our survey shows they generally tend to perform better on queue times and customer service, giving holidaymakers the positive start to their holidays they should expect."
A Manchester Airport spokesperson said: "Manchester Airport is proud to give the people of the North easy and affordable access to a wide range of global destinations.
"We are committed to providing a great experience to all passengers, and feedback this summer has been really positive, building on the strong Christmas and Easter getaways we delivered.
"Our customer service is driven by investment in our people – we have recruited more than 3,000 colleagues since April 2022 and established a new 100-strong resilience team, trained in a variety of roles so they can respond at short-notice to ensure passengers get a good level of service.
"It is also driven by investment in our facilities, especially the £1.3bn transformation of Terminal 2, through which more than 80% of our passengers will fly by 2025.
"We take all customer feedback seriously, but the Which? survey creates a deeply flawed and misleading picture of the service we are providing to our customers this summer.
"The survey is out of date – covering June 2022-June 2023 and not including the majority of this summer season - and is also based on a tiny and unrepresentative sample of the 25 million passengers who travel through Manchester Airport each year.
"Year-by-year the Which? survey becomes less and less relevant as response rates continue to dwindle, with half as many people surveyed this year as were 12 months ago. There were only 567 responses relating to Manchester Airport - 0.002% of our annual passenger numbers.
"As part of our commitment to delivering great customer service, we continually survey passengers. In July and August this year, 93% of those passengers rated their overall satisfaction with the service they received as good, very good or excellent.
"Since April this year, we have welcomed more than 10.4m people through Manchester Airport, who have travelled to more than 180 destinations with nearly 50 different airlines - and 95.6% of them have got through security in under 15 minutes. Almost three quarters got through security in under five minutes and 99.8% in under 30 minutes."