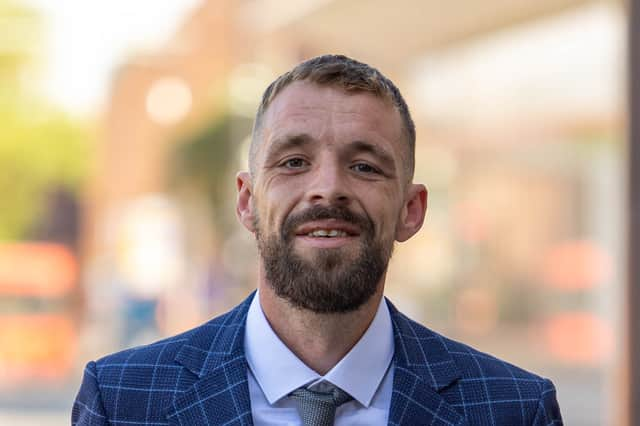 A football fan racially abused ex-England and Manchester United star Rio Ferdinand during a Premier League match, a court heard.
Jamie Arnold, 32, is said to have hurled racist insults and made monkey gestures towards the former defender while he was working as a pundit for BT Sport.
Jurors were told the drunk Wolverhampton Wanderers supporter targeted Rio after he celebrated a goal for Manchester United when the two teams met on 23 May last year.
He was arrested during the game and charged with causing racially aggravated harassment, alarm or distress.
On Monday, Arnold, of Norton Bridge, Staffordshire, went on trial at Wolverhampton Crown Court where he denied the charge.
Warning: contains offensive language
CCTV footage played to the court showed Arnold appearing to mimic a monkey by putting his hands under his armpits and jumping around.
He then shouted "Rio you f***ing monkey" before going on to chant: "One John Terry, there's only one John Terry", it is claimed.
The court heard Arnold also launched a barrage of homophobic abuse towards referee Mike Dean and branded him a "f***ing gay boy".
Prosecutor Jason Aris said the eagerly-anticipated match was the first time Molineux had hosted fans in more than a year following the Covid pandemic lockdown.
He said: "When the Covid 19 pandemic hit the country in March 2020, each and every one of us was affected in some way.
"One of the unfortunate consequences of the pandemic is that it affected particular industries like the entertainment industry. Likewise sporting events came to an end.
"The Premier League suspended games in March 2020. You will perhaps be aware that the season was allowed to continue later that year.
"Accordingly the matches were played behind closed doors.
"Sunday 23 May, 2021 should have been a joyous day for football fans in Wolverhampton as they welcomed back supporters to the club.
"They were not accepting away supporters but were accepting home supporters. People who had season tickets.
"The match was one that was I'm sure was eagerly anticipated by football fans who had not been able to attend a match for in excess of 15 months.
"The match was to be broadcast live on BT Sport and former Premier League player turned football pundit Rio Ferdinand was there at the stadium ready to commentate on the match and was there to analyse the match.
"Prior to kick-off Mr Ferdinand was at the stadium on the gantry.
"In one of the stands called the Billy Wright Stand and below him were numerous Wolves supporters who engaged in some harmless banter with him.
"I'm sure we are all aware that when sports are concerned there is always some banter between various teammates and supporters.
"It seems that during the first half of the match, supporters were engaging in harmless banter with Mr Ferdinand. He is of course a supporter of Manchester United.
"Wolverhampton Wanderers supporters gave great delight in giving a bit of stick to Mr Ferdinand when they were gaining the upper hand over Manchester United, teasing him.
"Mr Ferdinand laughed off that behaviour. In fact when Manchester United scored a very early goal in that match he took pleasure in celebrating that goal.
"This was a time for joy and celebration as people could once again watch what is colloquially known as the beautiful game.
"Unfortunately things became somewhat soured during the course of the match, they were soured by the virtue of the fact that this defendant Mr Jamie Arnold was in attendance."
The court was told Arnold "had not been there to behave himself" or "watch the football and enjoy the day" and soon became abuse towards Rio during the first half.
Mr Aris added: "Mr Ferdinand was aware of a group of supporters who were shouting rather enthusiastically at him.
"Mr Ferdinand noticed this defendant was focusing all of his attention on him, he was giving hand gestures and jumping up and down and misbehaving himself.
"Mr Ferdinand, being the professional that he is, chose to ignore this behaviour.
"The defendant was pointing towards the direction of the Billy Wright Stand where Mr Ferdinand was stood.
"This defendant put his hands underneath his armpits and started to jump around where he clearly tried to imitate and mimic a monkey.
"It was clearly intended to be racist.
"People who were at the match heard this defendant shout 'Rio you f***ing monkey.'
"Supporters who witnessed this were appalled, they were disgusted by the defendant's behaviour. He persisted, shouting 'One John Terry, there's only one John Terry.'
"This defendant had been particularly unpleasant, just some five minutes after kick off the defendant hurled homophobic abuse towards the referee Mr Mike Dean.
"He shouted 'you f***ing gay boy' towards the referee.
"Supporters were uncomfortable by what they heard. He was definitely under the influence of alcohol, he was slurring his words and uneasy on his feet."