LS Lowry's iconic football match painting is 'coming home' after it was bought at auction for a record-breaking £7.8 million - and will return to public display.
The treasured painter's much-loved work Going to the Match will go back view to the public in the arts centre named after him in his hometown of Salford.
The piece had been on display at the Lowry since it opened in 2000, but was only on load from the Professional Footballers Association who owned it. And their decision to sell it at auction sparked fears that future owners wouldn't have the work on display to the public as it would be bought by a private collector.
The 1953 painting, which depicts thousands of people attending a football game at Bolton Wanderers' old stadium Burnden Park, will go back on display next week.
Julia Fawcett OBE, CEO of The Lowry, said: "We passionately believed Going to the Match needed to remain on public view.
"It's safe return to our galleries, thanks to the wonderfully generous gift from The Law Family Charitable Foundation, will be a huge moment for Salford, and we cannot wait to bring it home.
"We know visitors will be coming in large numbers in the coming months to view this iconic and much-loved work of art, and we can't wait to welcome them.
"Again, I'd like to thank everyone who has helped achieve this fantastic outcome."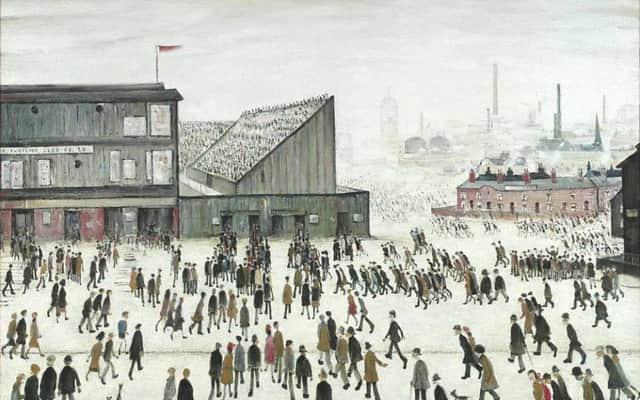 It follows a campaign by the the Mayor of Salford, Paul Dennett, who called for the the painting to remain the city for free public viewing.
Going to the Match was a number of paintings LS Lowry produced on the theme of sport, including a 1926 piece depicting a crowd heading towards a rugby league game.
The Salford-born artist made his name with depictions of northern working class characterised by his use of matchstick portrayals of men and women. He gained recognition for his art work in his fifties and created more 8,000 drawings and 1,000 paintings in his lifetime.
Mr Dennett said: "This painting was created in the north and belongs in the north and thanks entirely to the generosity of the Law family it is coming home to Salford where it should be.
"It is so important to have this iconic piece of art on view to the public for generations to come and I will be delighted to welcome it back.
"I am delighted our campaign to save this critical and important painting has successfully resulted in The Lowry securing it."