A Manchester-born speech and language therapist has spoken about the rising demand for support and the pressure services are under - but has also shared some tips on what parents can do to help their children.
Joanne Jones, who worked in the NHS for more than two decades before starting her own private therapy business in 2018, spoke out after analysis by the BBC Shared Data Unit showed the number of children in year one at primary school needing help with communications-related issues is rising. And ManchesterWorld's look at the same figures showed the same rising trend across Greater Manchester.
Joanne echoed concerns in the sector about the ability of speech and language therapy services to cope with the increased demand and that the Covid-19 pandemic has made the situation worse as youngsters were deprived of social interaction. However, she said that worried parents who were on waiting lists for their children can help with their speech and language development themselves and offered some expert advice on what to do and not to do.
What has been said about rising demand for speech and language therapy?
Analysis by the BBC Shared Data Unit and ManchesterWorld showed that the number of children needing speech and language help in year one at primary school rose in Greater Manchester in 2021-22 compared to 2020-21. Experts said this could be partially down to the lockdowns during the Covid-19 pandemic and expressed concern that services are struggling to cope with increasing demand.
Joanne, who is originally from Altrincham, said the national and local picture in the story is very much one she recognises.
She said: "I'm hearing all the same stories about people really struggling to access speech therapy. Some people have been waiting nearly three years for an initial appointment, and if you refer a two-year-old they are very different by five. Lots of people are feeling very unsupported.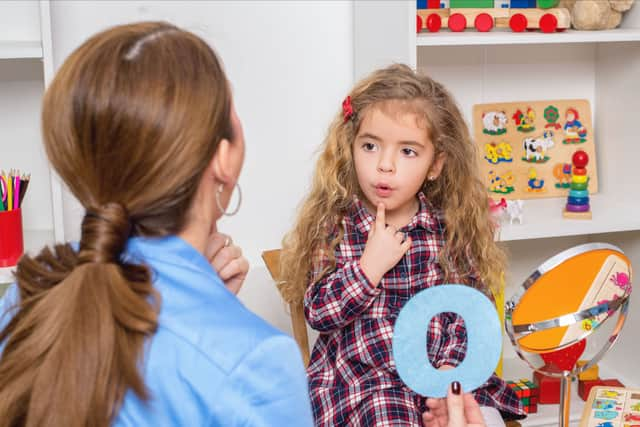 "I know the pressures on the NHS. More people are coming in and there are not enough speech therapists. It used to be you didn't have to wait for a private appointment but families are telling me they are on waiting lists and there is real pressure in that area.
"The lockdown definitely didn't help. Babies born then are now two or three years old and that's when parents often realise things are not just sorting themselves out. It had an impact as there were no classes to go to and very little social interaction, while parents were trying to juggle working from home with children. They were also seeing masked people, and those early years are important for understanding facial expressions.
"We are trying to be innovative in how we see people quickly but it's just not possible with the resources we have. There has been a recruitment issue within speech therapy and lots of places haven't been able to take people on. No-one's got to the bottom of why. There are more children and services are struggling."
Joanne suggested more funding is needed for children's services across the board. "It is almost like it's the least important part of the NHS because it isn't about big operations or high-tech stuff," she said.
What does Joanne suggest parents can do?
Joanne, who now runs The Home of Can-Do, is keen to stress that parents whose children are on waiting lists for speech, language and communication needs can do things to help their son or daughter themselves before they get to see a professional therapist. She has set up an online programme of mentorship to help parents learn what they can do. She shared three crucial tips for mums, dads and guardians who want to help their child improve their speech and language skills.
She said: "The first thing is to focus on what the child can already do. Parents can fall into this list of what their child can't do and what other children their age are doing. This leaves them with nowhere to go. Start with what your child loves and do more of that. Don't just make them do things they currently can't do.
"Secondly, you can't teach language, you can only facilitate language. Language is about connection, confidence and enthusiasm. When we put these things at the heart of it we see children wanting to make progress. If parents feel responsibility to teach children just close off.
"Thirdly, play is at the centre of facilitating language. Helping them to play better really supports language development. I don't think that's emphasised enough. By creating opportunities for play you are facilitating communication, as long as you are not doing teaching."