Hair Sanctuary: How a Manchester businesswoman created a salon to specialise in afro hair
Naomi Brooks has spoken about why she set up The Hair Sanctuary - a Manchester salon specialising in afro hair - and the journey and challenges she faced to realise her vision.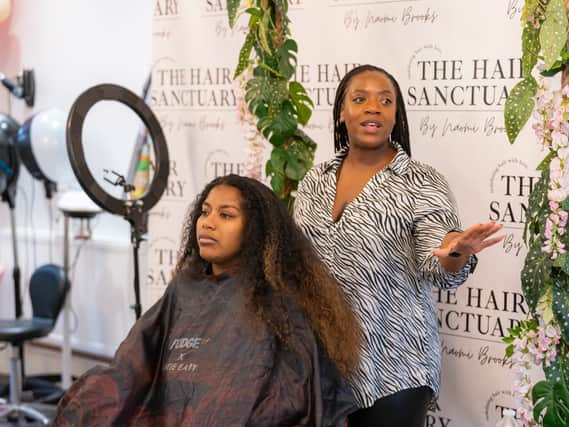 A Manchester businesswoman has spoken about how she opened her own hair salon in the city dedicated to afro hair care and is training a new generation of stylists to give Black customers the best possible service.
Naomi Brooks launched The Hair Sanctuary in Sale and said she wanted to create somewhere Black women would be able to enjoy luxury which also specialised in catering to them. Naomi also spoke of the challenges she has faced during her career in the industry, including issues with funding and career progression, and talked about why she started a training programme to ensure more stylists are able to care for the hair of Black customers.
A funding grant and development programme which started supporting Naomi during the Covid-19 pandemic also shared its own figures on how little money Black entrepreneurs in the hair industry manage to get their hands on and how few salons cater for people with textured or afro hair.
How did Naomi Brooks found The Hair Sanctuary?
Naomi, who is from Manchester, first became interested in hair styling and care at around the age of 10 when her mum taught her how to braid her own hair. She says she has been fascinated ever since so when it came to studying hairstyling felt like a natural progression for her.
She has enjoyed a successful career which has included styling hair for London Fashion Week and being a finalist at the British Hairdressing Awards 2022 in the Northern Hairdresser of the Year category. She also works as an educator for a number of brands.
However, after years of working as a freelance stylist Naomi felt her career was facing obstacles if she wanted to advance further, and she decided that founding and opening her own place was the answer. The result is her Cross Street salon The Hair Sanctuary in Sale.
Naomi said: "Owning my own salon was very important to me because I didn't have much progression or career opportunities at the previous salons I used to work for. I wanted to create a space where my staff could grow and expand into the many different avenues within the industry. I also wanted to create a space where Black women could go to experience luxury - because we deserve it."
How hard was it for Naomi to open her own salon?
Naomi said her vision for The Hair Sanctuary was not easy to achieve and she had to surmount a number of hurdles before she was able to make her dream a reality.
She said: "There have been many challenges along the way but they have never stopped me from chasing my dreams. I've faced many nos, setbacks, lack of resources and finances, unreliable staff, difficult landlords, burglaries - you name it, I've been through it. As hard as all of those things have been, they've taught me so much about resilience, myself, my business and its people. Challenges have forced me to grow, adapt and move forward into the woman and business owner I am today."
The challenges in getting The Hair Sanctuary off the ground also helped to cement further Naomi's belief that Black people in Britain need more businesses founded and led by Black entrepreneurs and businesspeople.
She described some of the negative views about Black-owned salons which she has heard during her time in the industry and how she wants to help counter that with The Hair Sanctuary.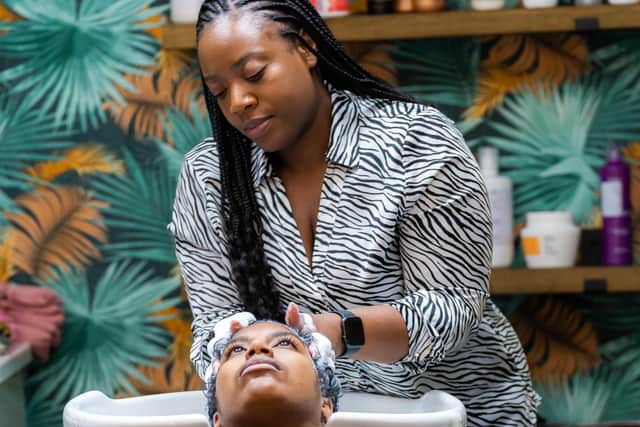 She said: "It's really important to provide a solid representation of our culture, tradition and authenticity for future Black entrepreneurs and clientele. In a world that consistently tells us that we can be anything, sometimes we need to see it to believe that we can achieve it.
"For me, it was the stigma that Black salons traditionally have of being 'less than' - the reputation of clientele receiving poor customer service is something I'm keen to steer away from because I know we're better than that and our clients deserve more than average.
"At the start, most people didn't believe in my vision and had little confidence in my plans because they thought it was just another hair salon. I was constantly overlooked at networking events and more often than not, the only Black person in the room. I was denied funding because investors didn't perceive my business to be profitable and I didn't have mentors that could advise me or cheer me on during these times."
How did Naomi start The Hair Sanctuary training academy?
It was not just the customers who Naomi wanted to experience something they would struggle to find elsewhere at The Hair Sanctuary. Her time as a freelance stylist left her with the view that opportunities for hairdressers to develop skills around working with afro and textured hair were severely lacking.
The result is the training academy at The Hair Sanctuary, which focuses on afro hair and has now started working on skin care as well. It offers a place for budding stylists to increase their knowledge and grow their careers, something Naomi says would not be available in many mainstream educational establishments.
She said: "My aim was to provide those within and outside of the Black community an opportunity to learn all about Black hair and skin. This would enable more salons to cater to Black hair and help decrease hair discrimination, which is a huge issue that Black women face.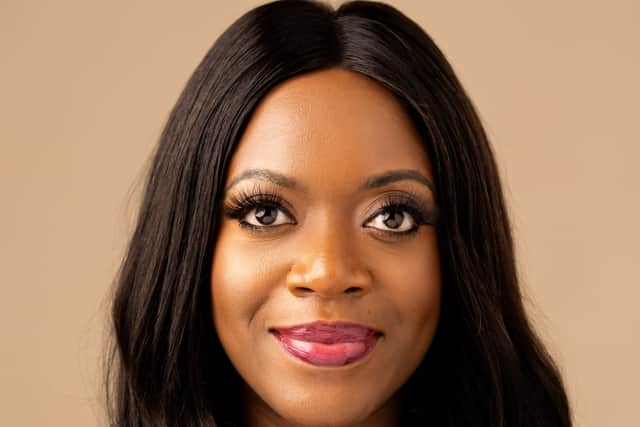 "In turn, those hairdressers that can cater to all hair types will have the opportunity to work on a wide variety of clients and opportunities. I've seen great interest in the academy as the industry is moving forwards with raising awareness about why stylists need to diversify their skillsets."
Earlier this year The Hair Sanctuary launched a new campaign to educate foster carers of black and mixed heritage children on the care of afro and textured hair, in collaboration with Manchester City Council.
A pilot scheme for carers and social workers took them through the basics of natural and protective hair styling for afro and textured hair, and how to support black and mixed heritage children as they discover and embrace their cultural identity and appearance.
Naomi created the course after foster carers sought her help as they needed support with afro and textured hair care and she hopes working in this area can help to eradicate hair discrimination, which sees many black or mixed heritage children be disciplined, suspended or expelled from school for their cultural hairstyles.
How has SheaMoisture's Salon Fund helped Naomi?
Along the way Naomi has received support from SheaMoisture's Salon Fund, particularly at the critical moment for her business when the Covid-19 pandemic hit and lockdowns were brought in. The Hair Sanctuary received a grant in 2020 which meant Naomi could ensure that when it re-opened after prolonged periods of closure the salon was Covid-safe.
This included purchasing essential items for both staff and customers and ensuring procedures were in place to ensure infection did not spread.
Funding also went towards marketing and promotion for the business and a mentorship helped Naomi with a rebrand. As well as helping her business, Naomi was able to connect with other similar salons which were being financially helped.
She said: "The Salon Fund was a saving grace in assisting my salon throughout the pandemic. I'd most definitely recommend fellow salon owners apply - it hugely helped support by business and the knowledge I gained through the mentorship, webinars and even speaking to other winners was priceless.
"When it comes to being a Black business owner, one of the biggest challenges faced is funding. Rallying resources and finding investors can be a big obstacle when you're in the pursuit of starting a business, and this can come from all sides; landlords, consultants and banks. When you find opportunities for investments or grants, take them."
The fund has pulled together figures which underscore the bigger picture facing entrepreneurs like Naomi and salons such as The Hair Sanctuary. The programme says just 1% of the UK's 35,000 or so hair salons is able to cater to afro and textured hair and Black businesses receive just 1% of the industry's capital funding.
Research by SheaMoisture also found 64% of Black and mixed-race people say the majority of salons do not know how to treat their hair, and 61% say they even struggle to find a high street salon that can cater for them.