The hit vegan home-baking kits made by a Stockport mum turned businesswoman - and how to create her favourites
Stephanie Marshall said working for herself gave her the impetus she needed to keep her spirits up during the Covid-19 pandemic
Watch more of our videos on Shots!
and live on Freeview channel 276
Visit Shots! now
A Greater Manchester baker who started her own business selling plant-based home baking kits has spoken of her story and road to success.
Stephanie Marshall, a mum from Stockport, set up Treehouse Bakery in September 2020 after years of working in commercial bakeries for larger companies.
She is one of many businesses enjoying the enormous rise in the popularity and awareness of food which does not have animal products in it and spoke of her decision to go plant-based.
She also described how during the Covid-19 pandemic, when many people working from home struggled to engage with their jobs, having her own business kept her going.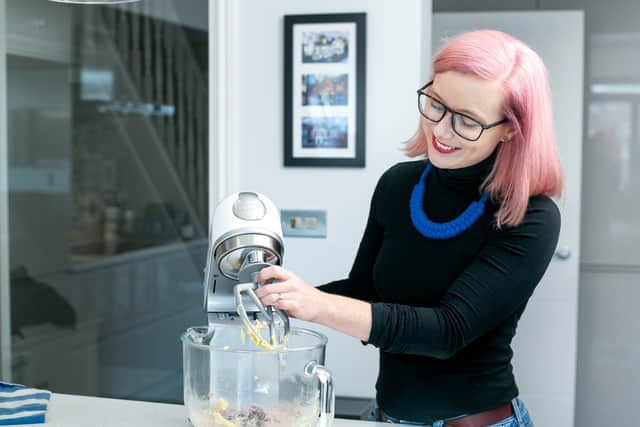 How was Treehouse Bakery founded?
Stephanie racked up years of experience in commercial bakeries and said the more time she spent in the kitchen the more she was drawn to vegan baking.
It was that, coupled with her love of cooking at home, that led to the founding of Treehouse Bakery, which sends out plant-based kits for people to rustle up in their own kitchens.
Stephanie said: "The more I baked and the more experience I had I realised there was no reason for baking to have animal products in it.
"The vegan ones taste just as good, and most of the time you wouldn't even notice.
"I wanted to do something which was vegan-focused.
"The joy of baking for me is that home-baking experience. I loved working in commercial bakeries but not nearly as much as I loved that memory of being a kid and baking with my mum at weekends, licking the spoon and all that.
"That's why I design kits for home baking that are also focused on being vegan. It's better for the environment, for animal welfare and for personal wellbeing."
How did the business get up and running?
Stephanie was able to turn part of her home into a production area where she got the necessary food hygiene and preparation certificates and then created the space where the ingredients for Treehouse Bakery's goodies are meticulously weighed out and packaged.
She quickly found a number of advantages to plant-based produce, such as not having to send customers off to the shops for perishable items such as butter or eggs in order to make the recipe.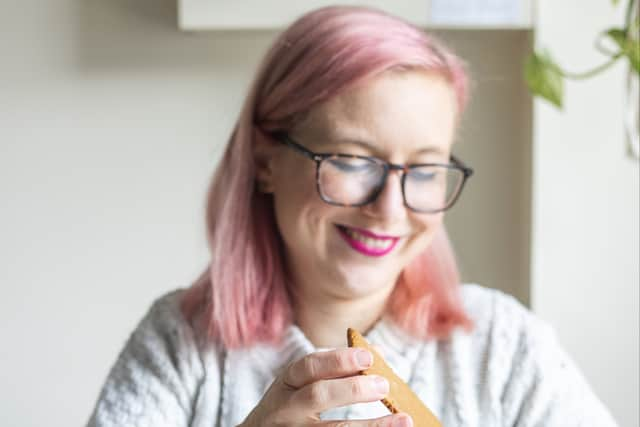 She said: "Many of my customers aren't vegan but they like the fact that all the ingredients are there and you don't need anything else.
"A lot of kits that aren't vegan-based say you have to add eggs or butter and you can't ship those items. It's a lot easier to send flax seed through the post. I also hate the idea of sending somebody a gift but then you have to go shopping to get it finished.
"You also don't have to worry about the shelf life of vegan ingredients so it's easier for online delivery."
How is the business developing?
Treehouse Bakery now has range of more than 10 products and Stephanie has worked on developing things to bake for Valentine's Day, saying the kits have proven particularly popular with people wanting to celebrate platonic love and friendship rather than romantic relationships (something which is sometimes known as "Galentine's" or "Palentine's" and happens the day before Valentine's).
She is planning to develop this further with a live bake-along activity and is also coming up with produce for other occasions on the calendar such as Easter.
She also wants to extend Treehouse Bakery's seasonal ranges to encompass festivals such as Eid, Diwali or Hanukkah.
Stephanie has also found assistance in the shape of Starling Bank, founded by businesswoman Ann Boden, which has helped her replace piles of receipts with a mobile app for keeping track of Treehouse's finances and provided some PR opportunities.
How has Stephanie found running her own business?
Stephanie said the effect of running her own business was most noticeable during the Covid-19 pandemic, a time when many people working from home under lockdowns struggled to feel connected to companies and offices they no longer went to on a daily basis.
Keeping Treehouse Bakery moving in the right direction, on the other hand, gave Stephanie all the motivation she needed.
She said: "I love running the business, though obviously it's a challenge. There are things I don't know and I make mistakes as it's my first time running a business, but I learn along the way and it's fun.
"In the last couple of years we've been working from home and what has kept me motivated is building my own business.
"A lot of people have felt disconnected from companies and their jobs and have wondered why they do what they do, but I haven't had that question.
"I know exactly what I'm working towards and I'm really happy about that."