A Greater Manchester entrepreneur has spoken about his latest business manufacturing and fitting charge points for electric vehicles.
Altrincham businessman Julian Smith set up Charge-m8 and launched it in September last year, based in Sale.
He spoke about the huge demand for electric vehicles which hit at the start of this year as fuel prices soared and the cost of living went through the roof.
However, he can also see some hurdles ahead as the city-region's vehicle fleet changes and set out the issues the authorities need to think about tackling.
How was Charge-m8 founded?
The roots of Charge-m8 lie in Julian's decision to move away from cars powered by fossil fuels himself, which began when he first bought a hybrid in 2017.
However, he became frustrated by the difficulties of getting a wall box mounted at home to fast charge his vehicle, both in terms of getting his hands on the kit and finding qualified electricians to do the work.
He began testing out ideas and understanding how charger manufacture and fitting worked, helped by his experience of running a supply chain office and warehouse for a company which worked as a builders' merchant and supplier of electrical products.
The result is a business which covers everything involved in the process of getting a charge point fitted from making to buying the products and then having them installed.
He had planned to launch Charge-m8 before Covid-19 hit but the pandemic caused a few delays which meant the business was finally unveiled to the wider world in September 2021.
However, the business has grown quickly, putting down roots in Sale and hoping to be working across the UK by the end of the year.
It has already created six jobs in the local area, which makes up half of its national workforce.
What has Julian said about Charge-m8's start?
Charge-m8's first year in business has coincided with a notable uptick in levels of interest around electric vehicles, with the spiralling cost of fuel and moves around low emissions zones in cities across the country among the factors playing a role in this.
He said: "EVs are huge now. There is something like a 40% saving on the cost of running them and that's going to stay there until the tax position changes.
"It's very favourable for businesses to purchase EVs in terms of running costs per mile and even a Tesla is around £16 to £18 to charge it for a 300-mile range. You can't get anywhere near that in a petrol or diesel car.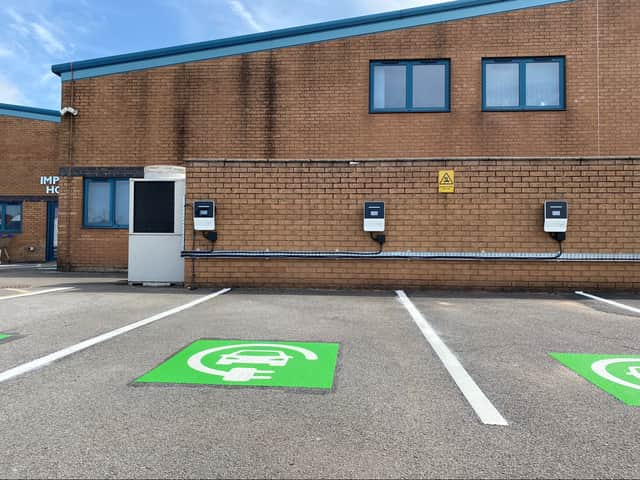 "The market is definitely accelerating fast. It's amazing to think that in March the top two new cars sold in the UK were both electric, and there's no sign of that trend changing as we move towards the deadline for sales of combustion engine vehicles.
"We had an incredibly busy February and March, with the end of the grant for homeowners being a real focus point. People were just desperate to get the box on the wall, even if they'd been told they wouldn't get cars for months.
"There was a bit of a lull in April but it's picking up again now with more demand from workplaces, especially the SMEs who get some support from the Government towards infrastructure when electrifying a minimum of five bays."
What is next for the business?
One question Charge-m8 is tackling is the etiquette of allowing other people to use a charging point you have had installed.
To get round this the firm's latest charge points come with QR codes which guest users can scan and go to a form which they can fill out for a one-off charging session using a home point.
And Julian believes the shake-up of grants announced in March is not entirely negative, even though homeowners are losing out.
Tenants can now claim the grant for the first time and the workplace scheme has been extended to allow charities and small hospitality businesses like B&Bs to get money towards installing chargers.
Are there clouds on the horizon for the electric vehicles market?
Although interest in electric vehicles is currently rocketing and in numerous ways there are incentives and savings to be made from going electric, Julian says the road ahead is not without potential bumps.
He said: "We went to a place in Didsbury recently where they wanted to electrify all the parking bays. They just didn't have the power and the operator wouldn't provide a new feed.
"That lack of network capacity is going to be a frustration. People in apartments are particularly drawing the short straw.
"Fitting charge points is also still expensive, and while there are infrastructure grants some of them don't come anywhere near covering the cost of it.
"The cost of the vehicles is also prohibitive for people, especially if it's not a company purchase with the tax breaks that come with that, although as batteries get better I think prices will fall.
"There are issues around availability of vehicles at the moment but the biggest block is the raw materials to make the batteries. That's going to be the biggest issue."