Greater Manchester residents reported dating scams worth £2.4m to Action Fraud in 2022, data shows
Greater Manchester residents reported over 200 dating scams to Action Fraud last year, figures show.
Watch more of our videos on Shots! 
and live on Freeview channel 276
Visit Shots! now
Some residents in Greater Manchester were anything but lucky in love last year, with data showing that more than 200 dating scams which cost people a total of £2.4m were reported to the authorities in 2022.
As Valentine's Day approaches, people are being urged to be on their guard against dating scammers - and official data shows just how lucrative romance-related fraud can be.
Victims of these types of crimes lost a combined £88m to criminals last year, with nearly 8,000 incidents reported to Action Fraud nationwide. And this could be the tip of the iceberg, with many more victims thought to be too embarrassed to report the matter to police.
One Manchester woman has also shared her experiences after she lost thousands of pounds to a 'catfishing' scam on Facebook involving a fake soldier.
What does the data show about dating scams for Greater Manchester?
Data from Action Fraud, which works on this area of crime on behalf of police forces in England, Wales and Northern Ireland, shows that there were 227 dating scams reported in Greater Manchester in 2022.
Victims in these reported incidents between them lost around £2.4m, the published figures show.
Dating scams cost victims tens of millions of pounds each year - £88 million was lost in 2022 alone, an average of £11,000 per victim. Nearly a fifth of dating scams (19%) were reported by people aged 20 to 29 last year, followed by people in their fifties (18%) and forties (17%). The figures also show scammers target men and women more or less equally. Of the victims who revealed their gender to police last year, 51% were male and 49% female.
Looking at age and gender together, men in their 20s were most likely to fall victim to the romance scams, followed by women in their 50s.
'I know I've been a fool but I was in love'
Sharon Bulmer, from Manchester, lost £80,000 to a 'catfishing' scheme on Facebook. A con artist told her that he was a soldier and he was lonely and needed money to get out of Syria, taking tens of thousands of pounds off her over two years before Sharon realised he was not a real person.
It turned out that the scammer's picture on social media was actually a photo of the Latvian defence minister. Authorities in the Baltic country have said they are aware of the politician's image being used in dozens of similar scams to dupe women and they have been reporting them. Sharon spoke out to warn others.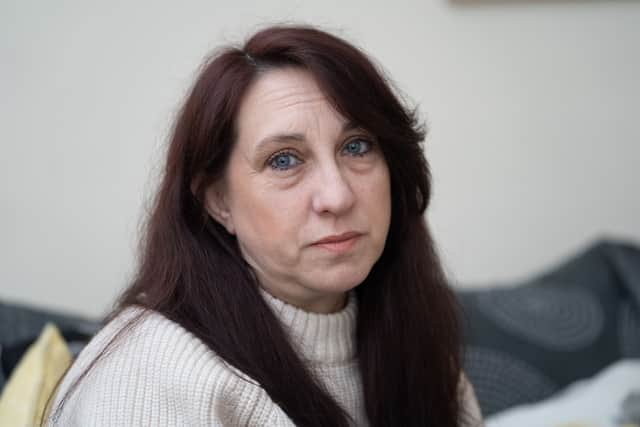 Mum-of-two Sharon previously said: "He asked me to help him and I did, but over the time it's got me into huge debt and because I have fallen for this person.
"I just wanted to help him so much. I know I have been a fool but these are the things we do for love. I want to help anyone out there to not be taken by these idiots and just try and get on with my life."
What has been said about dating scams?
Temporary Detective Chief Superintendent Matt Bradford, from the City of London Police which helps to run Action Fraud, said: "Typically, romance fraudsters will spend weeks gaining their victims' trust, feeding them fabricated stories about who they are and their lives - and initially make no suggestion of any desire to ask for any money, so the victim may believe their new love interest is genuine.
"But weeks, or sometimes months later, these criminals will ask for money for a variety of emotive reasons and as the emotional relationship has already been formed, victims often transfer money without a second thought."
Liz Ziegler, fraud prevention director at Lloyds Bank, said: "The convincing lies told by fraudsters mean that while romance scam victims think they are falling in love, they're actually falling for a scam. As well as losing thousands of pounds they also have to deal with this emotional betrayal.
"The sad truth is there was never any genuine connection, with criminals ruthlessly targeting multiple victims at the same time, and disappearing with the money as soon as they get found out."
How can you tell if you're getting caught up in romance fraud?
Action Fraud advises people using online dating services to:
Be suspicious of any requests for money from someone you have never met in person, particularly if you have only recently met online;
Speak to your family or friends to get advice;
Perform a reverse image search on profile photos - this can find images that have been taken from somewhere else.
They also advise that you do not:
Send money to someone you have never met in person, allow them access to your bank account or take out a loan for them;
Invest your own money on their advice;
Give them copies of your personal documents, such as passports;
Purchase and send the codes on gift cards from Amazon or iTunes;
Receive or send parcels on their behalf, such as laptops or mobile phones.
In addition Action Fraud says family members or friends of online daters can play a crucial role in protecting their loved one from falling victim to a romance scam. Here are some signs to watch out for:
They may be secretive about their relationship or provide excuses for why their online partner has not spoken to them on a video call or met them face-to-face. They could become hostile or withdraw from the conversation when you ask questions about their partner
They may express very strong emotions and commitment to someone they have only just met
They have sent, or are planning to send, money to someone they have not met in person. They may take out loans or withdraw from their pension to send money.
If you think you've been a victim of fraud, contact your bank immediately and report it to Action Fraud online or by calling 0300 123 2040.