Greater Manchester hospital trust apologises for delay in treating teenager for potentially life-threatening illness
The Wrightington, Wigan and Leigh Teaching Hospitals NHS Foundation Trust admitted she should have been triaged as a category two patient instead of category three
Watch more of our videos on Shots!
and live on Freeview channel 276
Visit Shots! now
A teenager was wrongly sent home from hospital despite suffering a potentially deadly condition. Ella Watts was just 17 when she was rushed to intensive care after being struck down with potentially deadly sepsis.
She'd initially been categorised by A&E as a category three patient, rather than a more serious category two, and told it would be four hours before she was seen. Ella went home, thinking it wasn't that serious but was diagnosed with sepsis the next day, suspected to be as a result of a chest or urinary tract infection.
A shocking photo from her hospital bed shows her needing a Buzz Lightyear-style continuous positive airway pressure (CPAP) helmet to help her breath after she suffered respiratory failure. Now 21, Ella continues to suffer psychologically after suffering PTSD following her ordeal and a hospital trust has apologised for their failings delaying her treatment.
She said: "To this day, I still can't believe how quick it progressed and how close I was to dying. It still haunts me every day and I've really struggled to get over the trauma of what I suffered.
"While I'm incredibly grateful to still be here, it could have ended very differently. I hope that something is learned to help stop others from going through a similar ordeal in the future."
Ella was just 17 when she turned up at A&E with flu-like symptoms, chest pain, vomiting and diarrhoea with her mum, Julia Watts, on December 8 2018. Staff at The Royal Albert Edward Infirmary in Wigan, Gtr Manchester, triaged her as a category three patient.
After being told it would be over four hours before she was seen by a medic, Ella returned home under the impression that there was no real need for her to be at hospital. But when her condition deteriorated the following day she went to another hospital, where she was transferred to intensive care and diagnosed with sepsis.
The condition occurs when a person's immune system goes into overdrive to fight a bacterial infection or poisoning in the bloodstream. She was hooked up to an IV drip and diagnosed with acute kidney injury secondary to sepsis.
She subsequently developed respiratory failure during her week-long stay in hospital.The Wrightington, Wigan and Leigh Teaching Hospitals NHS Foundation Trust admitted she should have been triaged as a category two patient instead of category three.
Had this happened, she "would have been seen within 60 minutes" and "treated 24 hours earlier" than she was.
The Trust has now paid an undisclosed settlement to Ella and apologised for "failings in care" provided to her.
Ella added: "When I initially went to the hospital, I knew I was unwell but trusted the staff knew what they were doing. When they said I wouldn't be seen for more than four hours, I assumed they didn't think anything was seriously wrong.
"Over the next 24 hours, my condition got worse and I was diagnosed with sepsis. It came as a huge shock and I was terrified as I had heard how serious it could be."
Ella is now completing a law degree but her studies were delayed as a result of her illness.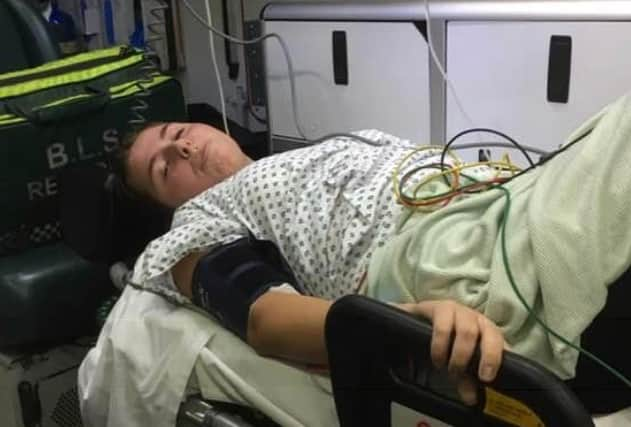 Mum Julia, 47, said: "It was one of the hardest times we've endured as a family and has had a lasting impact on us all, but the most important thing is that by speaking out we try to stop this happening to other people.
"We know we are all very lucky the outcome wasn't fatal and that others haven't been this fortunate."
Zoe Donohue, specialist medical negligence lawyer at Irwin Mitchell, said: "In the years following her diagnosis, Ella has struggled to come to terms with what she went through.
"She also understandably had a number of concerns around the care she was provided with and how her condition deteriorated. We therefore welcome the Trust's admission that Ella should have been seen and treated earlier. It's now vital that lessons are learned to improve patient care for others."