Work has started on transforming Oldham's iconic Egyptian Room into a food hall to rival Manchester's Mackie Mayor and Altrincham Market.
Proposals to convert the Grade-Two listed space in the Old Town Hall on Parliament Square into a casual dining and drinking venue were granted planning approval in March 2021. The Egyptian Room, which is ornately decorated with floor to ceiling glazed tiles and double-height vaults, was once home to the Borough Treasurer's Rates Hall but has been lying empty for years.
The council has now confirmed it has given The Hub company the contract to fit-out the building to become a 'bespoke contemporary food hall, all while preserving its historic character and original features'. The Hub have previously worked on fit-out commissions for the Royal Shakespeare Company, O2 Arena, and Royal Armouries.
The new Oldham food hall will feature six casual dining-style food stalls, a bar and a central seating area to cater for around 150 people with both indoor and outdoor seating and a new mezzanine area.
The Egyptian Room, which dates from 1841, is described as a 'prime example' of Victorian architecture with original column tiling, parquet and terrazzo flooring, plastered ceilings and arched windows and doors.
Internal fit-out works have now started and are due to be completed during the summer of 2023, bosses say.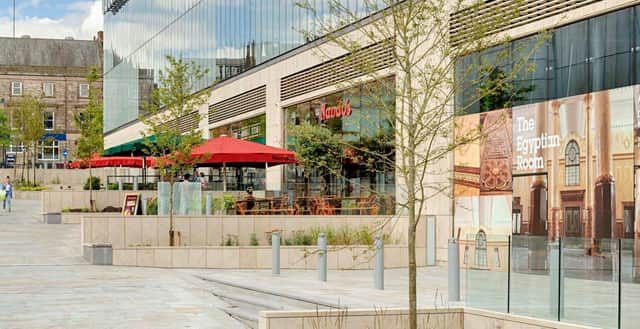 Council leader Amanda Chadderton told the Local Democracy Reporting Service the aspiration was to attract people from outside of Oldham as well as residents to visit the food hall once it opens.
"The Metrolink has absolutely opened up Greater Manchester to some extent, you see it now, it's booming. The number of people who go on the Metrolink to different areas is massive. People will move around," she said.
"Look at the success of Altrincham Market, it's seen as a destination for people to go on a day out with friends. So we do expect it to be able to bring people in."
However she said that the Egyptian Hall would not be in competition with the Tommyfield Market when it relocates into Spindles, across Parliament Square, which would also have a food offer.
Coun Chadderton compared the two to the stalls within the Arndale Food Market in Manchester, and the nearby Mackie Mayor food hall.
"Tommyfield Market serves a lot of people who are in the centre of Oldham during the day, who work in Oldham," she added. "The Egyptian Hall will go all through late into the evening, and will have more of a social aspect to that, and they're the two differences."
Bosses say they are currently in negotiations with an operator who will run the food hall.
But Coun Chadderton said the council is not planning to support or subsidise the venture once it was up and running, adding 'we expect it to wash its face'.
"We're not considering or expect there to be any kind of subsidising it. Gone are the days when we could support things like this on a long time basis," she said.
"There are still a lot of people with disposable income and there are still a lot of people who would spend their money going out socialising, drinking and eating.
"The centre of Manchester is never ever quiet so there is quite obviously still a market for it.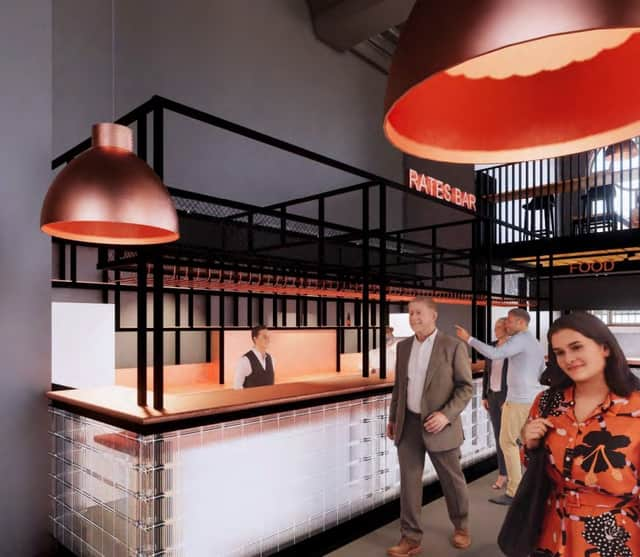 "It's about offering people a choice. Inevitably some people will go to Manchester, but some weekends they will ask what can they do in Oldham instead. And it's about creating a different offer and having a thriving town centre again.
"In the day Oldham is always busy, but it stops being that busy after half past five once people stop working and the shops are shut.
"It's about creating a night-time economy with a cultural offer so that people don't have to go in Manchester city centre for a decent night out or to see some live music, or eat or drink or whatever it is that they want to do."
The council was awarded an external funding grant of £1.1m from the Future High Street Funds towards the costs.
It follows a major £37m redevelopment of the rest of the Old Town Hall building which was completed in 2016, with it becoming home to a seven-screen Odeon cinema, Nandos and Molino Lounge.