The first train station to be built in 25 years in Greater Manchester is just one Whitehall signature away.
Golborne Train Station is no "pie in the sky" idea according to Greater Manchester Mayor Andy Burnham, who is waiting on a sign-off from Government before the vision of regenerating his home town as a commuter hub can become a reality.
Both Burnham and Leigh's MP James Grundy, despite being on opposite sides of the political track, have the same direction in mind for the station – which is to reconnect it to Manchester, improving connectivity just for the town itself, but the wider Leigh area.
Golborne, which sits on the border of Cheshire and Greater Manchester, had a station that closed fully in 1967 and the old platforms can still be seen today. With no direct bus, train or tram services to Manchester, the isolated town on the edge of Wigan could see big regeneration benefits if a flagship station was to open.
Despite the arrival of the Leigh Guided Busway in 2016, providing a new transport option for Leythers, the area around the Golborne end of the Leigh constituency is still "majorly underserved" for connectivity, according to Burnham. He and the Leigh MP believe there is a strong justification for the station to be built near High Street.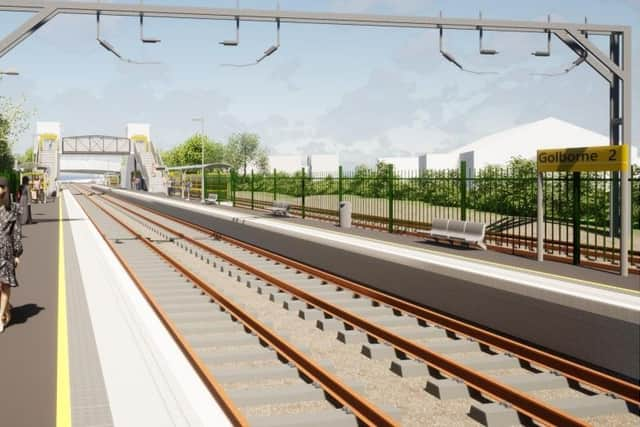 Back in January 2021, £16m was approved by Greater Manchester Combined Authority for the development and delivery of a new railway station at Golborne. An extra £1m has also been put on the table to establish the outline of the project, generate more proposals for funding, and scope how much it would cost to deliver and operate the development.
"Golborne, in the end, emerged as the most viable train station in all of Greater Manchester," Mr Burnham said. "There was a station there that was closed and you can still see the platforms, not that they can be used, and basic structure around it.
"Golborne has a rock solid case for a station. It is now becoming quite clear. It has been sent to the Government for sign off. I prioritised it as mayor because of the very poor transport connectivity in that area – and if Metrolink isn't coming anytime soon to the Wigan borough then it has to be the case to improve rail connectivity.
"This is not favouritism as it is majorly underserved and I declare the fact I do live around there, but TfGM (Transport for Greater Manchester) told me early on that Golborne is the station that has the strongest justification.
"We're confident that we can return a service here and actually it could be one of the first Bee Network (integrated local transport) services. That would be one of the few stations that would effectively be entirely in our boundaries.
"Golborne station could be the flagship station of the rail Bee Network. It will be the first rail station built by GM in over 20 years (the last one was Horwich Parkway in 1998)."
Leigh MP James Grundy believes the schedule for the new station, if approved, could see construction start in 2024 and be operational by 2025.
The Conservative MP explained that this line would run along the current West Coast Mainline that provides tracks for trains running between Glasgow Central and London Euston – meaning he could use it to get down to the House of Commons more easily.
"Golborne, which is the one that has come along first, has plans that are almost ready for final approval and they've already had £15m from the Government's Transforming Cities Fund," Mr Grundy told the Local Democracy Reporting Service. "There are some engineering changes that need to be done so it can be where everyone wants it to be, which is the site of the old Golborne station.
"I am firmly convinced that it is going to get over the line. Hoping to get approval by the Government near the end of the year and construction in 2024 with completion in 2025.
"So hopefully in a couple of years from now you'll be able to jump on a train at Golborne station, like I will, and go all the way down to London. It will make a lot of constituents' life easier, my life easier and indeed Andy Burnham's life easier."
Answering whether he would use a new Golborne station close to his home, Mr Burnham stated: "Truthfully, I would use Newton-le-Willows more, because my life revolves between Liverpool (for football reasons) and Manchester. It is walkable for me so I would probably not use Golborne station as my main port of call."
Is there scope for Golborne Station?
The vision for a station at Golborne is one of a series of options that would improve connectivity for the wider Leigh area. Having attended a recent public meeting regarding the prospect of a new Golborne station, the GM Mayor and the Leigh MP both said there was a lot of positive feedback regarding the idea and the plans.
They admitted that Golborne, being at the very edge of the constituency, would not be very accessible for a resident in central Leigh given the bus services between the two towns not being as regular as in the past.
However, the Bee Network taking back control of the bus services in Wigan from September means they can arrange a timetable that can include shuttle buses to the station, Mr Burnham claims. An additional concern raised at the meeting included parking infrastructure and the congestion of traffic given the recent boom in house building in and around the town.
"The rail industry believes it would be heavily used straight away. So there is a strong business case for it," Burnham explained.
"Issues for residents in Golborne include parking and flow of traffic but it is an opportunity to enhance Golborne as a centre. I've seen what this (transport infrastructure investment) has done for Newton and I see Golborne as the same.
"With clever town centre adjustments Golborne could go the same way as Newton. This is such a wise investment in so many ways.
"Where transport facilities go in, areas see immediate regeneration benefits. So Golborne would get a pretty big lift from this.
"Newton is a gold standard in how a good station can be planned and we will look to learn from that. We won't be in a position to deliver the same amount of parking at Golborne (compared to Newton). If people want to drive and get to a station they should go to Newton.
"This is not a pie in the sky idea. I would like to see this station open in 2025. I will be writing to the government soon to get their final sign off.
"I would be grateful for James Grundy's support and I think I will have it. It feels like the stars are finally aligning around Golborne Station."
Next stop Kenyon Junction?
Mr Grundy is under the impression that with Golborne well on the way, this could open up the idea of getting another station which would serve Leigh at Kenyon Junction. The station, off Kenyon Lane near Culcheth, over the Warrington border, was closed in 1963, with hopes it would return dashed due to local opposition in the 00s.
Now, with optimism around Golborne station, talks have hotted up when it comes to Kenyon Junction. This would run as an additional station on the Manchester-Liverpool line as the next station along from Newton-le-Willows.
The Atherleigh Bypass – which stretches from Atherton to Leigh Sports Village – is well known among residents for being left incomplete and provides the key to the rebirth of Kenyon Junction. Mr Grundy believes before the train station can come back, Atherleigh Bypass needs to be completed after decades of being left 'unfinished' and taken all the way up to the M6.
This road is 'key', according to the Leigh MP, who wants to put a bid in for road infrastructure in 2024 which could see this completed. Not only would this open up opportunities for access to Kenyon Junction, in Mr Grundy's opinion it could ease bad congestion at Lane Head.
"Golborne Station is a template for what we want to do at Kenyon Junction," Mr Grundy said. "The reason that it would still be needed is because Golborne would be on the edge of the Leigh constituency.
"One of the biggest problems we are in the process of resolving was there wasn't stopping capacity on the line so you couldn't actually get trains to stop there. It was about addressing the Castlefield Corridor's signalling problems.
"The government put in £10m to address those issues. Now that creates a stopping opportunity.
"Kenyon Junction is actually down a windy Kenyon Lane which is very congested and this would drag you through Lane Head which is a very busy junction. No one is against this and everyone supports it because even in Lowton, at the bottom end, people there are Liverpool/Manchester commuters and they want easy access.
"The advantage is that Kenyon Junction has massive amounts of space for parking there (unlike Atherton and Golborne). More space for capacity for people wanting to use cars without them getting a bus, walking, or using a bike.
"It is great that people walk or bike to a station, but sometimes the weather makes that difficult and the last thing a commuter wants is to be sat on a train sopping wet and getting into work looking utterly bedraggled. The fact we've got to the final stages with Golborne says that even though there are hurdles to get over to get Kenyon Junction, they're not insurmountable.
"Golborne proves that we can do it because we've gone through many of those hoops before. For years people have complained about transport infrastructure in the area because it is difficult to get in and out of the town."
Once again, there is agreement between the Labour GM mayor and the Tory Leigh MP, as Mr Burnham also believes the Atherleigh Bypass needs to be completed to unlock this new station. Traffic problems have been well documented by councillors in the borough as well as objectors to the majority of housing developments – this is why both politicians are pushing for the road first.
"I tried, as the MP for Leigh, to look at the next best options and that was reopening Kenyon Junction station, and that was a scheme proposed by Wigan Council in the early 2000's," Mr Burnham said. "It was opposed by local Conservatives and Warrington councillors and it fell because of that.
"People have spoken about (Kenyon Junction) being the best place for a station but it is in Warrington. It is close to Newton station but if you wanted to get a station as close to Leigh as possible what you would do is get Kenyon Junction, due south of Leigh and you'd have a continuation of the Atherleigh Way.
"There was a fear (when it was originally put forward in the late 90's) that everyone would drive through Culcheth for it."
He went on to say that this could serve the people in the southern side of Leigh and the Golborne site would be for those in the west of the constituency. With the Leigh Guided Busway an option from central Leigh, most residents in the area would be able to get to Manchester in around 40 minutes if both train stations were to come to fruition, according to the GM mayor.
A train station for Leigh?
With old railway track having been destroyed, getting a train station back into the town's heart is something that could be 'decades away', according to the town's MP, James Grundy, even if it was given the green light.
And building railway track, knocking down homes to create space and funding the construction of the station would cost "tens of millions", says Burnham. But 'never say never' were the words of Mr Burnham, with James Grundy echoing a similar sentiment to the Local Democracy Reporting Service.
However, both seemed to believe that Golborne and Kenyon Junction were the answers to delivering better transport for the people of Leigh.