Forget Me Not badge: how you can support Alzheimer's Society in May and help people with dementia
An Alzheimer's Society employee and supporter in Greater Manchester has explained why she wants people to wear a Forget Me Not badge for the charity's May appeal.
Watch more of our videos on Shots!
and live on Freeview channel 276
Visit Shots! now
Greater Manchester residents can help people living with dementia across the city-region this May by wearing a Forget Me Not badge and supporting the Alzheimer's Society's appeal.
The charity says thousands of people in Greater Manchester are currently living with dementia and too many are facing life with the devastating memory-loss condition alone and without help.
Throughout May the charity is asking people to buy and wear the blue floral badges to raise awareness of dementia and there are other fund-raising activities you can join in with the swell the total further.
One employee and supporter of the charity from Greater Manchester has also shared her family's experiences with dementia and explained why she is supporting the appeal.
What is the Forget Me Not badge and the Alzheimer's Society's May appeal?
The Forget Me Not appeal runs throughout May and is both a way of raising vital funds for the Alzheimer's Society in its work supporting people with the condition and their carers and loved ones and letting people who have dementia know that they are being remembered by other people.
You can get involved with the appeal by buying a wearing one of the blue flower badges, signing up to do a collection, becoming a dementia friend and learning how to help people living with dementia in your community or leaving a message on the charity's dedication page in memory of a loved one.
As well as its month of fund-raising the Alzheimer's Society will also be leading Dementia Action Week from 15-21 May, when it will focus on diagnosis and encouraging people experiencing dementia symptoms to seek help.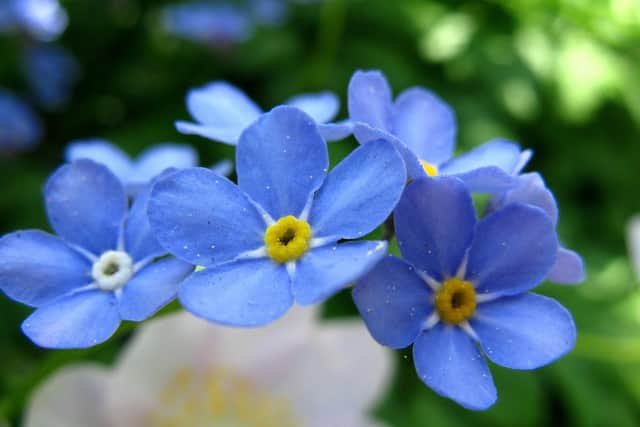 The charity says that nationally as many as one million people may be living with dementia in the UK by 2025, and the disease also has a huge impact on families, friends, carers and loved ones.
Grace Burke, an Alzheimer's Society community fund-raiser in Greater Manchester, said: "There are 4,200 people living with dementia in the Greater Manchester area and too many are facing it alone. This May, Alzheimer's Society is asking people to wear a Forget Me Not badge, in honour of someone special and to help people living with dementia get the life-changing support they need.'
"By wearing a badge and supporting Alzheimer's Society's Forget Me Not Appeal, we're showing people affected by dementia that we understand and stand with them.'
"Alzheimer's Society's services are a lifeline and have been used over four and half million times in the last year. We support people living with dementia and their families through some of the hardest and most frightening times."
'Dementia is so very close to my heart'
Angie Wild, from Tameside, will be doing her bit to support the Forget Me Not appeal in May and has spoken about her family's experiences of dementia to encourage other residents in Greater Manchester to sign up to help as well.
Angie's nan, Ester, and one of her aunts, Pat, both had dementia in the last years of their lives. Her other auntie Edith is also currently living with dementia at a local care home.
Angie will be wearing her blue Forget Me Not badge throughout May and also has an image of the flower tattooed on her arm. She is also organising a fundraising event, Music, Memories and Mocktails, at Bower Fold in Stalybridge on 15 May.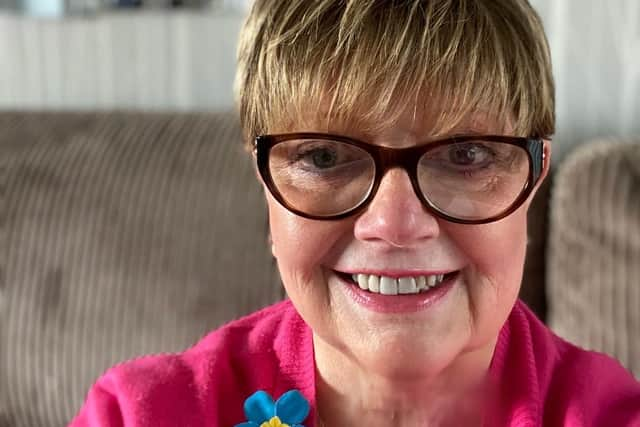 Angie said: "I captured a lovely picture of my mum and auntie holding hands while they were reminiscing about the good old days, when they were little girls, and it inspired me to do something to remember our family bonds. I think my new tattoo is stunning and a great way to start up conversations with people about dementia.
"I am also supporting the Forget Me not Appeal bucket collections at my local Morrisons store in Dukinfield in Tameside, and have signed up and pledged to sell 100 badges. Dementia is so very close to my heart and it's a honour to do everything I can to support the Forget Me Not Appeal."