The family of a British expat from Audenshaw, who is currently in a coma in a Turkish hospital, is desperately raising funds to bring him back home.
Mark Dixon was rushed to a hospital in Marmaris on 19 November last year, where his wife Brenda was told he was experiencing renal failure. It later transpired that he had also suffered a massive heart-attack and had gone into cardiac arrest three times. He had no pre-existing health conditions and had only just turned 60 in August.
He was moved to another private hospital in Aydin three hours away due to a lack of available intensive care beds and was placed in a coma. After three days, doctors tried to reduce his sedation but Mark was unable to wake up naturally.
Having now spent almost 11 weeks in a coma unable to breathe independently, it is highly likely that Mark is brain damaged. Medical bills are rising by the day, but his insurance won't cover his needs, and the family say they have been told Islamic law will not allow him to be taken off life support.
Mark's stepdaughter Nicola Jackson said: "You wouldn't believe the things that have gone on, it's just been horrific.
"We're 10-11 weeks down the line now and it's just been so upsetting as a family. More so because my mum is on her own in Turkey, she's got no other family, it's just me with my family. We just don't know where to turn.
"We've tried everything. We've tried the Foreign Office, we spoke to the doctors. We could get a lawyer, but we haven't got the money to fund a lawyer."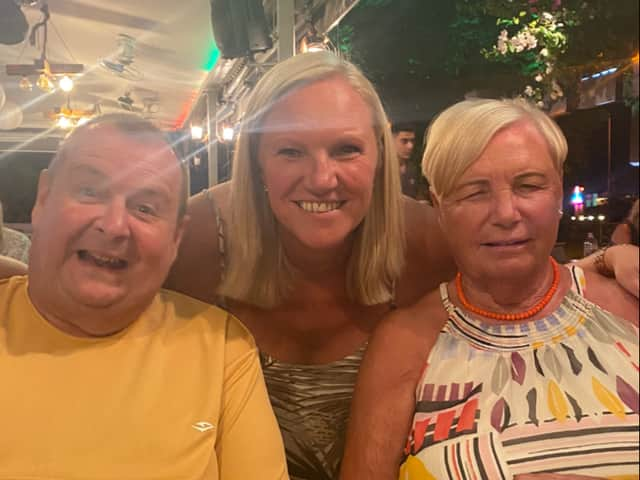 Nicola estimates that Mark's treatment is costing them around £500 per day, meaning that the current bill stands at almost £40,000 and counting. She has also looked into the cost of medical repatriation, which could set the family back a further £45,000. To make matters far worse, Mark's insurance policy will not cover his care as the claim was made within 12 months of the policy starting.
Brenda and Mark, an avid Manchester United fan, only moved to Turkey on Valentine's Day 2022, having spent many happy holidays there as a family and even getting married there 20 years ago. Nicola has been out to see her mum a few times since Mark fell ill, but Brenda is currently alone in Turkey, a country which is close to her heart and previously only associated with fond memories.
Now Brenda makes the six-hour round journey on public transport to see her husband at the hospital in Aydin every day. Once there, she is only able to see Mark for 10 minutes, according to visiting rules. She has also been told that the outstanding medical bills mean she may not be able to leave Turkey.
While Nicola and Brenda have been pleased with the care he receiving in Turkey, communication can be issue due to the language barrier and they have been trying to get a full medical report on Mark's condition.
Nicola said: "My mum is just in limbo. She's going every day and coming out she's heartbroken. But there's no end to it.
"If we thought that Mark was going to come out and be like he was, we'd spend every last penny to get him home, because we love him so much. They were so happy over there. It's just so sad that it's ended like this – it's not even ended.
"He wouldn't want to live like this. It's no life. He wouldn't want to live like this and put my mum and everybody through this if there's no quality of life."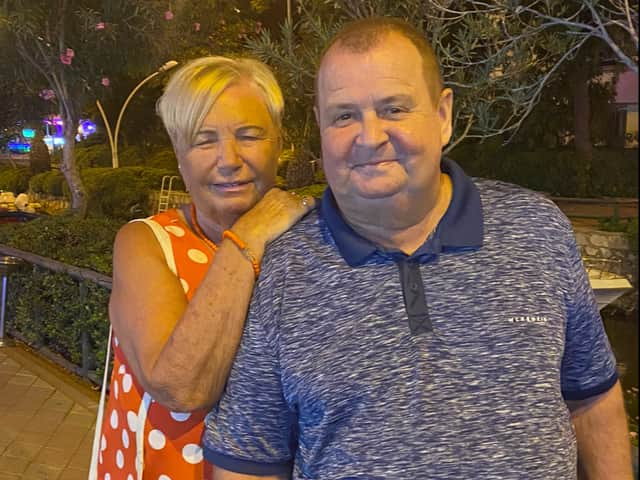 Brenda has been in contact with officials at the British consulate in Izmir, but says they have not been able to provide much help.
Nicola explained: "The lady at the consulate has said that there was no agreement between Turkey and England in regards to medical costs, that's something that we would have to sort out ourselves.
"And she said she's been in touch with the consultants to try and get a clearer report. In these circumstances, a lot of time the organs will start to fail and they wouldn't expect Mark to live much longer. She just said: Please keep us informed, and we have a bereavement policy in place if needed."
The Foreign, Commonwealth and Development Office spokesperson confirmed to Manchester World that they are providing support to the family.
The family are determined to bring him back home are now appealing to the public for donations. The idea of launching a Gofundme page came from Nicola's 14-year-old son on a recent visit to Turkey. They have so far raised £1,500 of their £30,000 target, which will go towards the mounting medical bills.
Nicola said: "I understand that times are tough for everybody at the minute, with all the things that are happening in the UK, and people have been so generous, but unfortunately, it's a drop in the ocean in comparison to what we can do."