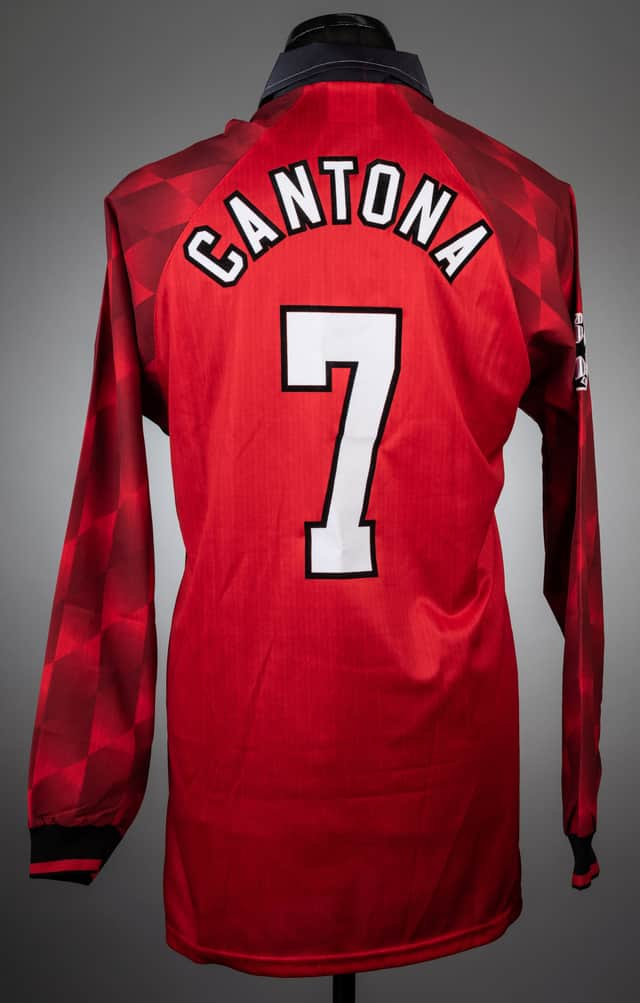 Eric Cantona red and white Manchester United no.7 home shirt Credit: Graham Budd Auctions / SWNS
Jerseys donned by football legends like Eric Cantona, Johan Cruyff and Maradona could fetch thousands of pounds when they go under the hammer next month.
More modern shirts worn by current players, including Cristiano Ronaldo and Lionel Messi, are also on offer.
One of the highlights, Eric Cantona's classic red and white Manchester United No.7 shirt is estimated to be worth between £5,000 and £7,000.
Cantona remains an idol to many at Old Trafford Credit: Getty
It was worn by King Eric during the UEFA Champions League semi-final against Borussia Dortmund on April 23, 1997 - his final season with the Red Devils.
Auctioneer Graham Budd said: "Making his debut at Manchester United on December 6, 1992, Eric Cantona would give the final four and a half seasons of his professional football career to the club.
"Over 182 appearances for United, Cantona scored 82 goals in his iconic No.7 jersey with the collar turned up!"
Other highlights
More modern shirts, like Cristiano Ronaldo's blue and red Manchester United No.7 away jersey which is expected to fetch between £2,500 and £3,000 are also on sale.
It was worn by the Manchester United forward against Benfica in the UEFA Champions League Group D at Estadio da Luz on 7 December 2005.
That day, the Portuguese side defeated Manchester United 2-1, with Ronaldo receiving a yellow card in the 23rd minute and substituted off in the 67th minute.
The signed red no.10 jersey worn by Lionel Messi when Barcelona defeated Manchester United in the UEFA Champions League Final at Stadio Olimpico on 27 May 2009 is expected to fetch between £1,000 and £1,500.
Another vintage jersey, Denis Law's red and green Italian National League no.11, worn against The Football League, at Old Trafford on 8 November 1961 is expected to fetch £1,000 to £1,500.
Denis Law played for Italian club Torino from 1961 to 1962, making 27 appearances, scoring 10 goals, after which Law joined Manchester United in 1962 until 1973, making 404 appearances, scoring 237 goals.
The Football Memorabilia live online sale by Graham Budd Auctions will start at 10am on the 1 and 2 December.More than 1,000 lots will go under the hammer, including medals, caps, trophies, awards, objects, autographs, models, badges, photographs, ephemera, books, programmes, World Cup items, pennants, and equipment.