This is the moment Ed Sheeran's guitar malfunctioned during a concert - in front of 60,000 people.
The Shape of You singer, 31, was a few songs into his set at the Etihad Stadium when his signature instrument gave up.
Sheeran - who is know for his stripped back performances - was forced to call out on the mic for his crew to get him another six-string.
He told fans: "My guitar keeps switching off or something. Can I get another guitar? Sorry guys, I think the battery's gone."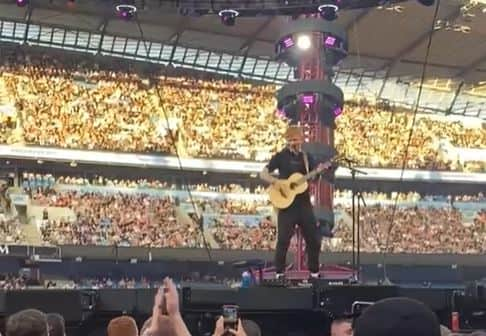 Sarah Thomason, 44, managed to get a clip of the moment, which took place in Manchester on 9June.
Ed was in the city for four sold-out shows at the stadium.
The mum, who lives in Gorton, said: "His guitar just stopped working. He got a new one and carried on but it took a couple of minutes.
"We were a couple of songs into it, it was not that long into the concert. People were just getting into the mood."