Controversial plans to build a 'new community' of 3,500 homes on largely green belt land around Elton Reservoir have been put forward by a developer.
Housebuilder Peel claims it wants to invest £500m in community facilities, new primary schools, transport links, and a new public park at land west of Elton Reservoir.
The area has long been earmarked for major development but previous outline plans drew much opposition, with many Bury and Radcliffe residents vehemently opposed to development on the area, which has a long history of being a place for people visit to enjoy the outdoors. Around 3,500 homes for the Elton Reservoir area are included in the Greater Manchester Places For Everyone plan, which is a long-term development strategy for homes, jobs and growth for nine of the 10 boroughs of the region, all bar Stockport.
That plan is currently undergoing public examination by the Planning Inspectorate with opposition groups, includuing from Bury and other Greater Manchester boroughs, challenging some of its contents with the help of legal representation. Several protests have taken place against similar plans for the Elton area in the past, including in January 2017, when hundreds of residents, furious about similar plans to build on what they termed their 'beloved open space', took to the streets for a protest march.
Elton's reservoir's was originally used as a feeder source for the Bolton and Bury Canal. Elton Club, now Elton Sailing Club, was founded in 1858 and the water was used for recreation by many.
Peel has launched a public consultation on its plans. Their project team are hosting two public exhibitions on Thursday, March 23 between 10am and 2.30pm at Radcliffe Market and Tuesday, April 4 between 2pm and 8pm at Radcliffe Masonic Hall. These events are free to attend and there is no need to book a place in advance.
New tram stop
Peel said that the plans included new transport improvements which would ease congestion around Bury and Radcliffe town centres including a new link road connecting the two towns. There would also be a new Metrolink station and travel hub at Warth Fold.
They said the project would represent an investment worth half a billion pounds to the area and create 240 full time jobs each year during construction and over 100 additional jobs for residents. They claimed the proposals would also see more £75m spent in local shops and leisure facilities by new residents and a council tax revenue for Bury Council of £9m to help improve local services further. Peel claim the Elton and Withins reservoirs will be retained and enhanced and more than two-thirds of the site will remain as green space and parkland.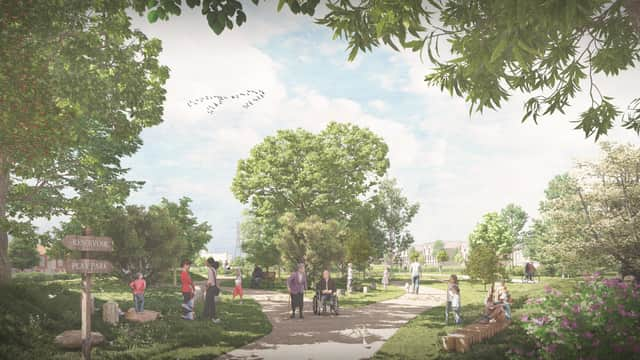 Nick Graham, Peel L&P's associate director of planning, said: "After spending years carefully developing this vision alongside the PfE plan, we are delighted to share the proposals for land west of Elton Reservoir which will provide much- needed new homes, transport, leisure and recreational facilities, and economic investment to Radcliffe and South Bury.
"We are all aware that we are experiencing a housing crisis, with people unable to find affordable or suitable homes for themselves and their families. Our plans will help meet the longstanding shortage of new homes in Bury and deliver highly sustainable homes that are rich in character, as well as energy efficient and cost effective to run.
"With the water and parkland at the heart of our vision, the community will be well-connected to nature with better access to the beautiful reservoir surroundings which will provide a range of health and wellbeing benefits."
The public consultation will run until Monday, April 10.