New figures have shown exactly how long patients across Greater Manchester are having to wait for an ambulance, and how in the city-region targets on reacting quickly enough to calls are being missed.
The Liberal Democrats submitted Freedom of Information (FOI) requests to the 10 ambulance trusts asking for details on response times per district that are not contained in the usual regional data releases. That means that it is now possible to see what patients across Greater Manchester can expect when they call 999 for an ambulance.
Here is how long it takes the North West Ambulance Service (NWAS) to respond across the city-region and how that compares to the target the ambulance service is supposed to meet. The ambulance service has admitted it is under "extreme pressure" but says it is trying to get to patients as fast as possible and recruit more staff.
What does the data show for Greater Manchester?
The data clearly shows that targets for getting ambulances to seriously-ill patients speedily enough are being missed across the city-region. Ambulance trusts are supposed to get to the most serious calls, which are listed as category one calls, within seven minutes. In Greater Manchester that target was not met by NWAS in 2021-22.
The average call response in Manchester for that year was seven minutes and four seconds. In Tameside it was seven minutes and 12 seconds while in Stockport it was seven minutes and 22 seconds and in Salford it was seven minutes and 25 seconds.
In Oldham, the average waiting time for a category one call was seven minutes and 47 seconds, while in Bolton it was eight minutes and five seconds, in Rochdale it was eight minutes and 22 seconds and in both Bury and Trafford it was eight minutes and 29 seconds. Ambulances took an average of eight minutes and 34 seconds to reach category one calls in Wigan,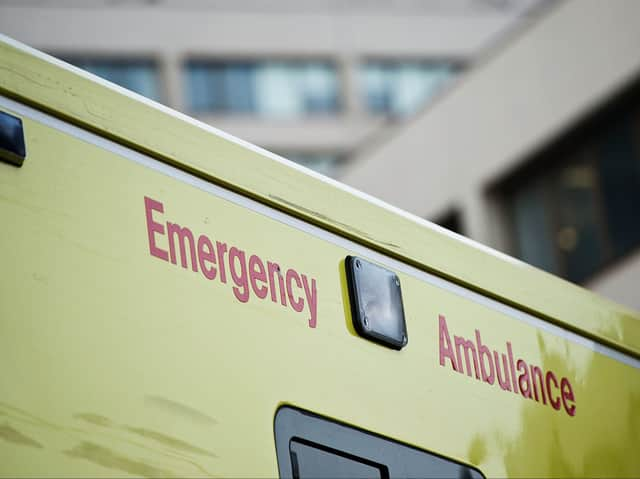 Ambulance trusts also have a target of 18 minutes to reach category two calls, which can include heart attack and stroke patients. Shockingly, only two areas of the 227 included in the FOI results are currently hitting that target.
In Greater Manchester even the quickest responses to category two calls, in Stockport, are more than double the target time at 37 minutes and 33 seconds on average. In Tameside it was 39 minutes and 39 seconds, in Rochdale it was 41 minutes and 40 seconds, in Oldham it was 41 minutes and 51 seconds and in Trafford it was 42 minutes and 48 seconds.
On average ambulances in Manchester in 2021-22 took 43 minutes and 13 seconds to respond to category two calls, while in Bury it took 45 minutes and 25 seconds and in Salford it took 48 minutes and 45 seconds (just over three times the target). In Bolton it took an average of 56 minutes and two seconds for ambulances to get to these incidents, while in Wigan it was 56 minutes and 14 seconds.
In just over 20 local areas across England it took ambulances more than an hour, on average, to respond to these category two calls.
Waiting times have been rising in recent years, with the biggest increase in Greater Manchester coming in Wigan for category one calls. For these incidents, the most serious the NWAS responds to, it took 20% longer for an ambulance to get there on average in 2021-22 than it did in 2019-20. For category two calls, it now takes between 50% and 60% longer for an ambulance to arrive than in 2019-20 in boroughs including Manchester, Oldham and Salford.
What has been said about this data?
Liberal Democrat health spokesperson Daisy Cooper said: "These heart-breaking figures show that in every corner of the country, targets are being missed and patients are being left waiting far too long for an ambulance to arrive.
"This stark postcode lottery means that if you suffer a heart attack or stroke, your chances of getting to hospital on time depend on where you happen to live.
"Every day we hear more and more devastating stories of pensioners left stranded for hours, or families watching a loved one die before a paramedic could reach them.
"Ministers must bring forward extra support to get ambulance services through winter as well as a long-term strategy to ensure people can get emergency care when they need it. That means addressing workforce shortages, fixing the social care crisis and ending the shortage of hospital beds, all of which are leaving patients in ambulances stuck outside A&E for hours."
A North West Ambulance Service spokesperson said: "The ambulance service remains under extreme pressure. However, our staff work hard every day to ensure everyone who needs an ambulance gets one, and we continue to perform better than other parts of the country.
"While patients suffering from life-threatening conditions will receive the next available ambulance, some patients are waiting longer than we would like.
"We continue to recruit more call handlers and clinicians into our emergency and non-emergency call centres and more front-line ambulance crews. We also continue working with NHS partners to ease handover delays.
"We are grateful to patients for considering alternatives for non-urgent health concerns, including NHS 111 online, GP or local pharmacy, which helps us keep our ambulances available for emergencies."