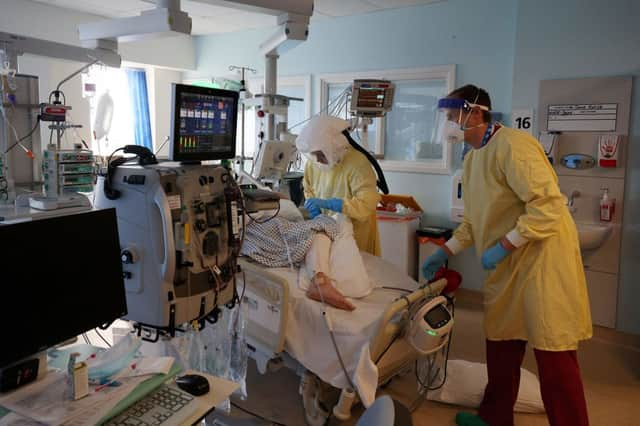 Staff at work on a Covid ICU ward in March Credit: Getty Images
More than 75% of the UK's adult population are now fully vaccinated against Covid but the disease is still putting strain on hospitals across the country, including those in Manchester.
Thousands are testing positive each day and more than 600 deaths have been reported in the last seven days among people who tested positive within 28 days, according to the latest UK Government figures.
More than 5,000 people are also in hospital with the disease across England with 782 on mechanical ventilation beds; however, 15% of trusts had no Covid patients in the figures, recorded on 10 August.
Across Greater Manchester, there were a total of 400 patients in hospital with coronavirus at the latest count on 10 August - a drop of three people from the week before - and 56 patients on mechanical ventilation beds.
Here is a breakdown of the hospital trusts' figures to 10 August, with the increase/decrease from 3 August:
- Manchester University NHS Foundation Trust: 153 cases - up 3
- Pennine Acute Hospitals Trust - 74 cases - down 13
- Bolton NHS Foundation Trust - 47 cases - up 2
- Salford Royal NHS Foundation Trust - 45 cases - up 1
- Tameside and Glossop Integrated Care NHS Foundation Trust - 23 cases - up 1
- Wrightington, Wigan & Leigh NHS Foundation Trust - 22 cases - down 6
- Stockport NHS Foundation Trust - 19 cases - up 1
- Christie NHS Foundation Trust - four cases, no change