Covid-19: Seven things we learned from Andy Burnham's latest press conference
Here is the latest on the coronavirus in the city-region according to the numbers.
Watch more of our videos on Shots! 
and live on Freeview channel 276
Visit Shots! now
Greater Manchester Mayor Andy Burnham gave his weekly press conference on Tuesday (17 August).
He was joined in addressing the media by Sir Richard Leese, the leader of Manchester City Council, the deputy mayor and the health and care lead for the Greater Manchester Combined Authority (GMCA).
As is now customary the event began with a look at the slides showing Covid-19 data for the city-region.
Here are seven things the numbers told us about the coronavirus this week.
Manchester's case rate is coming down but remains the city-region's second-highest
There were 342.2 Covid-19 cases per 100,000 people in Manchester in the week ending 12 August.
This was a reduction from the rate of 344.8 cases per 100,000 residents from the week before.
However, of the 10 local authorities in Greater Manchester only Salford had a higher rate.
And the Manchester figure is above the rate of 311.1 cases per 100,000 people for Greater Manchester as a whole.
Ups and downs but rates appear to be stabilising
It was a fairly mixed picture across the city-region as far as case rates went in the latest week.
Sir Richard said there had been ups and downs in all the districts.
He did say that overall the figures appear to be stabilising.
However, while case rates are currently neither surging nor plunging half of the 10 councils in Greater Manchester recorded a week-on-week case rate rise.
Case rates among the over-60s have gone up noticeably
Sir Richard said that when it comes to case rates among the city-region's older residents: "There has been a significant increase compared to a week ago."
The Greater Manchester case rate for over-60s was 147.3 per 100,000 people in the week ending August 11, compared to 116.6 per 100,000 the week before.
Manchester's rate rose to 195.6 per 100,000 from 145.3 per 100,000.
The only boroughs with decreases were Rochdale, Salford and Wigan.
Younger people are still the age group with most cases
The Greater Manchester heat maps showed the 16-to-29 age group still accounts for the biggest share of Covid-19 cases.
However, the diagrams show clearly that case rates have fallen significantly compared to around four weeks ago.
Covid-19 is once again becoming more prevalent in care homes
In the week ending 17 August 0.6 per cent of Greater Manchester's care home residents either tested positive for Covid-19 or displayed symptoms of the virus.
This is an increase from 0.5 per cent in the week ending 10 August and 0.3 per cent in the week ending 3 August.
"This is some cause for concern," Sir Richard told the media.
The peak figure among care home residents earlier this year was 2.6 per cent.
Higher case rates are not turning into higher numbers of people needing hospitalisation
There were 126 admissions to hospital for Covid-19 in Greater Manchester in the week ending 15 August, a decrease from 176 the previous week.
However, the number of weekly in-patient diagnoses for Covid-19 went up, to 187 to 172.
On 15 August there were 62 people with the novel coronavirus in high-dependency or intensive care units.
There were 302 people with Covid-19 in hospital beds which were not in those units on the same date.
Overall it is a fairly mixed picture, with the link between getting ill and ending up in hospital still weakened but little let-up on the workload for the NHS.
"The high case rate isn't turning into high incidences of hospitalisation," Sir Richard said.
However, he added: "Every part of the health system continues to be under severe pressure."
More than two-thirds of adults have now had two doses of a vaccine
On 15 August 67 per cent of adults had received both doses of a Covid-19 vaccine in Greater Manchester.
Among over-70s the figure for two jabs is 92 per cent.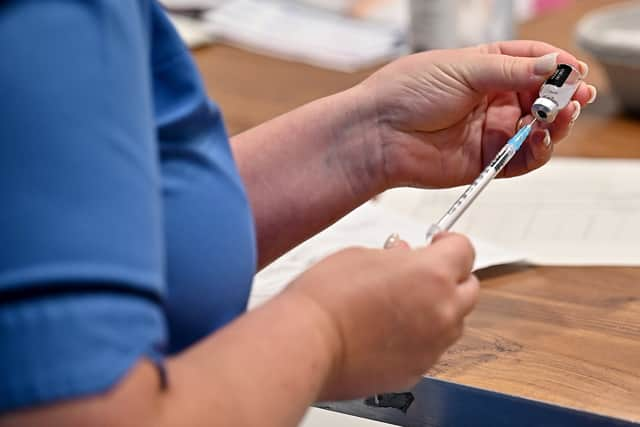 Altogether 1,884,305 first doses and 1,619,952 second doses had been administered in the city-region on 15 August.
However, health authorities are far from resting on their laurels, saying they are aiming to get 85 per cent of all adults double vaccinated.