Concern over how pupils at school through Covid-19 pandemic will fare when entering the workplace
Business and skills training organisations are coming together to tackle the skills shortages some young people in Greater Manchester may have.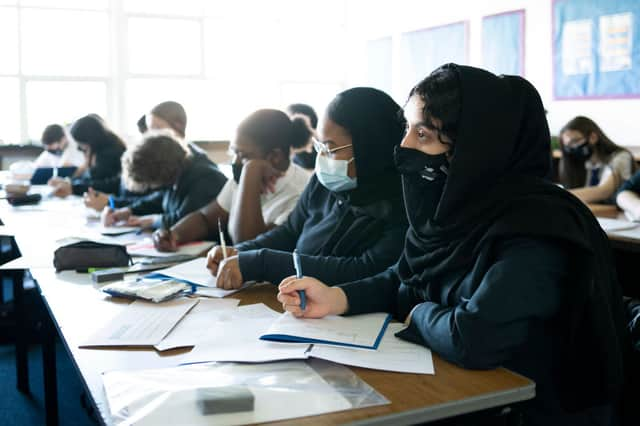 Secondary school classroom
Greater Manchester business and training chiefs are teaming up to address concerns over how young people whose education has been affected by Covid-19 will fare when they try to enter the workplace.
And there are particular worries that pupils who have faced considerable disruption in their schooling because of the novel coronavirus may not have some of the abilities they needed to thrive in jobs.
How has Covid-19 affected school pupils' employment prospects?
The two organisations outlined their concerns that the extraordinary circumstances pupils have been forced to face due to Covid-19 may affect them when they try to enter the labour market.
Anne Gornall, executive director at the Greater Manchester Learning Provider Network, said: "We know that loads of school kids haven't had the two years they should have and the legacy of that is going to drag on for quite some time.
"The provision of vocational skills training is vitally important."
Subrahmaniam Krishna-Harihana, the Chamber of Commerce head of research, said: "One barrier that has come up is a shortage of soft skills, such as communication and customer service.
"There's a huge demand for training in some of these areas.
Subrahmaniam Krishnan Harihara, the head of research at the GM Chamber of Commerce
"That's not going to be helped by the fact we're all working remotely and there's no interaction between staff in the workplace.
"These issues are going to have an impact and we need to start addressing them.
"It's not just the practical and technical skills you need to do your job, it's also the soft skills that are so important in a workplace."
Why is this being addressed now?
The Chamber of Commerce's latest quarterly briefing on Tuesday (14 December) showed investment in training is down among Greater Manchester businesses but there are also recruitment difficulties and skills shortages.
Mr Krishnan-Harihara said the latest data showed "severe" recruitment difficulties, with "a huge number of vacancies at the moment".
He said the numbers for manufacturing, construction and services are all "way over what we would be comfortable with".
There is particular concern that this skills mismatch between what employers want and what potential workers have is acute among young people.
That is why the Chamber and the Learning Provider Network, which represents over 100 organisations which between them supply some 70% of Greater Manchester's apprenticeships, are joining forces to work on it.
Ms Gornall said: "There is a vicious cycle of needing skills but not investing in training, and we're collaborating with the Chamber to try to address it.
"We're delighted to be working so closely with the Chamber and intend to go forward until we can solve this conundrum."