'Polite' Co-op food delivery robots charm Sale shoppers - but get stuck crossing the road
Here's what people in Sale make of the distinctive new robots delivering Co-op groceries in Sale.
Watch more of our videos on Shots! 
and live on Freeview channel 276
Visit Shots! now
Robots on the streets delivering groceries to local residents is not a sci-fi dream of the future, it's now a reality for people in Sale. They have welcomed a new fleet of robotic residents, taking to social media to share their experienc
The initiative was rolled out on 15 March by robotics company Starship Technologies, in partnership with Trafford Council and the Co-op. Their six-wheeled, autonomous delivery robots are a first for Greater Manchester, but not for Milton Keynes, Northampton, Bedford, Cambourne, Cambridge and Leeds, where the scheme is already in place. Globally, Starship Technologies say that their little robots have made a total of 4.5million deliveries.
In Manchester, the service is available to around 24,000 residents across 10,500 households in Sale, with two participating Co-op branches – Washway Road and Coppice Avenue. It works via an app, available on both Android and iOS, which residents use to order their groceries.
Starship Technologies have set up a Facebook group for customers, who have been sharing their experiences using the robots and posting pictures and videos of them trundling through the streets. Users in the group have mostly responded positively to the robots, with one person describing them as "cute, funny and genius."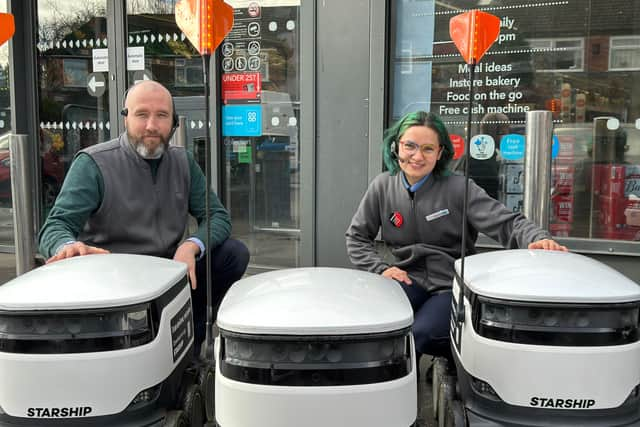 "Cute" is a word that comes up a lot in the social media discussions and it hasn't taken long for people to start anthropomorphising them. Several people have suggested that they be given names – suggestions include Spock, Captain Kirk, Robot Carlisle, Wheelie-am Wallace, Tina Transportation – or even faces. The robots do have "voices" and people have been interacting with them.
Facebook user Heather Taberner commented: "Seen 6 last night on Manor Ave, they crossed at bollards, coming and going. They were still out and about working after the store closed at 10pm. One even said in male voice: 'I'm really sorry' as it manoeuvred round us. I spoke to it like it was human."
Another user said a robot said "thank you" to her for moving a traffic cone out of its path and they also reportedly play music when you open them up.
The manoeuvrability and efficiency have also been praised by some users. Emma Fairfield commented: "I just saw one straddling the path and the road. It must have sorted itself out because I then saw it whizzing down Washway Rd. it looked like it was going to come off again but straightened itself up, light flashing and flag waving. Anyone know the speed because this one was in a hurry!"
However, this has not been the case for everyone. Some people have been voicing their concerns about the introduction of this new technology. There are many comments along the lines of "Manchester can't have nice things," comparing it to the ill-fated Mobike service, that lasted 13 months in Manchester before they were recalled due to repeated vandalism and misuse.
Posting in a Sale community Facebook group, one user said: "Wonder how long before they are being used as tables in bedrooms in students bedsits or chucked over the wall. Anywhere but Manchester as we seem to view everything as a threat and anything that seems to be lost must be a case of 'finders keepers'."
Facebook user Margaret Tognaccini believes that they will "end up in the Bridgewater Canal," while another group member John Ord said: "How long before people are sat on top of these after a night out ordering a Co-op order to their address. Just for a free ride home. Waste of money."
There were also a lot of concerns that the introduction of robot deliverers will mean less jobs for humans. John Molyneux commented on Facebook: "I admit I admire the technology and find them interesting, but that's just the novelty aspect. They're like self-checkouts, in that they replace working people. In an increasingly automated world, serious employment questions need to be asked. Obviously economics and technology go hand in hand, and being a 21st century Luddite won't help, but it is still worrying in the long-term."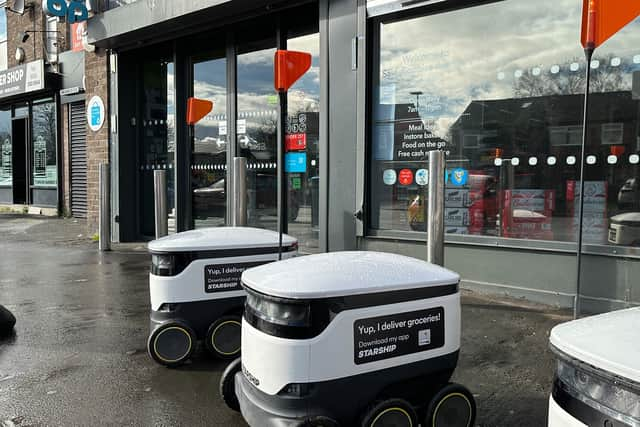 However, another user, who claimed to work for Co-op, explained that the service still requires human employees to sort and pack the deliveries, and the robots also require data analysts and engineers.
People have also been quick to post pictures of the robots when they appear to get stuck or confused. According to an explainer video by Starship Technologies, the robots are able to detect when a car is coming and will wait at crossings until the cars are gone. However, some commenters say that the robots are unable to tell when a car has stopped for them and are waiting all the same.
One person says they saw six robots queuing at a pelican crossing, another said: "Saw 3 of them at mini roundabout on Manor Avenue at rush hour today. God knows how long it took them to get a cross the road," and another claimed to have already "rescued" four robots that have gotten stuck since the scheme was launched.
Sale community group member Cassie Quick said: "One of ours was hit and it ended upside down in the grass and a wheel three feet away. Poor dude was a victim to a hit and run."
A spokesperson for Starship Technologies told ManchesterWorld: "Our robots have just launched in Trafford and they're busy getting to know the neighbourhood. Of course a new area always requires adjustments as they find their way, and they learn with every journey.
"Our robots make more than 140,000 road crossings every day around the world, nearly one every three seconds, using a combination of sensors, artificial intelligence, and machine learning to safely navigate. Most of these crossings are done autonomously, but on the rare occasion assistance is required, the robots can be monitored remotely.
"We've been absolutely delighted by the overwhelmingly positive response we've received from the local community since starting operations in Greater Manchester."