Students of the Co-op Academy Belle Vue have this month moved into their brand new, state-of-the-art premises, located on the former site of the Showcase cinema in Manchester.
The newly-established school welcomed its first intake of year seven students in September 2021 and had been using premises at Connell Co-op College in Beswick. The move was initially slated for September 2023, however construction work was completed months ahead of schedule. It is the ninth Co-Op Academy in Greater Manchester, joining the 29 in total nationwide.
Eventually, the school will teach up to 1,200 students aged 11-16, who are expected to benefit from the modern facilities. The school's main building is three storeys and houses the reception, community hub, library and dining hall, as well as a teaching block. There is also an adjoining dedicated drama block.
The school's Twitter page shows students already enjoying the new school and its facilities, learning how to use bunsen burners in the new science labs. Another tweet stated: "We are dedicated to giving our students an environment that encourages them to thrive and we can't wait to continue our journey in our new building."
One facility that is designed to benefit the local community, as well as the students, is the new two-storey sports block, which has separate access to the 140-space car park. All of its pitches are Sports England-standard and there is another multi-use games area which can be used for numerous other sports, such as tennis, basketball, netball and hockey.
As highlighted in the school's prospectus for 2022, the school takes a unique approach to timetables and curriculum. The students take two-week holidays during half term as they get an extra 227 hours teaching a year due to their electives program, where the students get to choose from a number of afternoon sessions such as Latin, entrepreneurship or debating.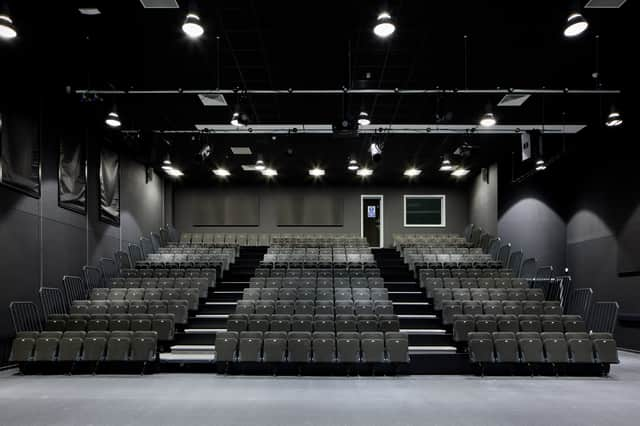 Dr Chris Tomlinson, CEO of the Co-op Academies Trust, said: "We are delighted the students can move in and start enjoying Co-op Academy Belle Vue's state of the art new site. It may not be a new school year, but it's a new year nonetheless, and it's great to see it in by looking forward to delivering all the ambitious and aspirational young futures this new site will help Co-op Academy Belle Vue's students to achieve. My sincere thanks to Vicki England, Project Manager for Co-op Academies Trust, Sir Robert McAlpine and all the teams involved."
Construction firm Sir Robert McAlpine was responsible for the build on the 12.6-acre site, which used to be the Showcase. The cinema closed during the pandemic in 2020 and was demolished in 2021.
Paul Quinn, Sir Robert McAlpine's regional director for the North West and Yorkshire, commented: "We are proud to deliver this new state-of-the-art school for East Manchester. The project is testament to the cooperation and positivity of our teams. Spaces for young people and communities to come together, learn and thrive are so important, and we hope East Manchester enjoys all that Belle Vue has to offer."