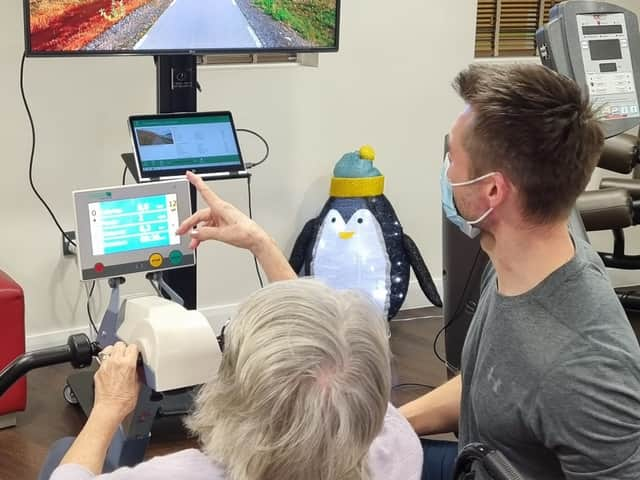 Belong Atherton is doing a virtual cycling fund-raiser
The group at Belong Atherton has been racking up the miles in a bid to raise money to provide sensory equipment for the facility.
And their efforts have involved a virtual festive trip to the Arctic Circle to see Santa.
What is the fund-raiser at Belong Atherton?
Residents at Belong Atherton have been doing a virtual cycling challenge this month.
They used technology to visit Lapland, pedalling from Rovaniemi in Finland, known as the gateway to the Arctic Circle, to Santa's workshop and snow hotels.
Special equipment in the Mealhouse Lane village's state-of-the-art gym allows participants to explore breathtaking landscapes throughout the world via a linked screen to their exercise bikes.
Some of the bikes are also adapted to accommodate wheelchair users, meaning all the residents have the opportunity to make a contribution.
Colleagues at the care village have also been supporting via cardio equipment to encourage friendly competition whilst adding to the kilometre count.
And the challenge has been a big success, continuing well past the target distance which was first set down.
What has Belong said?
Newly appointed fitness instructor Jonathan Perrins, who has been leading the challenge, said: "Our original goal was to complete 50km this month and we've already surpassed this milestone, so we're aiming to rack-up as many kilometres as possible before Christmas Day on Saturday.
"Everyone is really enjoying cheering each other on and there's a buzz of excitement to see how far we can get in the next few days.
Jonathan Perrins, fitness instructor at Belong Atherton
"The benefits of regular exercise for older people are well documented and we've included the challenge in our residents' bespoke fitness plans, which has been very motivational and makes exercise fun.
"Regular exercise enhances mood, improves sleep and provides stimulating activity, along with commonly-known physical benefits.
"All in all it's a winner and we hope the community will get behind us as we raise funds for sensory equipment which will continue to enhance the lives of our customers."
Anyone wishing to pledge a donation can contact Belong Atherton on 01942 898410.