Campaigners against fast fashion hold Manchester protest 10 years on from deadly Rana Plaza factory collapse
Campaigners marked the 10th anniversary of the collapse of a garment factory in Bangladesh which killed more than 1,000 people by calling for further change in fashion in Manchester city centre.
Watch more of our videos on Shots!
and live on Freeview channel 276
Visit Shots! now
Campaigners held a protest in Manchester city centre to mark the 10th anniversary of a deadly factory collapse in Bangladesh and to call for further changes in the fashion industry.
It is a decade since the Rana Plaza complex in Dhaka collapsed, killing 1,134 people and injuring more than 2,500 in one of the most lethal industrial disasters seen in recent times.
Activists against fast fashion held placards urging people to remember the dead and to call for better working conditions for garment makers in Piccadilly Gardens before taking their protest to stores in Manchester whose tags were found in the Rana Plaza rubble.
Similar protests were held in cities across the country to mark 10 years since the Rana Plaza collapse but the organiser of the Manchester event said she was concerned about the extent to which fast fashion is continuing to operate in the city.
What was the protest held in Manchester and why?
Campaigners against fast fashion gathered in Manchester city centre on Sunday (23 April) to mark the 10th anniversary of the deadly disaster in the Bangladeshi capital city.
The protestors held placards bearing messages that no-one should die for fashion. After meeting in Piccadilly Gardens the protestors also stood outside a number of clothes stores whose tags were found in the Rana Plaza debris and those who stock brands which are yet to sign up to agreements intended to prevent such a disaster happening again.
On Sunday evening messages from the protest urging Mancunians to remember the dead and to continue to fight for better rights and conditions for garment workers were beamed onto a number of buildings in the city by Whering.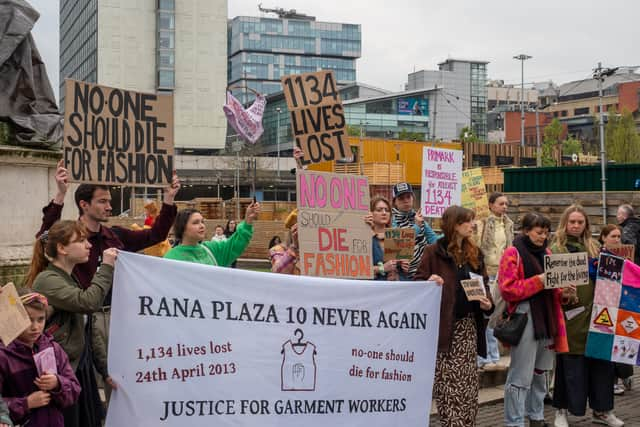 Protest organisers also have a number of online resources for people, including petitions calling for fashion brands to be held to higher standards when it comes to how their clothes are made and for pay for garment workers around the world to be increased as well as information about what happened at Rana Plaza and why.
What did the protest organisers say?
Protest organiser Sophie Benson said: "We mainly had a really positive response to the event in Manchester. It's incredibly important to mark 10 years since the deadliest industrial disaster. There has been some progress in Bangladesh but we still see factory fires, deaths and electrocutions.
"We need to remember those who died while striving for better conditions for the survivors and the next generation. I also think Manchester is becoming known as a fast fashion capital and I don't think that's necessarily a particularly positive reputation for the city to have. It's important to challenge that and show there's another option to that way of doing business.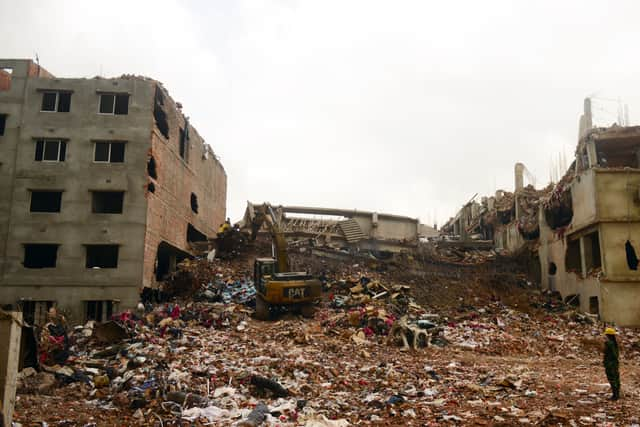 " We need more brands to sign the International Accord, which was previously known as the Bangladesh Accord, and there's a real lack of sign-up to the Pakistan Accord which also focuses on buildings and fire safety but also things like gender-based violence and other social issues. We're looking for brands to be held accountable and sign a legally-binding agreement rather than relying on voluntary initiatives, which are not that effective as many of them were in place when Rana Plaza collapsed.
"People can also look beyond exploitative fast fashion to things like second-hand buying, clothes swapping and other alternative models to consumption. These are all small pieces in a wider collective effort."