Campaigners took to the streets of Manchester with an unusual and visually-striking way of encouraging the city's residents to talk about bowel cancer and raise awareness of the disease and its symptoms.
The city centre was taken over by a procession of people dressed as poo emojis and loo rolls as they urged Mancunians to - quite literally - "talk s***."
The event, held during Bowel Cancer Awareness Month, was the brainchild of Dr Chun Tang from private medical clinic Pall Mall who launched a pioneering test to help detect the early stages of the disease. Dr Tang and his team from the healthcare organisation hoped to encourage Manchester residents to be able to talk about their toilet habits without embarrassment or shame.
What was the bowel cancer awareness event in Manchester?
The event involved Dr Tang and colleagues from Pall Mall walking through the city's streets in toilet roll and poo emoji outfits to mark Bowel Cancer Awareness Month. The group also included social media star Lucy Jane, who describes herself on her channel as a Stoma Warrior as she discusses living with a waste-collecting stoma bag which she styles to match her outfits.
Placards had light-hearted and amusing slogans on them such as: "Actions speak louder than turds!" while the campaigners chanted slogans including: "Poo is not taboo!" to get their message across.
They also handed out leaflets which explained more about the symptoms of bowel cancer and raised awareness about the tests that can be done if people suspect they might have signs of the disease. They also encouraged people to talk openly and without shame or embarrassment about going to the toilet.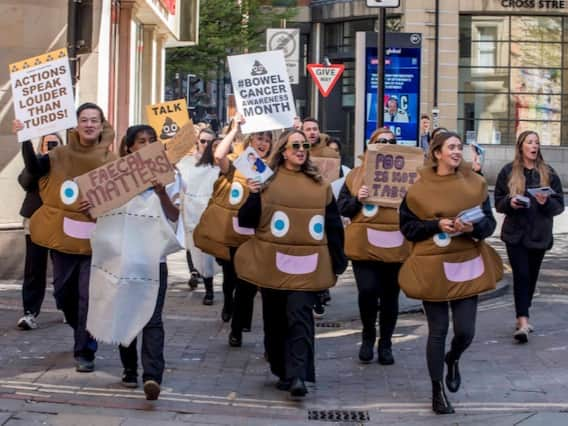 This is because some of the key early warning signs of bowel cancer include blood in stools, changes in bowel habits such as more frequent and looser stools, and constant or intermittent pains in the tummy. However, as these can also indicate other health concerns such as irritable bowel syndrome (IBS) or food intolerances they are often dismissed as a possible symptom of cancer.
Bowel cancer has the second highest mortality rate after lung cancer in the UK, claiming around 17,000 lives each year.
The quest to improve cancer detection rates and save lives is a personal one for Dr Tang. He lost his father 14 years ago and his brother was also diagnosed with the same illness, though fortunately his symptoms were detected early enough for him to make a full recovery,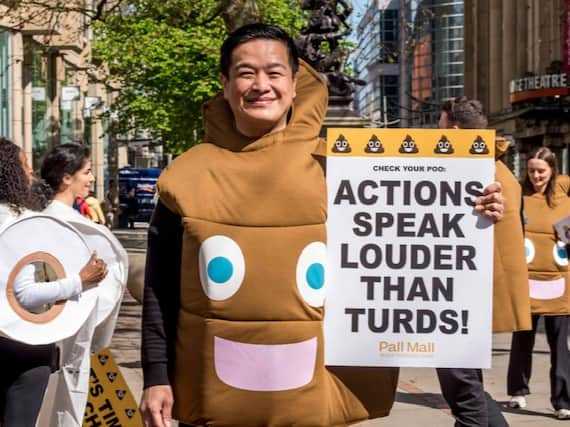 Dr Tang has since brought the test ColoAlert®, which was developed by a group of medics in Germany and can detect cancer symptoms in a small sample of poo, to the UK.
Pall Mall, which has a clinic in Manchester, is also running a JustGiving page during Bowel Cancer Awareness Month to support Cancer Research UK and the Bowelbabe Fund which is in memory of Dame Deborah James who died of bowel cancer aged 40 and who encouraged people through her work as a journalist and podcaster to "check your poo".
What was said about the Manchester event?
Dr Tang said: "From personal experience and the loss of my father, this is a cause close to my heart. That's why we are encouraging people to be open and honest when it comes to toilet talk. We all use the toilet – even royalty! It's as natural as night follows day.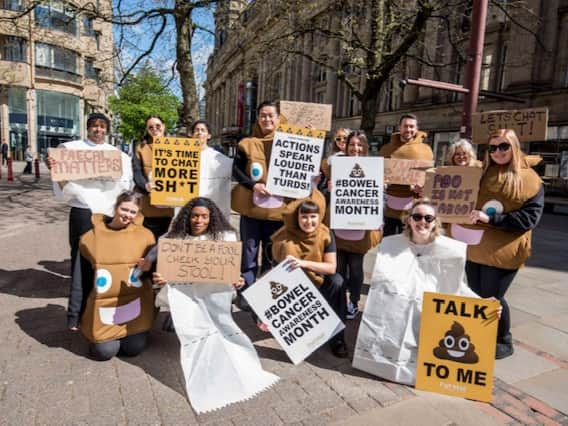 "So, if you've noticed a change in your loo habits, or you feel something isn't quite right, don't hold it in. Talk to friends, loved ones and of course healthcare providers. Chat sh*t, don't just sit on it!"