Bus routes in parts of Greater Manchester will be taken over by new operators earlier than planned as details of a £2.5m deal to save services are announced. Go North West will take over routes in Bolton, Bury and Rochdale in April – five months before its contract to run the first publicly-controlled buses begins.
Diamond, which lost its bid to carry on running the services from September, will also take on a route currently operated by Vision Bus earlier than planned. However, some routes will be run on a reduced timetable, including the 8, 36 and 37 from Bolton to Manchester which will remain under Diamond for now.
It follows Diamond's decision to cut bus services after missing out on the first major franchise in Greater Manchester's new publicly-controlled bus network. The operator will still run some of the first buses to be brought under public control later this year, but Go North West will run most of the franchised bus services in Bolton and Wigan as well as parts of Salford, Bury and Rochdale.
In January, Diamond and Vision said they would be cutting bus services from April due to the 'uncertainty' created by the franchising announcements. But mayor Andy Burnham promised to 'pull out all the stops' to save services set be scrapped when Diamond pulls a fifth of its fleet from the Bolton bus depot.
Transport for Greater Manchester (TfGM) has now said it will subsidise some of the bus routes which were under threat, costing £2.5m in total. Part of the funding will come from a government grant given to the city-region last year.
Mr Burnham said: "The prospect of these bus services being withdrawn has understandably been a worry for people who rely on them to get around. In this instance, it was predominantly passengers in Bolton who were going to be affected, and with bus franchising now on the horizon for the borough, it is important that people have access to a stable and reliable network.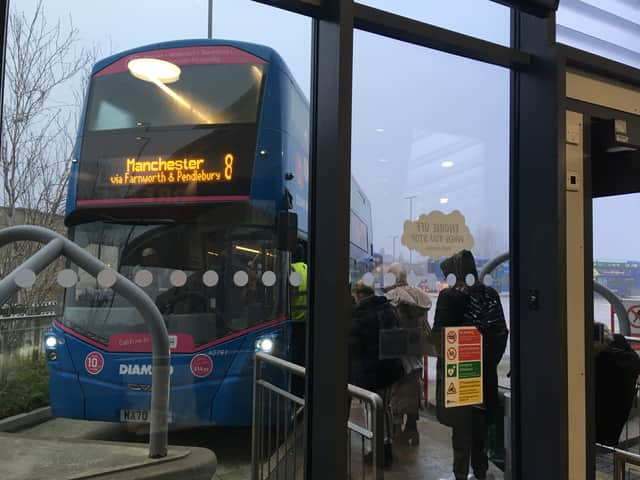 "I would like to reiterate that we have heard loud and clear the concerns from residents and I hope this decision will reassure passengers that their bus service is safe and demonstrates our long-term commitment to improving public transport through the Bee Network."
From April 16, Go North West will run the 163, 520, 561, 562 and 575 which are currently operated by Diamond but due to be handed over in September. The winning bidder of the two biggest bus franchises so far will receive a subsidy from TfGM to run these services before the new contract begins.
Diamond will also receive a subsidy to start running the 527 service which is currently operated by Vision Bus five months earlier than planned. However, the bus company will continue operating the 21 service on a commercial basis.
Earlier this year, Labour councillor Phil Burke said that Diamond should not be given any public money to operate the services after it announced the cuts. The Rochdale councillor who represents Middleton said the company – which is owned by Rotala – should not be 'rewarded' for cutting commercial services.
Other councillors on the bus services sub-committee described Diamond's decision to cut services after missing out on a major contract as 'sour grapes'. But the company said that these claims 'could not be further from the truth'.
Coun Burke has welcomed the news that the 163 from Bury to Manchester via Heywood and Middleton has been saved, even though the frequency will be reduced to every 15 minutes. But he expressed 'frustration' at the fact that Diamond will get a public subsidy to take over a service earlier than planned.
He said: "It's great news that Go North West has taken over the 163 service. They've got a good track record. While I'm not in favour of routes being given back to Diamond, it's really frustrating that we've got no other option."
Diamond's commercial manager Thomas Calderbank confirmed that the company will continue to run the 21 route without public subsidy until mid-September when the service is franchised and taken over by Go North West. He explained that Diamond's decision to withdraw service was 'pre-emptive' as operators must give 112 days' notice before making significant changes.
However, he said, because the situation is not as bad as anticipated, the firm has been able to restore some of the cancellations and start running the 527 from April. The company will continue to operate some journeys on the 163, 520, 561 and 562 – mainly on evenings and Sundays – until September 17.
TfGM will receive the income from fares on subsidised services, but the net cost to the organisation will be around £2.5m. Greater Manchester's bus services sub-committee will discuss the changes at a meeting on Friday (March 10).