Oldham's council leader has urged anyone with information about the 'tragic' events at a fire-ravaged mill building where human remains were found to contact authorities.
Greater Manchester Police has declared a major incident after human remains were discovered at Bismark House Mill on Bower Street on Saturday.
It comes more than two months after huge blaze ripped through the building in May, which was the base of a tile and bathroom warehouse. At the time of the fire it was believed no-one was inside.
It has been confirmed that remains relating to one person have so far been found at the mill. Police said they suspect the discovery of the body is connected to four missing Vietnamese nationals.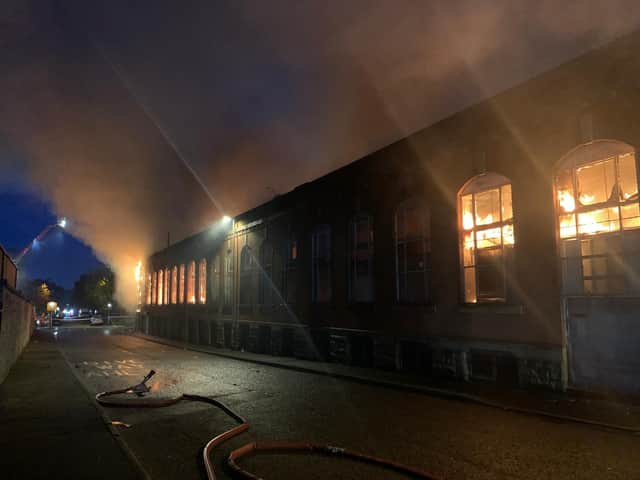 The force received a report about the missing people on Thursday 21 July 'via Vietnam'. Detectives are trying to contact their families.
The building first went up in flames in the early hours of 7 May. It completely tore through the building and took fire crews a number of days to put out.
Ever since, the building has been slowly demolished. Due to the previous contact relating to the fire and missing persons, the incident has been referred to GMP's Professional Standards Branch for review, the force said.
'Distressing findings'
Coun Amanda Chadderton, leader of Oldham Council, said: "I know people will be shocked and saddened by the deeply distressing findings at Bismark House Mill.
"We are working closely with the police and fire service as they seek to establish the full circumstances around the fire.
"I would urge anyone with any information on this tragic incident to please call the police, or Crimestoppers, anonymously, on 0800 555 111."
Coun Angela Cosgrove, who represents St James Ward which covers the building site, said the fire and the discovery of human remains had affected local residents.
"It's horrific and people are really upset in the community," she added.
In a statement at the scene yesterday, Assistant Chief Fire Officer Leon Parks said that at the time the decision was taken not to commit firefighters into the building due to the severity of the fire and also as the building, which was so badly damaged it was to be demolished, was deemed unsafe to enter.
These are 'the correct procedures that are followed in situations like this' he said but he confirmed they would now be reviewing their response to the incident in order to be "absolutely certain'.
Detective Superintendent Lewis Hughes said yesterday: "The number of bodies found may change based on the progress of the work over the coming days."