Bus passengers in Greater Manchester face severe disruption as employees at a major public transport operator have gone on strike over pay.
Staff at Arriva first walked out on Wednesday (20 July) for a period of continuous industrial action.
The strike is being supported by the Unite and GMB trade unions, which say their members have been offered a pay deal which is inadequate given spiralling prices and the cost of living crisis.
However, after four full weeks of industrial action the strikes are now being suspended for union members to vote on a new improved pay offer. That means they are returning to work on Thursday (18 August).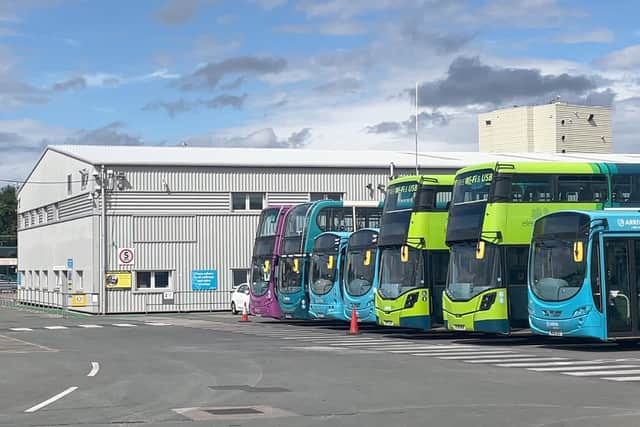 When is the strike and why?
The strike officially started at 2am on Wednesday (20 July) and is set to go on continuously until the industrial dispute over salaries is resolved.
It is not just Greater Manchester affected, with employees of Arriva across the North West going on strike.
A similar dispute with Arriva in West Yorkshire resulted in four weeks of strike action in June and July and then a second walk-out after initial pay deal talks broke down.
The unions involved say this industrial action has been a long time coming as pay rates for bus drivers had gradually got worse, while Arriva has expressed disappointment at the walk-out.
And after four full weeks of strike action there is an indication the dispute may be coming to an end. Industrial action was suspended on Wednesday (17 August) after Arriva tabled an offer of an one-year 11.1% pay deal.
This would be backdated to April and would benefit more than 2,000 people represented by Unite.
The move means drivers are set to return to work on Thursday (18 August) while two days of balloting is carried out. The result of the vote is expected on Friday afternoon (19 August), but Unite says it has recommended its members accept it.
The suspension of the industrial action came less than 24 hours after a pay deal put to Unite and GMB members was rejected in a ballot on Tuesday (16 August).
What does this mean for Greater Manchester bus passengers?
The strike has affected all of Arriva's usual bus services in Greater Manchester, with none of them being able to operate for four weeks. Arriva has told passengers wanting to travel on Thursday (18 August) to check out the timetable information for the day on its website here.
In Manchester the company runs the 10 service from Brookhouse to Manchester and the 263 buses from Altrincham to Manchester Piccadilly.
It also runs services including buses connecting Bolton and Wigan, a number of services in Sale and the 19 connecting Altrincham and Wythenshawe which also serves Manchester Airport.
Transport for Greater Manchester (TfGM) has produced a full list of the bus services affected. These are the 10, 18, 19, 34, 34A, 245, 247, 263, 280, 281, 282, 283, 284, 285, 286, 287, 288, 320, 352, 360, 362, 375, 385, 395, 534, 541 and 575 routes.
During the industrial action journey planning for the North West on the Arriva website and on the Arriva UK Bus app will be disabled.
The operator says it will be posting updates about the strike on social media and enquiries about local bus service and tickets should be directed to Arriva customer services by ringing 0344 800 44 11.
TfGM says it has tried to cover as many services as it can but a shortage of drivers has made this tricky. However, this page of TfGM's website indicates which alternative buses people should take during the strike.
Services 281 to 287, which serve Altrincham and surrounding areas and which are financially supported by TfGM, will be covered by an alternative operator in Goodwins, the transport body said.
However, in total some 20 bus services will not now be operating until the strike is over.
Arriva tickets of seven days or more that were purchased and activated before the date of the strike, and remain within their validity period will be accepted for travel at all stops on the Altrincham, Eccles and MediaCity UK, Manchester Airport and Trafford Park Metrolink lines.
These tickets are also valid at every tram stop within zone one of the Metrolink in Manchester city centre and any replacement bus services in operation on the Eccles and MediaCity UK line.
What has been said about the strike?
Unite regional officer Dave Roberts said on Wednesday: "Following our members' very strong rejection of the company's offer yesterday evening, Arriva have seen sense and met the demands of our members by tabling an 11.1 per cent pay deal. Unite's negotiating team is recommending the offer be accepted and it is being put to members in a vote.
"The strike is suspended pending the outcome of the ballot and drivers are to return to work tomorrow to serve the needs of the community and public.
"The determination and resolve of our members has been solid throughout the industrial action and we thank those who have provided support and assistance to secure the offer from the company."
An Arriva spokesperson said: "Arriva North West is today able to confirm that following ongoing discussions in recent weeks, all parties have come to an agreement on an unprecedented pay deal for Arriva North West drivers.
"Following a meeting today, in which the agreement was reached, unions will now take this recommended offer to our colleagues.
"Furthermore, it has also been agreed that industrial action across Manchester will be suspended from 3am on Thursday 18 August and all parties will now work together to progress the pay offer.
"Arriva would like to thank our customers across the North West region, for their continued patience in recent weeks, during the extremely challenging strike period."
Throughout the dispute the unions have said that a substantially-increased pay offer has been needed from Arriva due to the cost of living crisis and the considerable squeeze on employees' finances.
The move to suspend strike action over the new deal came less than a day after a previous increased pay offer was roundly rejected by more than three quarters of those who voted, a result with Arriva said it was extremely disappointed by.
Previously there have been several weeks of intermittent clashes between the trade unions and Arriva over a number of issues.
These included a revised pay offer which GMB said was "poor" as it was just 0.4% higher than a rejected deal, the idea of returning to the negotiating table along with the arbitration service ACAS and dividends paid from Arriva UK's bus division to its German parent company Deutsche Bahn.
This last subject drew an angry response from the operator, which claimed the pay negotiations were unrelated to its shareholders.
What did Transport for Greater Manchester say?
TfGM's head of customer experience, Sean Dyball, said: "We understand the concern passengers will have and we want to reassure them that we're working closely with the operator to limit the disruption as much as possible.
"Unfortunately, due to current conditions and staff absences, we have not been able to secure replacements for all routes. Where we can, we have worked to prioritise routes with no or limited alternative transport options.
"We have travel information available on our website to help people make informed journey choices and to cycle or walk where possible, especially for shorter trips."