A Manchester green space will be transformed into a sea of colours and people when it holds a major fund-raising event to help people living with dementia.
The Alzheimer's Society's Manchester Memory Walk takes place at Heaton Park, with hundreds of fund-raisers lacing up their boots to complete the route to help support the 30,000 or so people who are believed to be living with dementia across Greater Manchester.
There are a couple of routes to pick from, and many walkers will be taking on the challenge in memory of a loved one who had Alzheimer's or because someone they know is currently living with the devastating memory-loss condition.
Alzheimer's Society is encouraging as many people in the city-region as possible to sign up and take part.
What do I need to know about taking part in the Manchester Memory Walk?
The Alzheimer's Society's Manchester Memory Walk takes place at Heaton Park on Saturday 8 October.
There are 2km and 7km routes to be tackled at the family-friendly event and it is free to sign up here.
Supporters can also help out the charity by walking on their own or with loved ones at a location of their choosing throughout the month of September.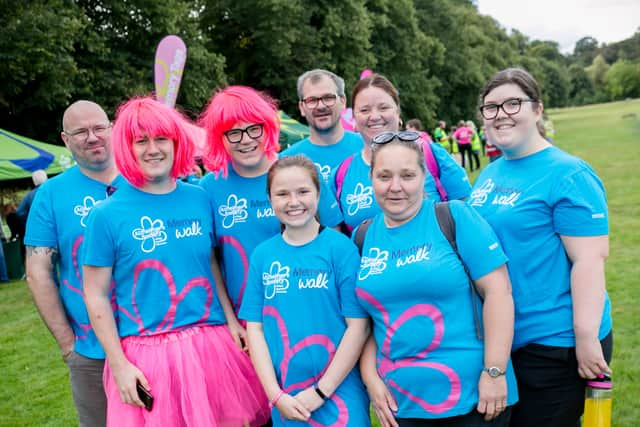 The Alzheimer's Society says the memory walks appeal to those who have lost people who had dementia, those with family or friends currently living with the condition or people who simply want to take on a challenge and raise money for a good cause.
The charity says the proceeds from the walk will go towards supporting people with dementia and their loved ones as they negotiate what can be a terribly difficult and frightening point in their lives and help them avoid experiencing a crisis over their illness.
What has been said about the event?
Sue Clarke, Alzheimer's Society area manager for Greater Manchester, said: "It has never been more important to support Alzheimer's Society's crucial work. Too many people in Manchester are facing dementia alone without adequate support.
"We urgently need to find a cure, improve care and offer help and understanding for people affected. Every step our fundraisers take will help us to provide a lifeline of support for as many people affected by dementia as possible.
"We can't wait to see walkers of all ages and abilities return to Heaton Park this autumn and I would call on family, friends and colleagues from across Manchester to put their best foot forward to support this vital cause."